Different recipes you can try at home to clean out a dashboard of a car, however cautions must be in place at the right amount and right ingredient, otherwise it could damage car dashboard.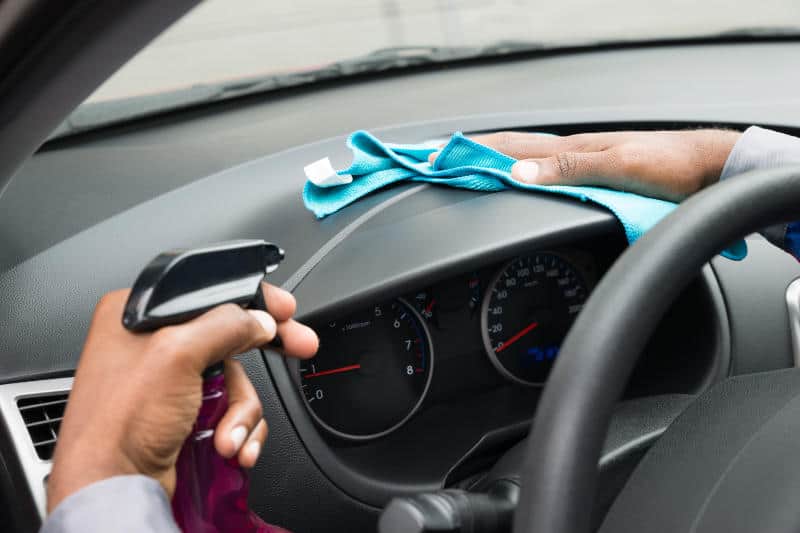 Recipes of How to Make Car Dashboard Cleaner Homemade
Recipe 1
1 cup of warm water
2 Tbsp of mineral oil or baby oil
1 Tbsp of white vinegar
1 tsp of dish soap
Squeeze 1 lemon juices or any antibacterial oil such as tea tree oil
Combine all ingredients in a spray bottle and shake well. Spritz on interior car surfaces and wipe away with microfiber cloth/t-shirt rags/paper towel. Can be used on car tires too.
More Info: Cool Car Accessories for Guys 2018-19
Recipe 2
1 clean spray bottle
1 tablespoon white vinegar
1 cup of warm water
1 teaspoon of Dawn dishwashing liquid
1 – 2 teaspoons of mineral or baby oil
1 cleaning rag or clean cloth
Combine water, vinegar, dishwashing liquid, and oil in a spray bottle. Shake well but don't let the solution get too foamy. To use this dashboard cleaner and polisher, put a small amount on a cloth. Avoid using paper towels because they leave tiny bits of paper on the dashboard's surface. Wipe your dash in one direction.
Recipe 3
Vacuum with Attachment: Pick out any dust or debris from dashboard
Water and Mild Soap: Use microfiber cloth dip into water that has mild soap, Use this to wipe the dashboard, steering wheel, hand brake, and interior plastic of your vehicle.
Toothbrush or Soft Paintbrush: It will be difficult to clean in the small crevices and vents. Use a toothbrush, soft paintbrush, or designated dash brush to gently remove dirt. Be careful so you don't scratch the delicate parts of your car.
Polish: Once your dash is clean and dry – you can use another dry microfiber cloth to rub down the dash if needed – you can add shine by polishing it.
Maintenance Tricks: How To Restore A Car Battery With Epsom Salt
Recipe no 4
Thick paper towels
3 tablespoons of almond oil
½ cup of vinegar
¾ cup of distilled water
Optional 2 drops peppermint essential oil
Glass jar or container
The procedure of using these wipes passes through the following steps:
Step 1
Add all liquid ingredients to a large glass container.
Step 2
Cut a roll of thick paper towels in half.
For this purpose, you should use a serrated knife to cut the roll of paper towels in half, and then pull the cardboard roll out of the middle.
Step 3
Shake the liquid mixture well.
Replace the lid and stir the mixture very well before adding the paper towels.
Step 4
Add paper towels to the liquid mixture.
You should use ½ of your paper towels for the jar. If you are planning to use a large roll of paper towels you should simply roll as many paper towels as can fit in the jar. When you have inserted them into the jar you should pull the innermost paper towel up using your finger.
Step 5
Replace the lid and shake well.
When you have that you should then make sure that all the towels are wet and soaked through.
Relevant: How to Detail a Car Step By Step
Mainly there are three types of car dashboard so beware what to use on them, each require different detergents than the other one.
Leather Dashboards
Stay away from dashboard cleaners that contain even "natural" elements such as alcohol, which will dry out the leather, dull its luster and create cracks. Instead, use all-natural Castile soap — a soap based on olive oil — and a damp rag to clean leather dashboards and all leather upholstery in your car. To naturally boost your dashboard's glow and shine after cleaning, add a couple of drops of walnut oil or olive oil to a rag and buff the dashboard with it using circular motions.
Recipe 1 RECOMMENDED
Vinyl Dashboards
For vinyl dashboards, any gentle all-purpose cleaner will do. However, some all-purpose cleaners contain harsh ingredients, such as ammonia, that pull the plasticizers out of the vinyl and cause fading or cracks therefore you can use all recipe as stated above on these dashboard.
Upholstered Dashboards
Upholstery dashboard require other than the stated recipes, although the recipes can be use on them, but requires high precaution therefore use this for better results.
Toss a tablespoon of baking soda and a tablespoon of borax into your washing machine. If the dashboard upholstery has picked up road smells, add a couple drops of essential oil, such as peppermint oil, for an instantly fresher scent.
All About Cars News Gadgets

>>

Car Dashboard Cleaner Homemade