There is no specific definition of car detailing and what car detailing does exactly involve to detail a car according to steps, most of the car detailers use different techniques and steps for car detailing, however generally a car detailing includes complete interior wash, clean and restore to their original look to a maximum level, other car interior detailing includes a complete replacing of interior dashboard with the new one, similarly seats could be replace from new one, so it up to the demand of a customer of what he wanted to do, in addition car detailers offers different package which stars from 25 US dollars with no maximum limit.
General procedure of how to detail a car step by step, but that does not mean it conclusive, others follows and implement different techniques and different chemicals for each step.
How to detail a car interior step by step
A person need to have some tools and chemicals before to start a car interior detailing.
Microfiber cloth
Small and large paint brush
Polish pad
Water extractor with steam washer
Vacuum
Chemical guys, Maguire, Mothers leather cleaner, interior cleaner and wax
All these can be under 50 to 70 US dollars budget, it can be less than 50 if you use low price chemicals and polishes for cleaning a leather and interior plastic.
A Chart How to Detail a Car Step By Step(Quick Detailing)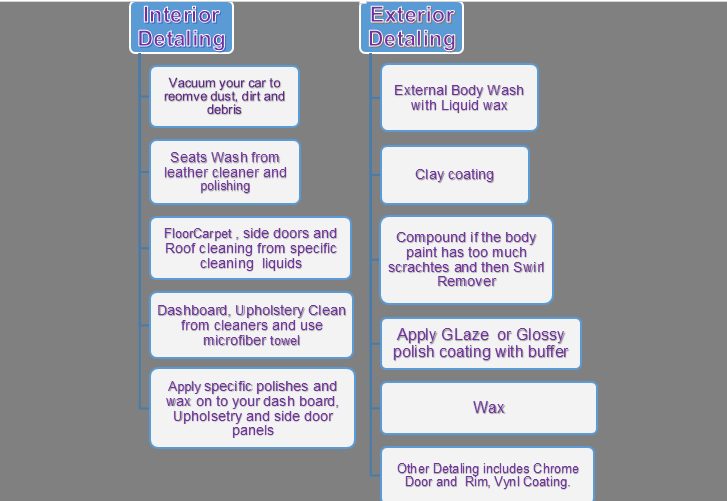 Step: 1
Interior Vacuum
Before stepping towards into other process, a car need to be fully clean from debris and dust inside car with high pressure vacuum thoroughly and wait for 5 to 10 mints with all doors opens and then clean it with simple dry towel in order to go to the next process.
A professional detailing experts normally take it out all cars seats before applying all methods, each item in the car such as floor carpet, Upholstery, center console, door rubbers all removed for complete wash from special chemicals.
At home it will not be as easy for you to do the same as other professional detailing experts do.
Chemical Guys and Maguire's certainly the best in the products of car detailing however other brands includes 3M, Turtle, Armor and Mothers are also not as bad.
For cleaning from inside use minimum 12500 pressure vacuum in to your car for excellent cleaning.
Step: 2
Next step to use water with steam machine, it is very effective for interior car detailing, Steam machine with water not only clean interior console but it can reach to a very tiny space and cleans it which is unlikely to be possible for human hand to reach.
It's up to you to apply in the end or at a start on gears area, A/C vent and radio nobs for more and better result.
Cleaning from dry towel required after this process for any unwanted moisture.
Step: 3
Car Leather & Fiber Seats
Apply any of the above brand leather cleaning product on your seats by using microfiber towel.
After cleaning, another procedure is to apply Polisher or called shiner on to your seats with brush, it also cleans as well as polish the leather to almost 100 percent after brushing for a while, clean all leather seats with the towel,
There is another step which isn't necessary but the more the cleaning you do the more the results will come out, a separate liquid wax for leather polish is available in the market, use it with pads to all the leather areas in the end.
All three above steps can be perform to all interior leather and plastic stuff which includes Steering, doors, dashboard and many other similar to that.
In the market you can choose many products but the most affective for car interior are chemical guys 5 Hol leather kit, it include all step and method of how to apply.
Fiber Seats:
All step 1 Process remain the same except for cleaning fiber seats product, fiber seats are hard to clean and required a more time than the leather ones, a separate cleaning products are available for fiber seats, but professionals often use leather conditioners or use their own chemical which could be made from soap, lemon, olive, vinegar and water.
How to Detail A Car Exterior Step By Step
Liquid Wash Soap
Compound (Maguire's)
Clay (Maguire's & Chemical Guys)
Machine Buffer & Buffing Pads
High to moderate gloss polish
Liquid Wax (Maguire's)
Steps
Wash a car with any soap but better to use liquid wash & wax, it will not damage the car paint
Clay process required to most of the car for better finishing and car polishing
After then a compound need to require on a car with Buffer for tiny scratches to remove it
Next process is to use polish all over car body with pad and then wait for 5 minutes before start rubbing from towel, better to use Buffer, then use wax for more coating to protect and restore car color to its original level, two layers of polish and wax on your car would protect external body paint from tiny scratches to some extent.
Other detailing includes Rim cleaning and shining and engine room cleaning.
You can choose from two brands both are good Maguire's and chemical guys, mother is more exclusively for interior detailing.
Extra Detailing
Extra detailing include vinyl coating because the cost to repaint a car is much more expensive than vinyl coating, second Coating can be in any color with many varieties, you can enjoy your car with different vinyl coating which normally last for an year and half.
In addition you don't need to polish your car all the time just one time glossy polish from buffer is more than sufficient for a whole year.
All About Cars News Gadgets

>>

General

>>

How to Detail a Car Step By Step