These are the well-tested recipes for homemade windshield washer fluid, each recipes represent certain conditions for acceptability of the atmosphere, such as some for hot weather and for cleaning bugs, some for extreme cold weather to cold weather.
You must read out the cautions stated in the end of the recipe 4.
This Recipe is suitable for Below 30 C degree weather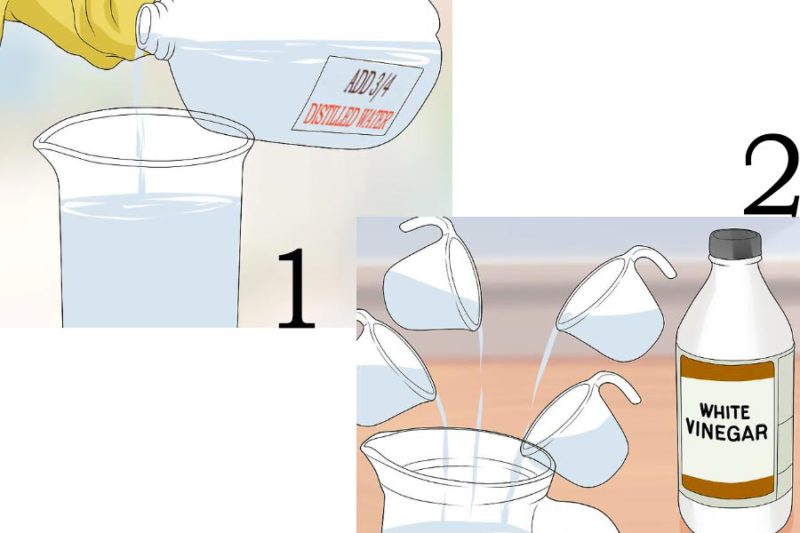 Tip: This mixture is amongst the most effective for places where pollen is a concern.
Pour 12 cups (3/4 gallon) distilled water into a clean, empty jug
Tip: Distilled water works much better than tap water, as deposits from tap water will eventually clog up your vehicle's spray nozzle
Add 4 cups white vinegar.
Tip: Be sure to use white vinegar only. Other types of vinegar may leave an unwanted residue.
Mix the solution thoroughly by shaking the container. If the temperatures in your area dip below freezing, do a freeze check before adding the cleaner to your car.
More Car Maintenance: How to Make Homemade Car Wash Soap
Recipe 2 For Cold freezing Climate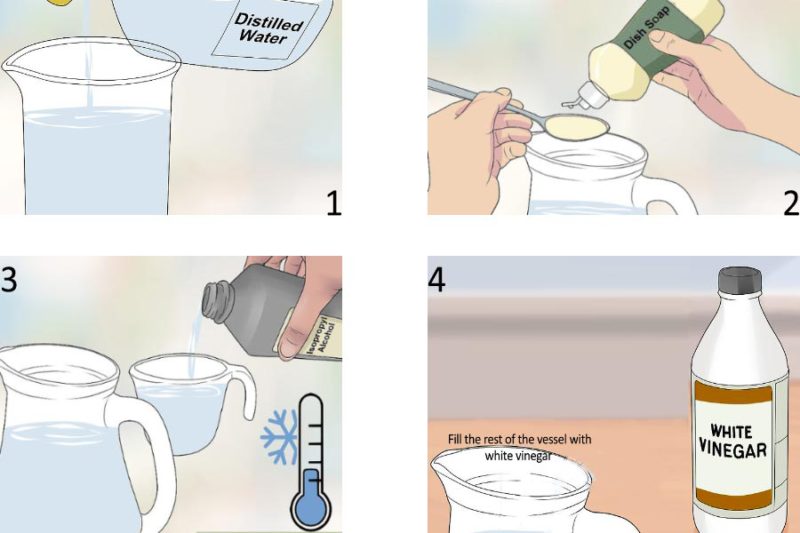 Distilled water in a jug. In a large vessel, add distilled water until the vessel is about ¾ full.
Add white vinegar. Fill the rest of the vessel with white vinegar. Leave some space in the container to mix the water and vinegar.
Add rubbing alcohol. Add 1 cup of rubbing alcohol or vodka and mix well. Test the alcohol mix by placing outside overnight. If the mixture freezes, you may need to add more alcohol.
Recipe 3 Suitable For All Weather Conditions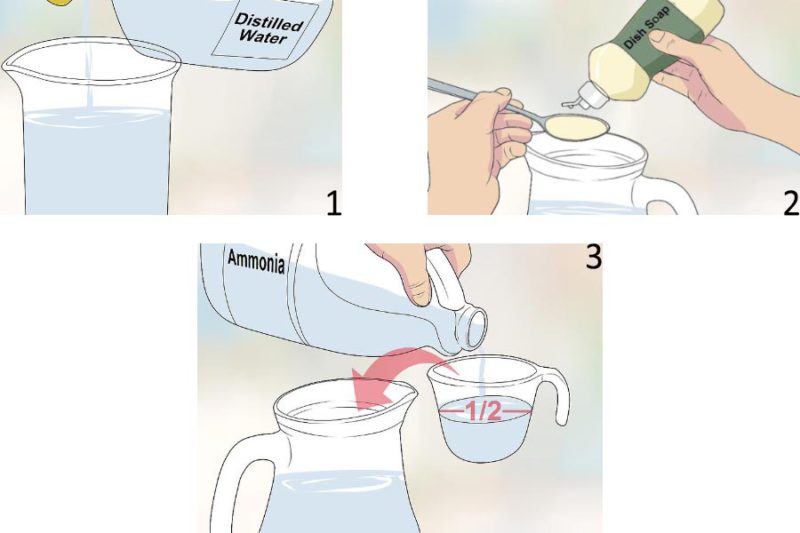 Add one gallon of distilled water to a clean jug. Use a funnel if you have difficulty adding the water. The jug should be easy to pour and capable of holding a little over a gallon. Be sure to save the container's cap for easy mixing and storage.
Measure one tablespoon of dish soap and add it to the water. Don't use too much soap, or your washing fluid may be too thick. Use whatever kind you have on hand. Make sure the soap doesn't leave behind streaks or residue on glass. If it foams too much, try a different soap.
Add 1/2 cup ammonia. Use a non-sudsing ammonia that is free from additives and surfactants. Be very careful with this step, as concentrated ammonia can be dangerous. Work in a well-ventilated area and wear gloves. Once the ammonia is well-diluted by the water, it becomes relatively safe for use as a cleaner.
Recap the container and shake to mix well. Test your cleaner before using it for the first time. Dab a little onto a clean rag and wipe a corner of your windshield. If your cleaner removes grime without leaving a residue, it's ready to put in your car.
More Car Things: Top 10 Waterproof Car Seat Covers
Recipe 4 for Hot Climate Conditions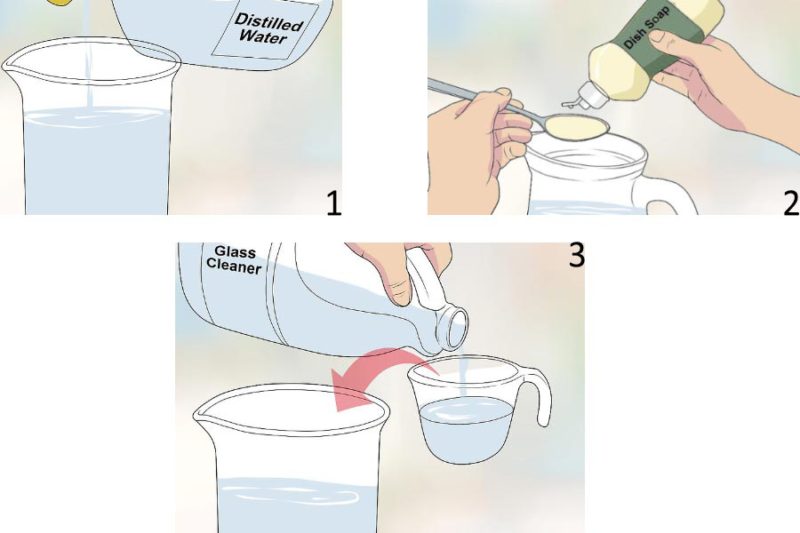 Pick a container that is easy to pour and holds at least one and a quarter gallons. Always use distilled water to prevent mineral deposits from building up in your car's spray nozzles and pump.
Pick the commercial glass cleaner of your choice. Make sure to choose a cleaner that produces minimal (preferably no) suds or streaks.
Cautions
Note: Be aware of changing weather conditions and keep different fluids for different seasons on hand. When transitioning from a warm weather fluid to a cold weather one, be sure to drain all of the old fluid before introducing the new one.
Warning: When storing homemade washer fluid, you should be mindful of children and pets and keep it out of their reach. Also make sure to label your mixture and keep it away from children.
Note: Be sure to mix potentially noxious liquids like ammonia and rubbing alcohol in a place with good ventilation.
More to Know: Car Dashboard Cleaner Homemade
Those who still hesitate to go for Homemade Fluids then, here are recommended Windshield washer fluids for winter, summer and compatible for all weather windshield washer fluids you can choose.
Prestone AS657 Bug Wash Windshield Washer Fluid, 128 Ounces (1 Gallon) For Hot Weather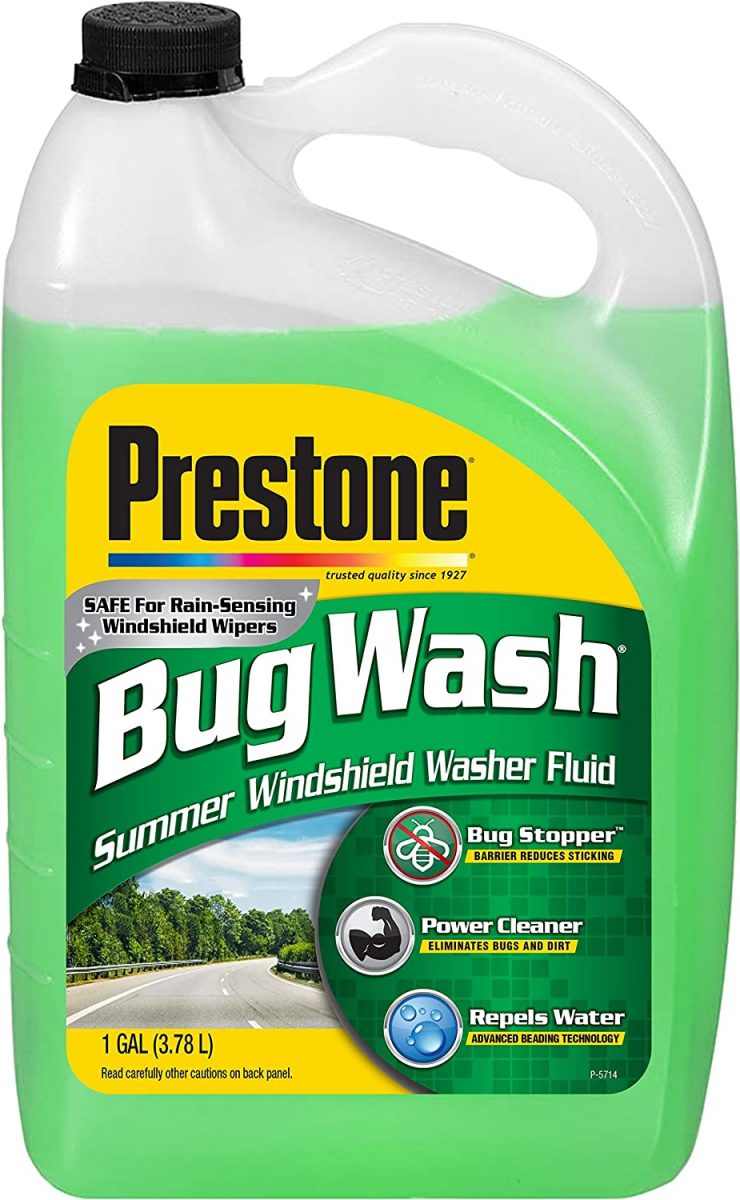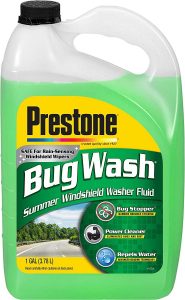 Advanced windshield washer fluid removes bug residue, road grime, bird droppings, and tree sap from windshields
Power Cleaner penetrates the toughest residues, breaking down and removing up to 99.99 percent of all bugs
Bug Stopper forms a barrier to help stop bugs, road grime, and other residues from sticking to your windshield
Water Repellent Advanced Beading repels rain for streak-free driving visibility
Cleans to a powerful streak-free shine with a fresh citrus scent
Nextzett 92100815 Kristall Klar Washer Fluid 1:200 Concentrate – 8.5 Fl. Oz For Hot Weather

Glare and smear-free cleaning for safer driving
Quickly removes bugs and dirt
Reduces wiper skipping and shuddering
Water softeners prevent hard water mineral build-up which can cause spray jets to clog
1:200 Concentration makes over 12 gallons of washer fluid
HS 29.606 Bug Wash Windshield Washer Fluid, 1 Gal (3.78 Liters) For Hot Weather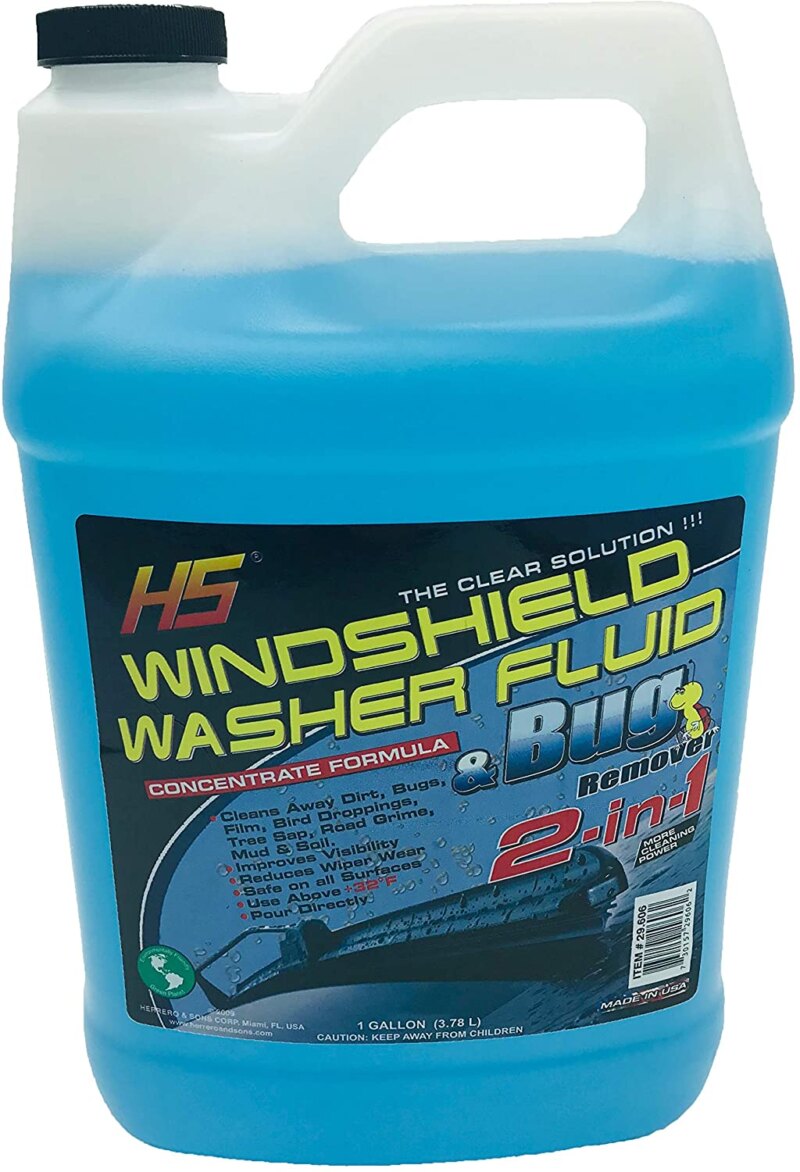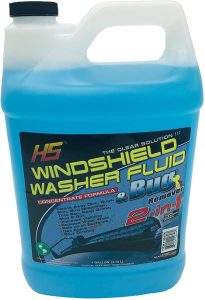 Formulated with advanced technology for a streak-free cleaning power.
Streak-free shine.
Instantly removes bugs & road grime.
Specifically formulated as a summer windshield washer to keep windshields clear from road grime and dirt debris.
Our formula contains special detergents that break down the dirt and grime making it easy to wipe off the windshield.
Rain-X White RX11806D Washer Fluid Additive-16.9 fl. oz, 500. Ml ALL WEATHER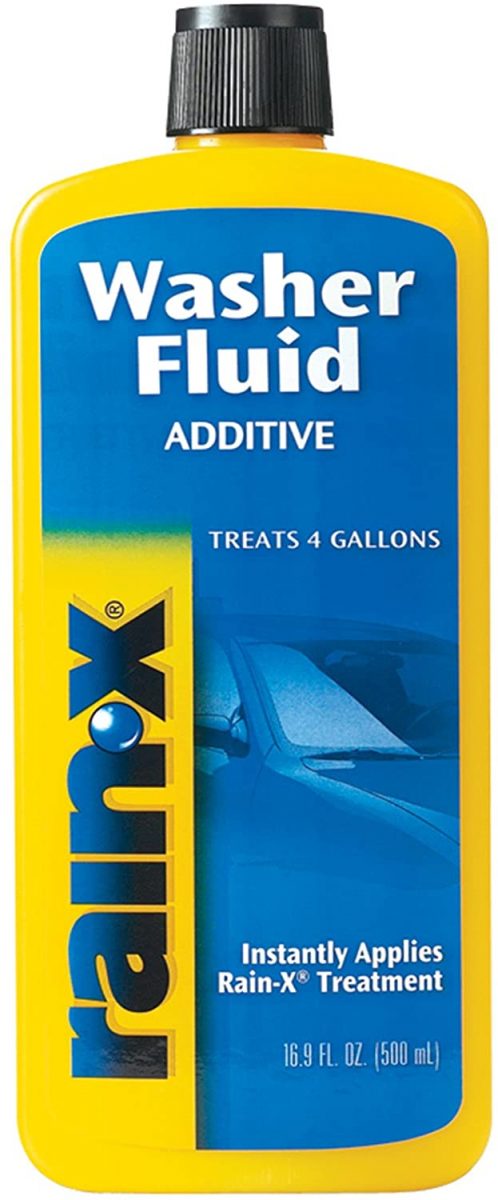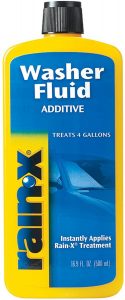 Add to existing washer fluid up to 4 Gallons
Applies water beading technology
Enhances driving visibility
Helps prevent and remove sleet, snow, ice, bugs and road spray from sticking to glass
Improves cleaning
Prestone AS658 Deluxe 3-in-1 Windshield Washer Fluid, 1 Gallon For All Weather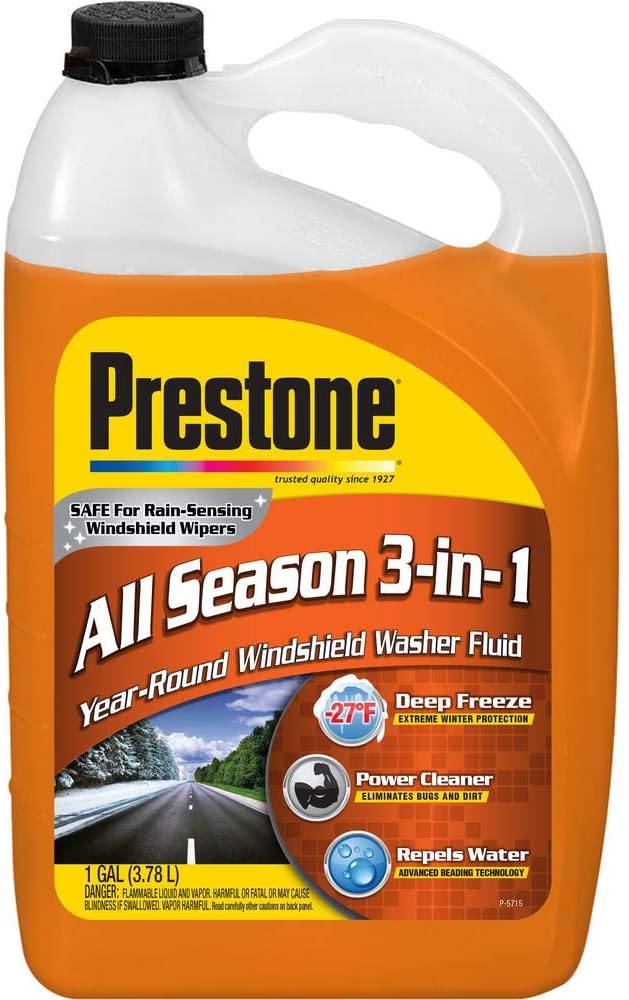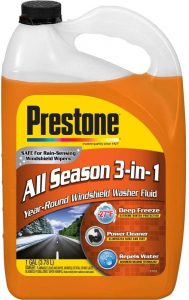 This item has been restricted from sale in the following States: CALIFORNIA, TEXAS
Specially engineered to keep your windshield clear, no matter the weather
De-icer melts ice fast and protects against freezing down to -27F plus beading technology leaves no streaks
Bug Wash penetrates the toughest residue to break down and easily remove bugs
Removes insect deposits and road grime in the summer and improves winter driving visibility
| | |
| --- | --- |
| For All Winter | BMW Windshield Washer |
| Price | $6.95 |
BMW Windshield Washer Concentrate For Winter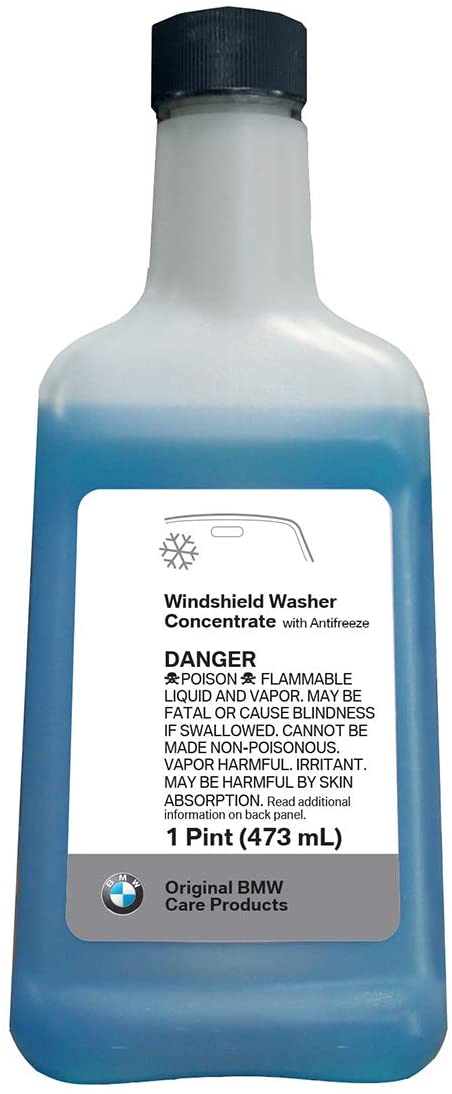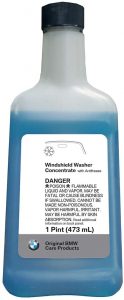 Genuine BMW Product
Provides streak less windshield cleaning.
Restricted sales to California, Texas and Maricopa County, Arizona.
Add 4oz per gallon of water
All About Cars News Gadgets

>>

Auto Repair

>>

Homemade Windshield Washer Fluid