Types of Seat covers for Waterproof
Neoprene Seat Covers: From CalTrend to Coverking seat covers, manufacturers across the world have lauded neoprene for its waterproofing abilities. Constructed from the same material used to make scuba suits, Neoprene seat covers offer total protection against water damage. Neoprene is an especially good material for off-road enthusiasts who like to get messy; that's why many Jeep Seat Covers are made from it.
Ballistic Nylon Seat Covers: It isn't the most comfortable fabric in the world, but Ballistic covers provide your seats with a heavy-duty shield against water and UV damage. Ballistic seat covers are among the most durable covers on the market, and they can take on attacks from spilled drinks, muddy pet paws, and other messes without breaking a sweat. In fact, this material was originally used to make flak jackets for WWII fighter pilots.
List oF Top 10 Waterproof Car Seat Covers
Mid Quality Products
Gorla Premium Universal Fit Waterproof Seat Cover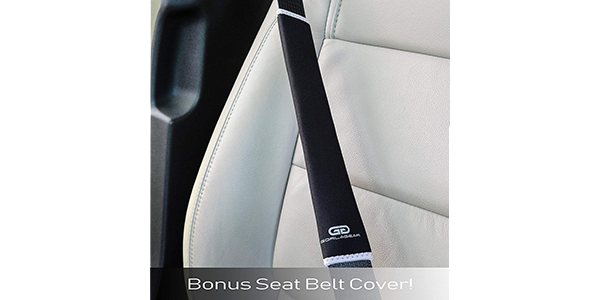 The Gorla Neoprene Car Seat Cover is manufactured with the highest quality materials to ensure a comfortable fit and extreme durability.
Sweat and Odors
Grease and Grime
Water and Sunscreen
Dirt and Sand
Excess Wear and Tear
Universal Fit
PETS!
Designed to be simple and effective. Goes on in seconds after a workout, day at the beach or at the end of a work day
Hand wash with mild detergent for best results
The seat cover measures 54″ long and 21.25″ wide for maximum coverage
Nylon seating surface with 3mm neoprene base (same material as wetsuits) provides a very comfortable and contoured seating surface that will not stick to your skin
Price: $52.85 (Front & Back)
Goodyear GY1247 \ Water Resistant Car Seat Cover \ 100% Pure Neoprene Fabric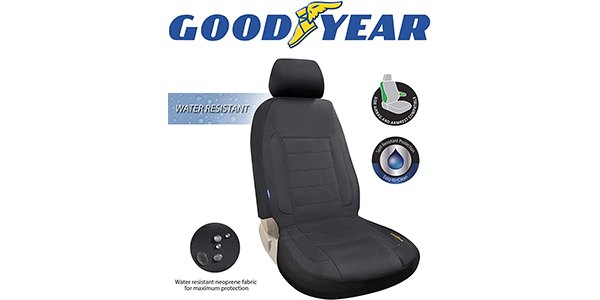 The Goodyear Wetsuit Seat Cover eliminates the need to yank and stretch to install your car seat cover. Each piece fits snugly and easily onto most car seats.
Automatic Sensor Car Phone Holder and Charger
Machine washable
Universal fit
Durable, waterproof, and sweat-proof materials
Seat cover dimensions: 46" x 18". Headrest cover dimensions: 10" x 18"
This unique fabric doesn't absorb the liquid that hits it. Instead, a spilled drink will simply bead up on the fabric
The Wetsuit Two-piece Seat Cover is no exception! You won't struggle to install this one-size-fits-most cover
Price: $72.84 (Front & Back)
Motor Trend OS-274-GR Black/Gray SeatGo Pro 3 Layer Waterproof Car Seat Covers


The newest from Motor Trend: 3 layer waterproof car seat covers feature a soft polyester cloth outer layer with waterproof neoprene backing. Behind these layers is a patented non-slip backing which both reinforces and prevents tearing, while also keeping the cover in place and preventing slippage.
Protect your Car from Spills, Dirt and Messes. Sweaty from Working Out
Compatible with Armrest and Seat Belt
Heavy-Duty Waterproof Capabilities
Designed to Allow for Front & Side Airbags to Deploy
Soft polyester cloth, waterproof neoprene, and anit-slip backing create the comfortable and practical seat cover
Price: $44.85 (Front & Back)
Infina Waterproof Car Seat Cover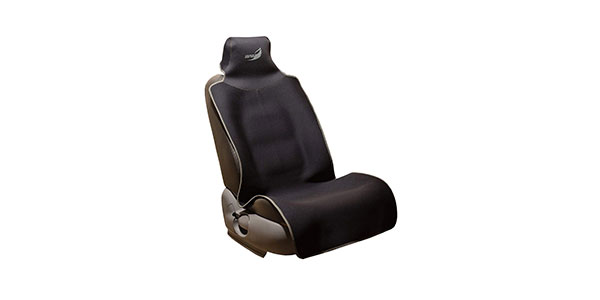 Infina Seat Covers are 100% waterproof and will protect your expensive seats from odors, stains, and wear. Made from Neoprene, sweat will wick away and not touch your expensive leather seats. Neoprene is COMFORTABLE, stylish, and much more durable than the competition.
SLIPS ON AND ROLLS UP IN SECONDS- There are no buckles or clips to fumble with, the cover rolls up like a sleeping bag. Protecting your seats has never been easier
STYLISH DESIGN WITH NON SLIP BACKING- For the fashion conscious athlete that appreciates a sleek and practical option to complement their interiors! Infina Seat Covers stay put while you live your active lifestyle
IDEAL FIT FOR MOST MAKES AND MODELS- The Infina Seat Cover contours to the shape of your seat and will not bunch up
Total price: $67.43 (Front & Back)
Elantrip Waterproof Front Car Seat Covers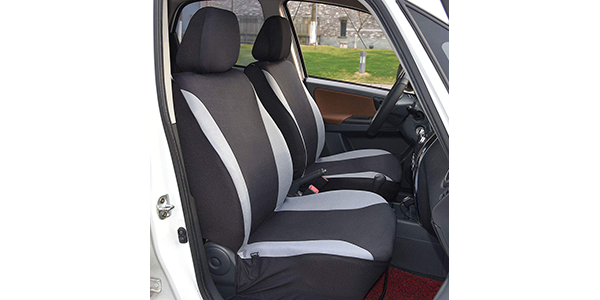 This kind of bucket seat cover fits most standard vehicles with front seat with detachable headrest and airbag. With elastic material the covers is also suitable for seat a bit bigger.
Treated with a finish is resistant but not impervious to penetration by water. Protect your car seat from Kids, Pets, & Spills
Airbag compatible
The back covers use 'S' hooks design making more anti-slip
360 degrees from front to back
Seat covers fit most Cars, Suv's, Trucks and Vans
Front seat: 20×20.5 inch (WxD) ; Backrest: 27.5 inch; Headrest : 10×12 inch (LxW)
Price: $47.09 (Front & Back)
Big Ant Waterproof car seat covers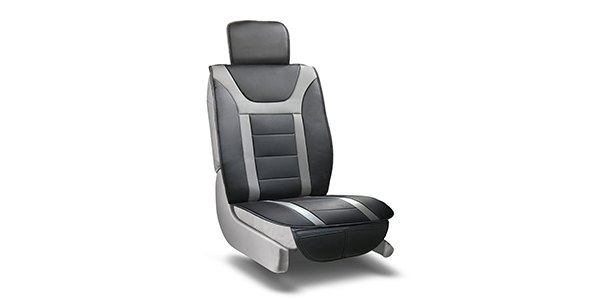 Protect against urine, sweat or any other liquid on your car seat. Comfortable PU leather, effectively control the temperature and adjust the humidity, also be useful to relieve fatigue and expedite metabolism.
Cool Car Accessories for Guys 2018-19
4-Point Nonslip Feature – With the durable stretch elastic band and buckles around the headrest, 2 chunks to secure both backseat and seat and the bottom stretch with 2 hooks to fix. Most importantly, backing designed with nonslip rubber. All prevent seat cover from sliding around.
Universal Application – Designed for front passenger seats or car back seat on all standard vehicles, trucks & SUVs. Protects seats from spills, dirt, scratches, hair, and other messes.
Easy & Quick Installation with sturdy accessories – Unwrapped design on both sides for universal fit. With firm and durable Accessories, this auto seat cover includes 1 zipper (slid to fix easily around the headrest of your car), 2 buckles with durability (tightly buckled on headrest), 2 metal hooks (hitched under your car seat) and 2 plastic chucks (caught in the seat gap)
Price: $36.99 (Front)
High Quality Products
Coverking Ballistic Seat Covers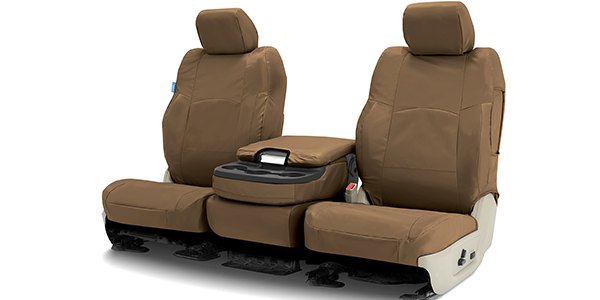 Coverking Ballistic Seat Covers are hands down the toughest seat covers you can buy. Kids, dogs, cats, and riveted jeans won't come close to damaging the Cordura Plus material. Ballistic Seat Covers have a water-proof inner coating for even better protection for your seats.
Coverking Ballistic Seat Covers are ideal for anyone hauling kids, pets, tools, camping gear, or any other potential seat hazards
Ballistic material is three times the thickness of most Cordura-style materials
Custom-cut and sewn to your exact vehicle for a perfect, snug fit
Tight fit holds in place on your seats – no slipping, no stress on seams
UV-treated, resists rotting, mildew, and stains
Woven design gives your interior a carbon fiber-like look
Simply spot clean and air dry
Available in a wide range of brilliant colors
Made with pride in the USA
2-Year Warranty
Price: $169.99
Carhartt Duck Weave Seat Covers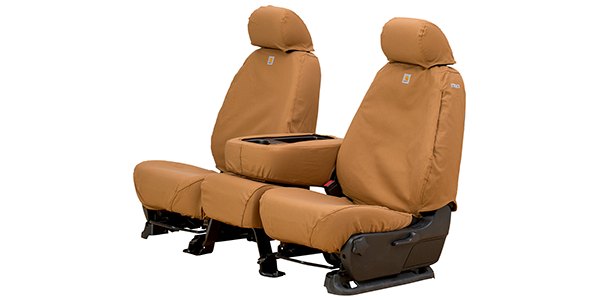 With all the day-in-day-out action your car's seats get, it's only logical that they could use some extra protection. And with Carhartt Duck Weave Seat Covers, top-notch protection is all yours.
Outfit your SUV, Jeep, or truck seats with Carhartt Duck Weave Seat Covers for heavy-duty interior protection
Custom-designed for a perfect fit on your exact vehicle
Crafted with heavy-duty, breathable fabric and tough triple-needle stitched overlapped seams
Great for driving with kids and pets, as well as construction work and off-road play
DWR (Durable Water Repellency) finish resists all kinds of liquids and spills
Accommodates seatbelts, folding seats, and other factory features
Armrest and headrest covers included (where applicable)
Front covers feature map pockets (depending on model)
Easy to install – no tools required
Wash and dry your covers right at home
2-Year Warranty
Price: $154.00 – 281.00
LUCKYMAN CLUB 5 Car Seat Covers Full Set with Waterproof Leather Universal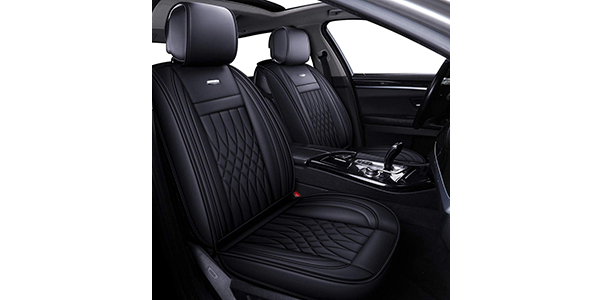 No need to remove the rear seat for the installation if you do not want to. There is installation manual inside the package, please read it before you start.
The PVC leather is quite wear-resistant and water-proof . PP cotton will guarantee the cover stay in good shape for years.Keys will not scratch the leather under normal conditions. If the covers get dirty, you can wipe it clean by wet towel easily.
Air bag is compatible, safety belt buckles can be exposed, two pockets are convenient for storing small stuff.
Check the 7th picture, to find your model there, if fail to find it, please check with me in the way of "2019 Toyota Tacoma TRD Off Road". Part of the compatible sedan suv and trucks are as bellow:
hyundai elantra sonata tucson chevy cruze equinox toyota rav4 camry honda accord crv cr-v kia sportage optima forte soul vw passat jetta
Price: $199.99
INCH EMPIRE Car Seat Cover-Water Proof Leatherette Cushion with Built-in Lumbar Support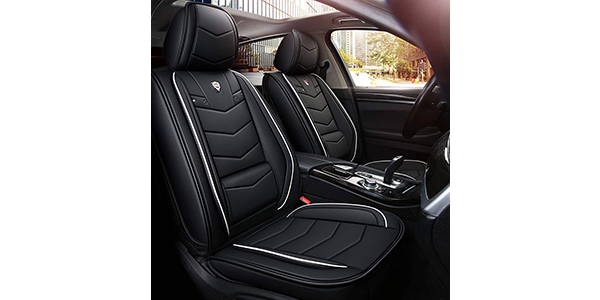 Easy to clean with wet cloth.Easy install with Video and paper instruction,usually takes 10-20minutes.Will fit most of the cars, please send inquiry with your car model and year if not sure.
Airbag and seat belt compatible.It's like a leather jacket,will not affect the heating function of the seats,Convenient pocket for keys or phone on the front lap,backside also storage for books.Adjustable Back seat covers with zippers and velcro connect design.Free replace for the 2 center rectangle connecting pieces,wider or narrower.
Surface layer is good quality 0.9mm thick PU leather,more wear-resisting but still soft touch.Center sponge layer is 9mm thick keeps the covers in good shape after long time use, and sit in feeling like a foam surrounding.Bottom layer is suede like fabric cloth,gently protect the seats.For the back bench,anti-slip sillica gel dots bottom layer,keeps the cushions in place when get in and out.
Free replacement if any defect found on any of the all 11 pieces,and no need to return the original one.
Price:  $215.88
All About Cars News Gadgets

>>

Regional

>>

America

>>

United States

>>

Top 10 Waterproof Car Seat Covers