Well on company recommendation 2018 Mazda 3 Oil Type, SAE 0W-20 for 2.3L and 5W-30 for 2.0 and 2.5L engine models. however it is not as simple as it is when you facing below situations.
Normally three situation occurs when choosing the right oil type.
Bought brand new car and doesn't know later on which oil viscosity and brand I need to replace.
Bought second hand car and doesn't know the current oil used by previous owner.
Bought second hand car and the car see signs of weak engine.
First Situation
Those who bought brand new Mazda 3 in 2018 doesn't face any problem when deciding the right oil type, because he had started the oil from 0W-30 in the start and followed up the company recommendation of oil type viscosity as stated below.
Second Situation
The Real problem Mazda 3 car owners facing difficultly of choosing the correct oil when he bought a second hand car.
Car owners doesn't know the right oil was using if the maintained log has missing.
Occasionally previous car owners reverse mileage meter to be able to sell it in good price
70 percent of previous car owner's doesn't tell the truth about car current condition.
Therefore to make sure you are choosing the right oil for second hand Mazda 3 cars, you have to go through some inspection here below before considering the right oil.
To Get a Good Car You Need to Inspect Which Is in Detail in another article you can see.
Did you buy Mazda 3 2018 a second hand car and doesn't know the correct the oil used by previous owner so what to do?
Steps to find it out the right oil Type by Follow these checklist
Take out an engine oil gauges and check the oil level and viscosity thickness by rubbing on your finger.
How many miles your car has been driven.
Press the pedal by starting the engine and see any white smoke coming out from exhaust.
Press the pedal and notice any strange noise such as tingling.
You can also check via take your car on highway for about 10 minutes before the engine heat gauge at a middle point and observe any strange sound such as tuck tuck or tingling.
You can check engine compression by accelerating on a highway at a high speed and observe responsiveness are quick or slow.
Check signs of any oil leakage from open engine bonnet and see any oil spread around engine bay areas, or park your car in a clean place and check after 2 to 3 hours about any oil been spilled over to a place from car engine.
To Know More: 2010 Mazda 3 Oil Type
In the last if you haven't seen any signs then you just need the right oil depend upon current mileage a car has been driven.
Which oil would I have to use, either conventional, synthetic blend or fully synthetic, no matter what you choose, most experts suggest fully synthetic, because it has different types of additives to protect your car engine, such as friction, detergent, maintaining engine compression to optimal engine performance and efficiency and do not lose viscosity even you had over 10 to 15000 miles.
These mileage level to change grade is based upon certain factors, however you can continue your same grade oil until you need symptoms to change oil type, then you can go down the viscosity list as mentioned here.
| | | | |
| --- | --- | --- | --- |
| 0W-20 | 5W-30 | 10W-30 | 20W-40 |
| 0 to 70,000 miles | 70,000 to 140,000 | 140,000 to 240,000 | 240,000 onward |
If you see no signs as stated above then you can test 0W-20 SAE grade oil, or you can choose 5W-30 as well.
So what bands do I have to Use for Mazda 3 2018 Onward models?
Castrol Edge
| | | |
| --- | --- | --- |
| Castrol EDGE 0W-20 5 Quart | Castrol EDGE 5W-30 5 Quart | Castrol EDGE 10W-30 5 Quart |
|   |   |   |
For best performance, follow the manufacturer's recommendations in your vehicle owner's manual.
42 percent better rating on fighting power robbing deposits
Superior engine protection vs conventional and synthetic blend oils
Superior performance against deposits, wear and oxidation; Bottle Color: Black
Meets the needs of Honda, Toyota, Acura, Lexus and other vehicles where 0W-20 grade is recommended
Exceeds ILSAC GF-5, API SN, ACEA A1, ACEA B1
Pennzoil Platinum
| | | |
| --- | --- | --- |
| Pennzoil Platinum Full Synthetic 0W-20 5 Quart | Pennzoil Platinum Full Synthetic 5W-30 5 Quart | Pennzoil Platinum Full Synthetic 10W-30 5 Quart |
|   | | |
Provides better protection from friction
Helps protect engines from loss of power
Provides faster low temperature oil flow and protects in extreme heat
Keeps pistons cleaner
Made from natural gas
Royal Purple
| | | |
| --- | --- | --- |
| Royal Purple High Performance Synthetic Motor 0W-20 Oil 5 Quart | Royal Purple High Performance Synthetic Motor Oil 5W-30 5 Quart | Royal Purple High Performance Synthetic Motor Oil 10W-30 5 Quart |
| | | |
Royal Purple's API-licensed motor oil delivers superior protection and improves performance in gasoline and diesel engines
No special procedures are necessary when upgrading to Royal Purple
Royal Purple motor oil is compatible with synthetic and conventional motor oils
Enhanced additive technology prevents metal-to-metal contact beyond both dexos1 and ILSAC GF-5 specs
Additive technology prevents the white sludge and lubrication starvation that can occur with 20% or higher ethanol fuel. No rust has been observed in standard industry testing
Mobil 1
Mobil 1 Extended Performance 0W-20 Full Synthetic Motor Oil 5 Quart

 

Mobil 1 Extended Performance 5W-30 Full Synthetic Motor Oil 5 Quart

 

Mobil 1 Extended Performance 10W-30 Full Synthetic Motor Oil 5 Quart

 

 

 
Helps prevent deposits and sludge build-up to enable long engine life
Excellent overall lubrication and wear protection performance under many operating conditions, from mild to severe
Helps to provide outstanding engine protection at oil change intervals of up to 15,000 miles or 1 year, whichever comes first
Exceptional control of oil breakdown and helps maintain stable oil viscosity
Helps maintain long engine life and is compatible with engine seals; helps provide less stress on the starting system
Third Situation
When you see signs of weak engine, engine leaking, White smoke from exhaust, loss of acceleration, engine strange noises then what to do?
Not all occurred situation can be fix from just changing oil type with oil additives, sometime you need to replace the faulty part from mechanic, however before you change the faulty part, you can do few experiment to make your engine life a bit longer by enhancing engine performance with oil additives and oil type combination.
IF you feel that your engine oil is burning after 2000 or 3000 miles which apparently not be detected from engine bay areas, it means engine oil is leaking internally from exhaust as a white smoke or you feel strange noise coming from engine.
So what could I do to fix this?
Change the Viscosity Grade to a higher level, for instance you were using 0W-20, now replace this with 5W-30 and Mix correct oil additives.
Liqui Moly Oil Leak Stop

STP Smoke Treatment

 

ATP AT-205 Re-Seal Stops Leaks, 8 Ounce Bottle

 

Lucas Oil Engine Oil Stop Leak

 
Liqui Moly Oil Leak Stop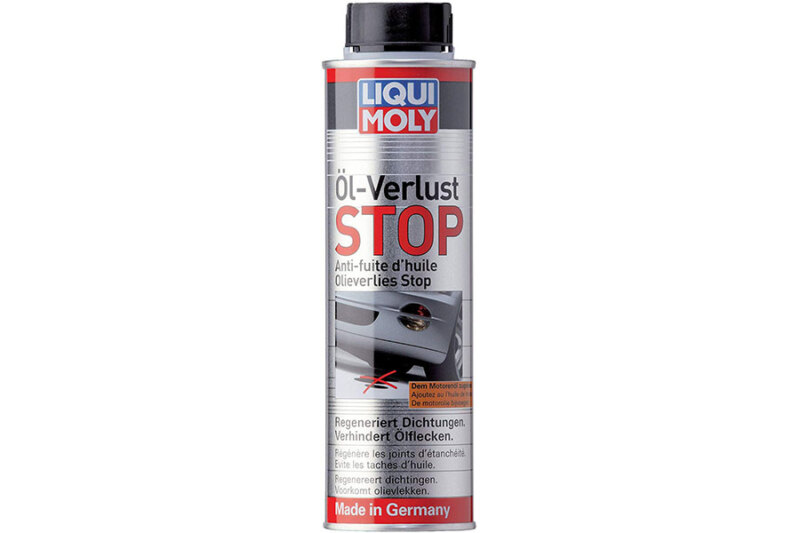 This formula provides a safe way to stop oil leaks in both diesel and gasoline engines with plastic and rubber shaft and valve stem seals.
Significantly reduces engine noise and oil consumption.
Prevents oil dilution. Great for manual and auxiliary transmissions.
Price:
STP Smoke Treatment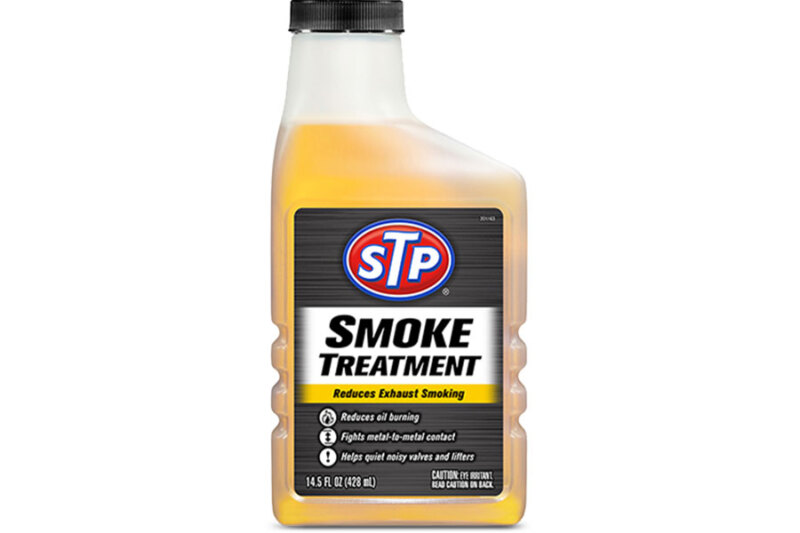 Reduces exhaust smoking
Decreases metal-to-metal contact by providing a thicker oil cushion
Helps reduce oil consumption
Helps quiet noisy valves and lifters
Use between every oil change
Price
ATP AT-205 Re-Seal Stops Leaks, 8 Ounce Bottle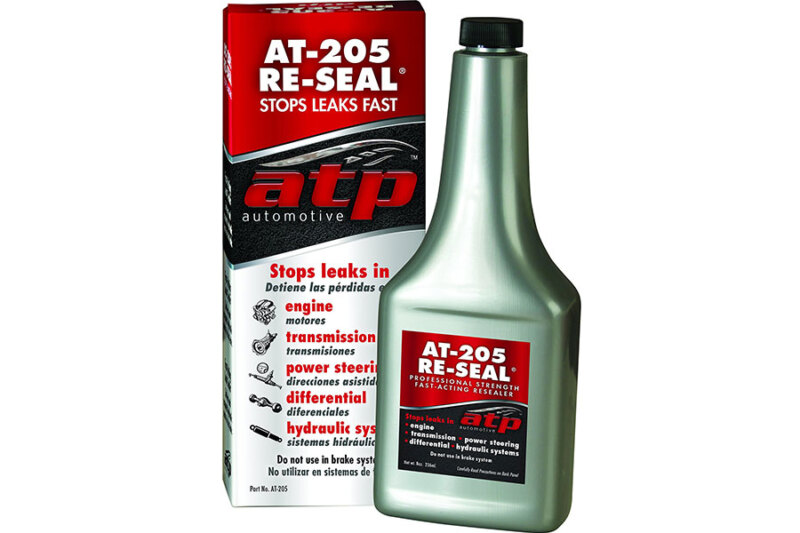 Professional strength fast acting resealed, stops leaks fast
Rejuvenates all rubber seals & gaskets in engines, transmissions, power steering, differentials and hydraulic systems
Compatible with conventional and synthetic oils, ATF, gear oil, power steering fluids and hydraulic oil
Does not contain petroleum distillates, will not over-swell or breakdown seals
8oz bottle will treat a 6 quart capacity, adjust accordingly
Price
Lucas Oil Engine Oil Stop Leak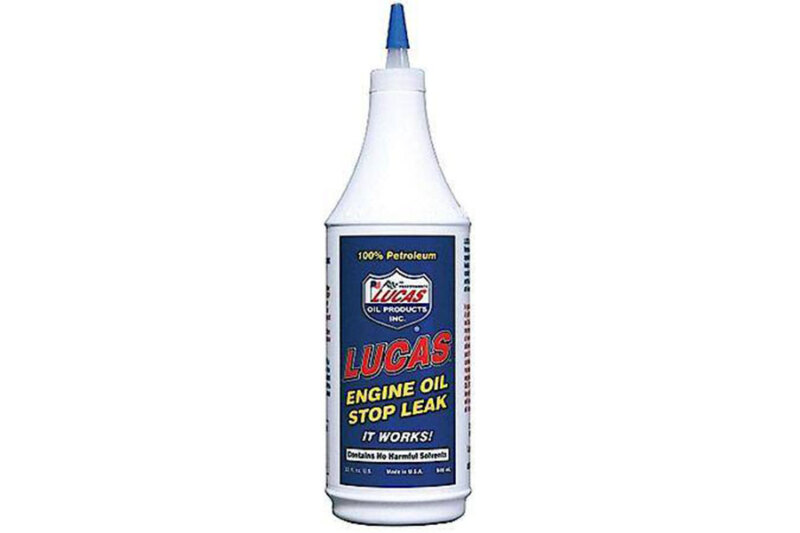 Compatible with petroleum, semi-synthetic and full synthetic motor oils
Renews worn seals with no risk of damage or eventual corrosion
Reduces engine noise and oil consumption, while raising oil pressure
Contains no harmful solvents
Price
Loss of Acceleration due to low air compression
Archoil AR9100 16 oz

 

Liqui Moly Anti-Friction Oil Treatment

 

Cera Tec Friction Modifier

 
Archoil AR9100 16 oz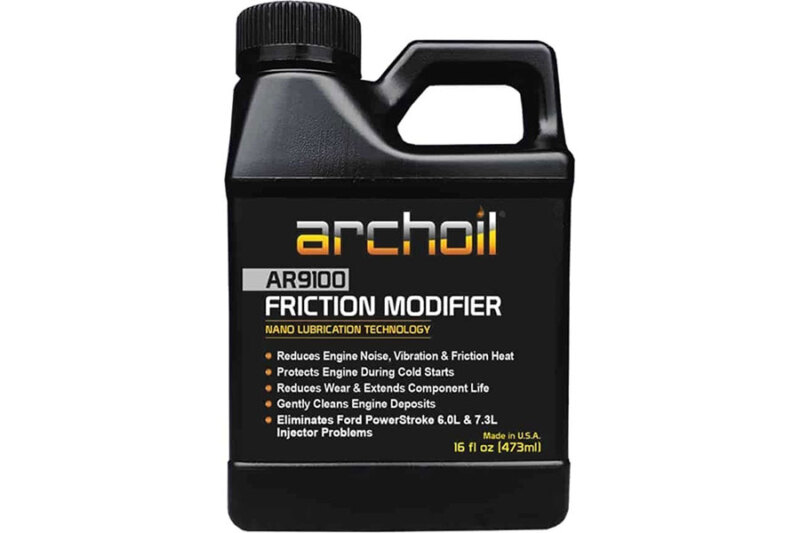 This product can be used on either gasoline or diesel engines. The main ingredient is zinc, which is ideal for preventing corrosion
It can fix most power stroke cold start issues. It also prevents engine noise, friction, and clutter
It isn't very effective in hot temperatures or when stored in the cold for long; it can harden
Price:
Liqui Moly Anti-Friction Oil Treatment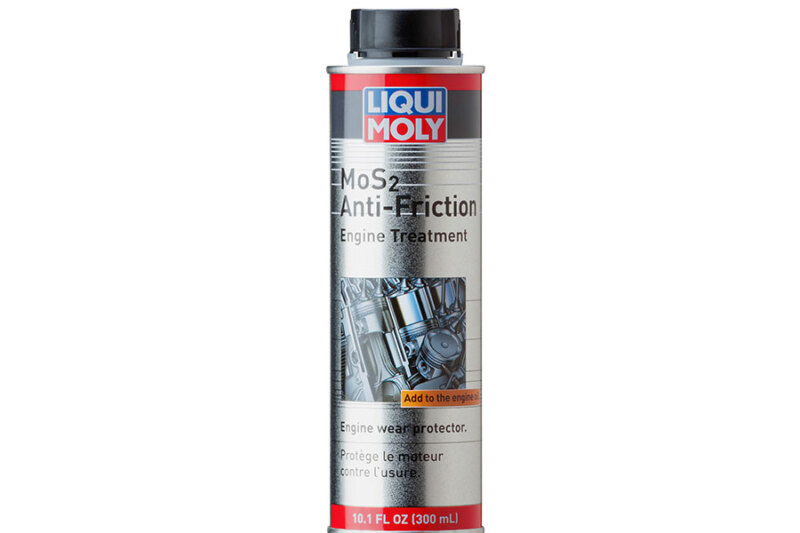 Forms High load-bearing film of lubricant on all friction surfaces
You will be surprised at how much better your engine sounds and how controlled it will be even at very high RPM
Price
Cera Tec Friction Modifier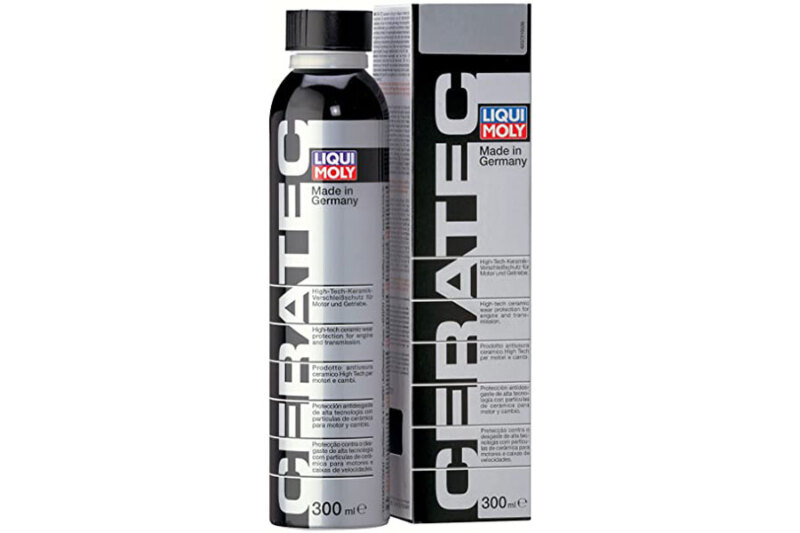 Mixable with all commercially available motor oils
Stable even under high thermal and dynamic permanent loads
No deposits and absolutely compatible with all commonly used filter systems
Resists extremely high and low temperatures
Price: