Why do a subset of Europeans love American pickups like the Ram 1500 and Chevy Silverado?
A full-size pickup literally screams "U-S-A! U-S-A!" as loudly as few other modern cars. And the Ford F-150, America's best-selling car, is only available in a few locations outside of the United States of America—officially, at least. Other countries' higher fuel prices, narrower highways, and higher tax rates are to blame. The fact is that in most markets, the full-size truck template does not translate into volume sales.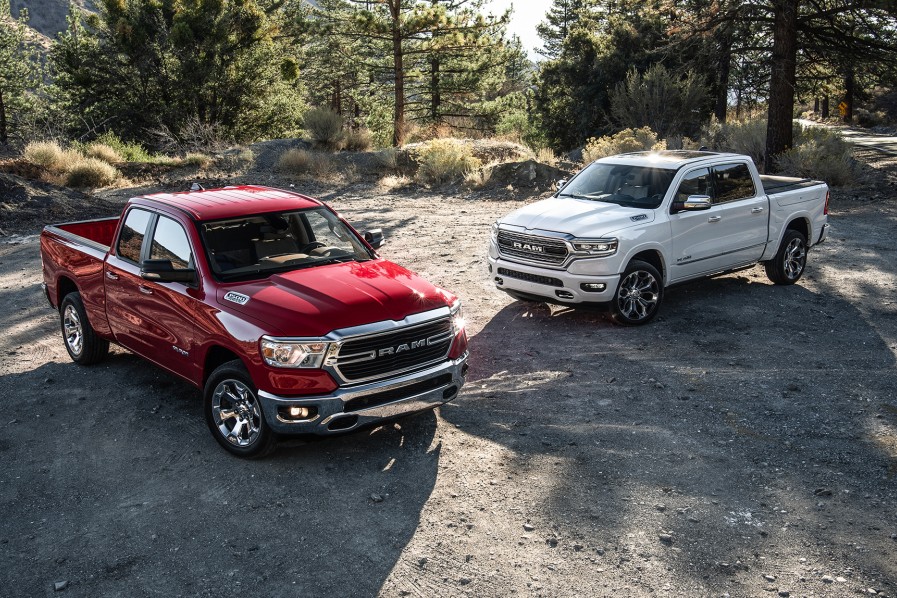 This isn't to say that those on the other side of the Atlantic can't import a full-size truck if they really want one. Although Ford does not want to cannibalise revenue from its iconic Ranger in international markets, other automakers may not have small pickups to defend. It's no wonder, then, that importing another full-size pickup icon to Europe, the Ram 1500, has become a brisk company. Dodge and Ram sales in Europe increased by nearly 50% in 2020 thanks to collaborations with local sales outlets.
What's it like to bring a full-size pickup from America to a country where Ram 1500s and Chevy Silverados are considered more exotic than Ferraris and Lamborghinis? Why are Europeans so enthusiastic about piloting these massive land barges down some of the world's oldest and narrowest roads?
Full-Size Fantasy
It would be a mistake to believe that the people of Germany, the United Kingdom, the Netherlands, and other European countries live in some kind of truck-free vacuum. Many smaller pickups and pickup-like SUVs are available for purchase in these countries, but these vehicles are distinctly more utilitarian in nature. Forget about the leather-lined luxury cruisers you'll find on American dealer lots; these mid-size models are more utilitarian, with minimal comfort, easy-to-clean interiors, and modest turbodiesel engines built to save money on registration while providing plenty of torque.
Efforts to spruce up these midsize versions have usually been met with apathy (witness the failure of the Mercedes-Benz X-Class). These smaller trucks are an integral part of the landscape, but they've historically been used as industrial workhorses rather than everyday drivers. Furthermore, European truck owners seldom use their vehicles to tow, as waggons, hatchbacks, and small SUVs are much more often used to tow utility trailers and camping caravans.
Best Used Cars For Teenage Drivers Under $10k
Although some contractors prefer American metal because of its improved cargo capacity and heavy-duty towing ratings, the passion for monstrously large import pickups is generally motivated by desire rather than need. The brash personalities, over-the-top capability, and perceived comfort of American trucks are factors that mainstream European buyers have rejected in their own market, but for which deep-pocketed free-thinkers are willing to pay a significant premium.This doesn't just include the initial purchase price, as owners must pay thousand each year in various taxes and registration fees brought about by their imported pickups' massive shadows and big engines (the latter of which also makes for some expensive fuel bills).
Euro Spec
A trip to an official importer is the first step in purchasing a Ram 1500 from another country. AEC Europe is responsible for Stellantis' imports of the Dodge Challenger coupe, Charger sedan, and Durango SUV. AEC claims to cover every country in the European Union with 400 distribution locations. Since 2011, it has collaborated with Stellantis (formerly FCA).
The company's position goes above and beyond what one would expect from an import company in the United States. Not only does AEC convert every vehicle it sells to European standards (including lighting, emissions, country-specific weight limits, and other safety concerns), but it also offers a replacement warranty (via a third party, CarGarantie) to cover the gap left by the factory's coverage being voided due to the vehicle's exportation.
Buyers don't have to deal with any extra checks or conversions from their respective licence bureaus once they've picked up their Ram because the procedure is largely plug-and-play. However, if you want a custom order, be prepared to wait: AEC is happy to consult with customers on specific options and equipment, but this is a time-consuming process as opposed to simply selecting from one of its already-imported and warehoused versions.
Although Ram trucks have proven to be the most common full-size pickups to import to Europe (due in part to AEC's reach), they are far from the only option. Smaller businesses, including AMT American Trucks, offer a complete range of American-made trucks for import, including Ford, Chevrolet, and GMC models. Although AMT American Trucks is headquartered in Rotterdam, the Netherlands, it will deliver vehicles that are homogenised to meet the needs of many European countries.
AMT American Trucks also provides a service that can help owners minimise their registration costs by increasing the gross vehicle weight rating of particular models to help them qualify as a commercial vehicle (this comes with specific tax breaks in some jurisdictions). For customers looking to reduce the financial impact of buying one of these large models, the company will also add or remove seats when required to flirt with the letter of the law.
Drive To Be Different
In Europe, full-size truck sales only account for a small percentage of total new vehicle sales. Given that these large trucks were never intended to navigate Europe's narrow streets, this makes sense.
Even then, the heart desires what the heart desires. Thousands of Americans yearn for impractical right-hand drive JDM vans and kei cars, and many Europeans just want to drive something different from the norms of their continent. If a European full-size truck buyer is unable to find a parking spot, they can always drive off the beaten path and create their own. You should try it in an Autozam AZ-1.
All About Cars News Gadgets

>>

Regional

>>

Europe

>>

Big Love: How and Why Europeans Import U.S. Pickup Trucks