Wants to be safe while on a road in terms of tire safety then this device is best to keep you aware all the time while you are driving. Tire Pressure Monitor System provides real time data on the device about the current PSI and the temperature of your tires. It alerts the driver in case of losing PSI and High temperature.
Normally people don't bother about the correct psi, but it does affect a lot of way, above 20% inflation in the tire can burst the tire in the long run, 30% percent less inflation can reduce tire life, and unnoticed inflation which is within 10% less can affect the fuel efficiency, affects car road grip especially in close corners at high speed, Multiple benefit can be taken by using this device.
Each vehicle have designated sensors for them, therefore buy the right one for your vehicle from online or from stores.
Sensors:
Two types of sensors available in the market External and Internal, Internal provide more accurate data where externals are easy to install and cheaper than internal sensors.
If anyone wants to buy this device with having a quality features then must choose the right brand and right place to buy, however these devices available in many market around the world where you can buy, but the most reliable place to buy is from Amazon, EBay and AI Express.
Here are the best tire pressure monitor system:
More than 4 sensors and different models in each product are available in the market. Here only specified only 4 sensors version of these products.
Price Comparison against each product in different markets to make an easy for you to choose the best with the right price:   
Product

Amazon In USD

EBay In USD

Ali Express In USD

CARCHET TPMS With 4 Internal Sensors

75
48
55

CACAGOO

TPMS With 4 Internal Sensors
77
67

58

Yokaro wireless with 4 external Sensors (Universal)

70
100
N/A
Blueskysea wireless with 4 external Sensors
70
71

60

CAREUD Auto Wireless TPMS

84
101
75
ZEEPIN C220 Solar Powered TPM
51
50

46
CARCHET TPMS: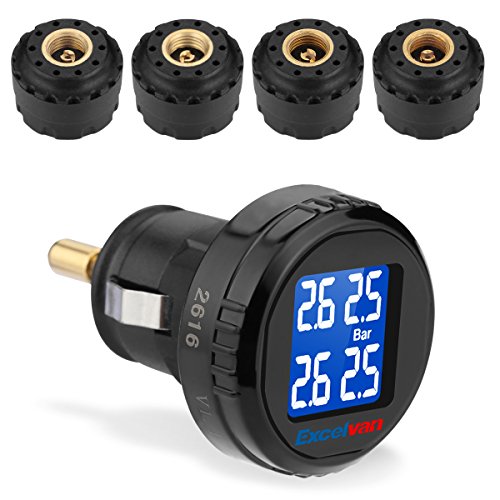 Carchet TPMS available in solar power and USB charger version, but the extra cost will have to be pay for the solar.
Specification & Features:
Carchet device + cigarette lighter with 4 external sensors
Universal sensors work with most cars except Trailers, RV, Motorhome and etc.
Sensor Range up to 116PSI
Sensor display range up to 99PSI
LCD Color screen display of 17x17mm
Manufacturer: Bojia
Critics:
Sensor Leakage issues
Frequent battery replacement required for LCD display
Difficult to read in bright light
How to Install:
CACAGOO Wireless TPMS Tire Pressure Monitor System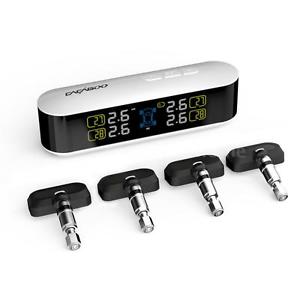 Another product available on eBay and amazon with 4 above star rating offers only USB Charging version. External sensors also available in this product which offers less price than internal sensors.
Specification and Features:
LCD Monitor
Operating temperature -20C To 80C
Sensor Operating Temperature -40C To 120C
Pressure Range 0 To 116PSI
Battery Life up to Five years
Critics:
This unit does not plug directly into accessory outlet
Often malfunctioning in the sensors
How to install:
Yakora Tire pressure Monitor System:
Yakora offers accurate measure of tire pressure and transmit signal up to 8m distance, available in external and internal sensors, anti-theft design, and water proof, Device stops working immediately when the tire stops.
Yakora provides accurate date when the speed cross 15km/h after 5 minutes of drive.
Suitable for all kinds of 4 wheel drives, if someone wants to use that with more than 4 wheels then a separator sensors will be required.
Click to know more on Amazon
Specification & Features:
Adjustable alert (range: 0-99 psi/0- 8 Bar)
Pressure Range: 0-87 psi/0- 6 Bar
Sensor Battery life up to 2 years
Comes with 4 External Sensors and Monitor.
Critics:
Frequent Sensors Leakage
Unable to see the reading on daylight due to dim light
Fading digital meter
How to install:
Blueskysea TPMS: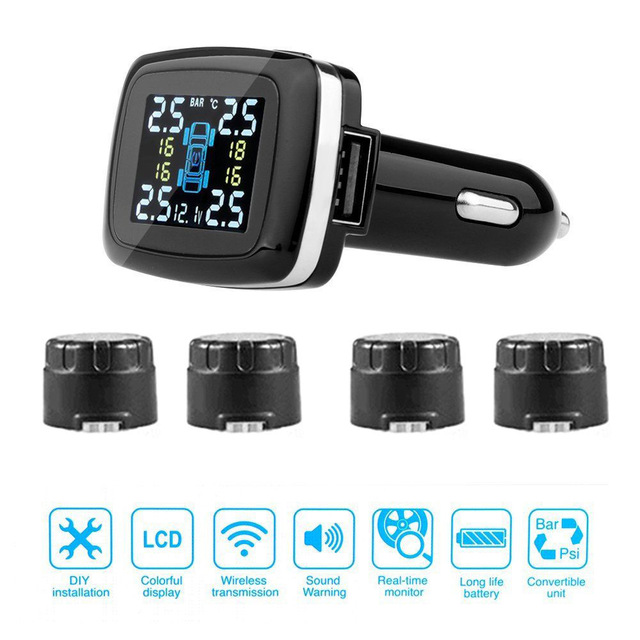 Blueskysea is available in solar-powered and USB charging port, device provides the date in Celsius and Fahrenheit. In addition, the sensors are waterproof and anti-theft and designed with an alarm system.
Click to know the price on Amazon
Specification & Features:
Solar and extra mini USB interface charging, 4 external sensor
Solar heat-proof battery, charging fast, lasting power
Display operating temperature: – 20 C To + 80 C
Sensor operating temperature – 40 C To + 105 C
Sensor Storage temperature -40 C To + 120 C
Pressure range: 0 To 94psi (0 ~ 6.5bar)
Battery life up to 1 Year
Critics:
No manual instruction about how to install
The sticky plastic with the monitor isn't held tightly.
The system does not display all the time with all detail together.
How to install:
CAREUD Auto Wireless TPMS: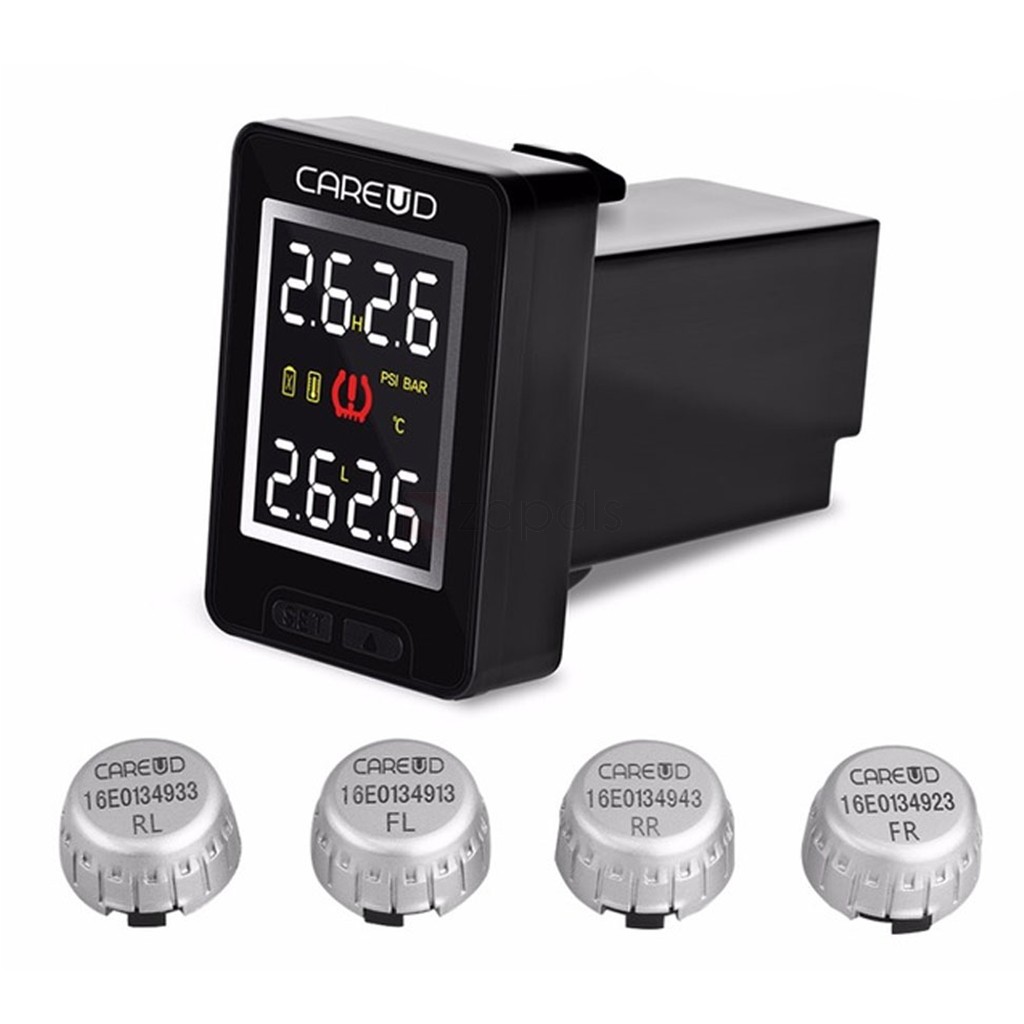 This one is specifically for all Toyota brands, however for other 4 wheels and more than 4 wheels are also available in this brand with different codes.
Specification & Features:
Built-in high-capacity rechargeable battery.
Sensors batteries will last up to five years
Two pressure units (psi/bar) supply for the user to select
Sensor & Monitor storage temperature: -86 +185℉ (-30℃ +85℃)
Sensor & Monitor operation temperature: -68 +176℉ (-20℃ +80℃)
Critics
Sensor Leakage issues
It only suits the Toyota brands
Expensive than most of the brands with the same Specs and Features
How to install:
ZEPPELIN C220 Solar Powered TPMS: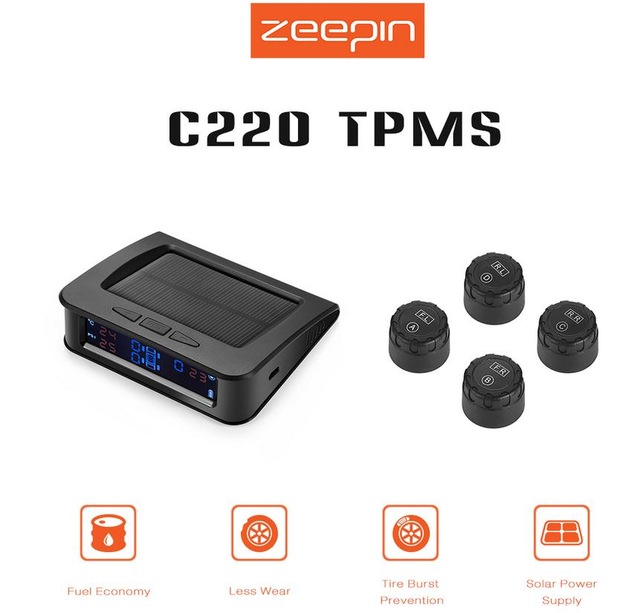 Comes with a solar and USB plug-in charger, and an alarm system in case of theft, unusual situations, and temperature. External and internal sensors are available at your choice. It works almost too all 4 wheels cars.
Click here to know more on Amazon
 Specification & Features:
Sensor working temperature -40 Deg. C – 80 Deg. C
Display working temperature -40 Deg. C – 85 Deg. C
Monitoring temperature scope -40 Deg. C – 85Deg.
High-definition TFT color screen display
Multi-information display
Critics:
Replacement issues in case of online purchase
The battery dies within a few months
Not all sensors work for all cars as they are claiming
How to install:
All About Cars News Gadgets

>>

Gadgets

>>

Best Tire Pressure Monitor System Devices