Tips to buy a new car: What to consider when buying a new car is not an easy task, from American and European perspective there is so many brands available in the market and people gets confused about which car would be the best for me, therefore there are tips that can be useful and need to be considered before but any new car, otherwise there is a risk of choosing a wrong one.
Budget
First need to look at your budget, how much money can a you spend on the car, buying an off budget car could arise a financial trouble lead to late monthly payments and schedule payments or any settled payments against car lease
Budgets means the initial cost with all payments as set subsequently during car lease term will be added. So do not get confuse and make sure about whether the buying car is under the budget.
Best deals (negotiate)
Research online, find better deals of financing a car, car dealers financing is not always at best to customers sometime other companies finance the same car less cheaply than the showrooms including banks as well, so better to prepare yourself for better deals.
Car selection
When there is so many offers available in the market with same price and sometime same features customer cannot take a decision of which car would be the best of them, so do not tempted of more features than the comparative car unless you don't care about any of this at all as mentioned above or just going to be mentioned.
Best Steps and Tips to buy a new car to be follow.
Quality
Quality is everything without it car is useless, quality includes interior, exterior with durability including engine as well.
Affordability
Some cars are cheaper to buy but expensive to use such as car parts are so expensive and cannot easily find it out and became very difficult for the owner to get their car parts easily and cheaply therefore buy the car with maximum affordable range.
Resale value
Not every good looking car has a good resale value rich people don't care with the value of the car at the resale moment but middle class and average salary person always think of it before buy any car, do some research such as from online, and find out about the resale value of the used cars, in addition the car dealers also give you some idea about the resale value of a car in case of selling.
Efficient
Fuel efficient (economy) is an important factor to consider when buying a new car, even when gas prices are down. History has shown that they won't stay that way forever. Many conventional cars today offer impressive fuel economy, especially in contrast to what you may be trading in. Further, alternative power trains offer an increasing array of choices, with diesels, electrics, and hybrids each carrying appeal for different drivers.
NCAP Rating
Always check whether the car you are interested are certified by the respective country, if yes then what stars or points given to the car, in addition NCAP include physical and high tech sensors test before reaching out the results, all detail of what standards and high tech system are explained in the article of respective NCAP RATING FOR EACH COUNTRY.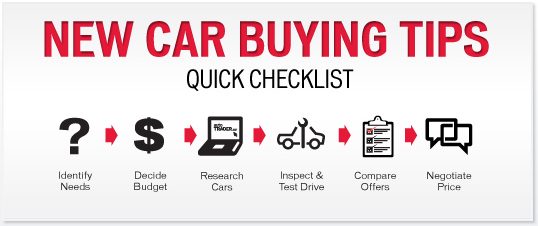 These are the best tips to buy a new car and hopefully it would help the user as much as it can be.
All About Cars News Gadgets

>>

Car Buying

>>

Best Tips To Buy a New Car and what to consider before buying