Spilling coffee on our car seats has become a practice that leaves stains all over the car seats and an irritating scent that creates an unhealthy feeling for drivers and passengers, and what should be done to clear it up quickly? Don't worry, there are a lot of options of how to remove coffee stain from car seats fast.
Advise note: Always carry the cleaning detergent specifically made for these stains, it will make your life simpler and you wouldn't have to think about it, apart from the coffee other stains such as (Tea, Coke, Blood) these detergents are best and will save you time, anxiety to find the best DIY method.
Their method of use is so easy that you only need to spray, clean and wait until it's done, most cleaning procedure doesn't need 10 or 20 minutes of done policy, you just need to spray, clean and go wherever you want to go.
In addition, you also worry about using these DIY methods because of the possibility that Cloth, leather or vinyl seat coating could turn out to be incorrect and cause harm to the car coating.
So don't be tightwad only to save couple of bucks and better to have one always in your car.
Here are Some of Few Best Cleaning Detergents of How to Remove Coffee Stains From car Seats.
Carguys Super Cleaner
Crafted to work on a range of indoor and outdoor surfaces, this tool can be used to clean upholstery, cloth, canvas, wood, vinyl, acrylic, rubber, grease and even tree sap. Using a specially formulated water-based polymer solution, this cleaner is safe, non-toxic, and does not allow water to be rinsed after use.
Although it's safe to use on nearly all surfaces inside your car, avoid using the Super Cleaner on glass or any instrument panel screens, such as your gauge cluster or navigation. Otherwise, it can quickly become your go-to bottle for not only cleaning the upholstery in your car, but all the other surfaces inside the cabin.
Price:
Chemical Guys Total Interior Cleaner & Protectant
Chemical Guys is a multinational supplier of high quality automotive care goods. Total Interior Cleaner & Protectant is known to be one of the most advanced automotive upholstery cleaners available today.
The product is formulated especially for car fabrics and is manufactured with inbuilt biotechnology to combat grime and dirt at a molecular level for a thoroughly in-depth cleaning process. More significantly, the cleaner is astonishingly mild and does not contain any abrasive-cleaning agents such as ammonia or bleach.
The built-in odor eliminator also comes handy if your pets or kids often commute in the car.
Price:
Chemical Guys Lightning Fast Carpet and Upholstery Stain Extractor
Chemical Guys is also one of the most professional automotive upholstery cleaners. It is specifically designed to tackle spot stains on soft fabrics such as carpets and upholstery, particularly fresh ones. Don't let an unexpected spill spoil your evening by holding a bottle of Lightning Quick Upholstery Stain Extractor ready in your emergency bag.
Price:
Blue Coral Upholstery Cleaner Dri-Clean Plus With Odor Eliminator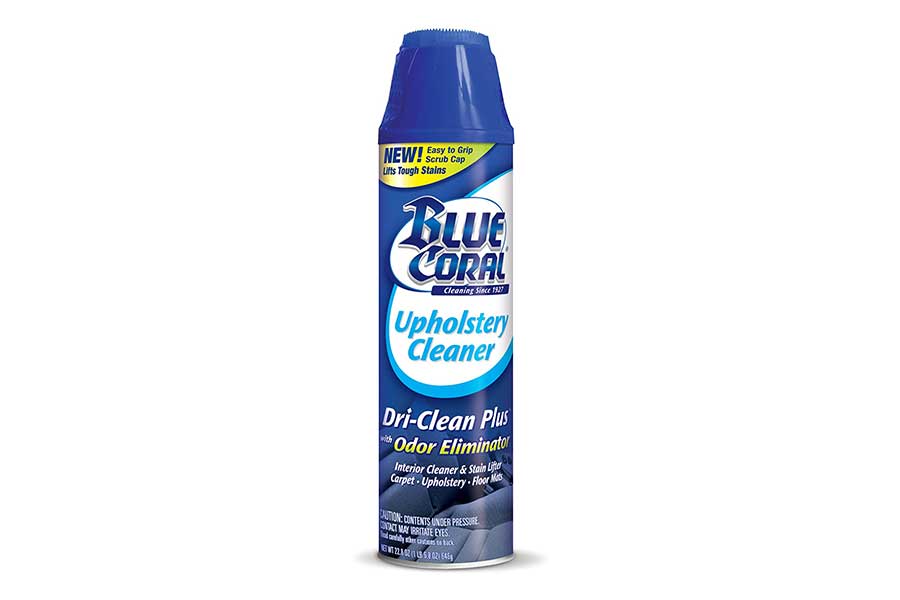 Blue Coral Upholstery Cleaner is known to be one of the most popular car upholstery cleaners for carpets or floor mats suffering from heavy spot staining. The drug is specially designed to withstand a wide variety of stains, much of which you believe will never go down. Specifically, it is effective on tar, grease, coffee, ink, lipstick, and a range of other difficult stains including blood.
Moreover, the cap comes stocked with a stiff brush to get the chemically designed compound deep into the fabric to genuinely eradicate the baked in stains.
Price:
For Those Who Prefer Use To Use DIY Method of How to Remove Coffee Stain from Car Seats
For Fabric/Upholstery Car Seats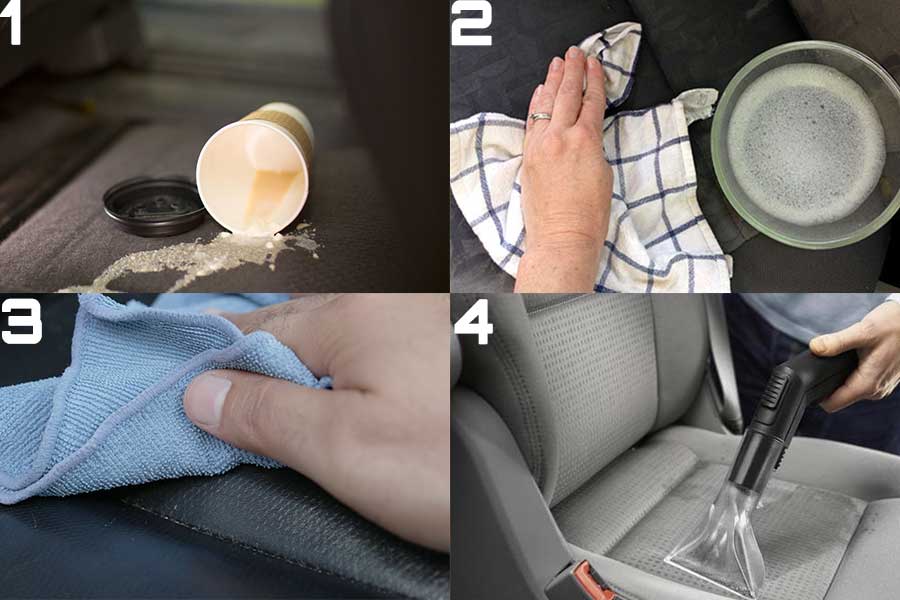 Blot the coffee as quickly as you can: It's a race against time, If you're in a hurry to get to work or school, you may be tempted to just let the stain dry and deal with it later. Resist the urge, because a fresh spill is a lot easier to clean up (and smells much better) than stale, dried coffee. Grab a paper towel, cloth, baby wipe or whatever you have handy and try to soak up as much as you can.Spray the stain with a mixture of one part white distilled vinegar to two parts warm water then blot the liquid with a white paper towel. Repeat this until the stain lifts.
Gently rub with a mixture of dishwashing soap, vinegar and water: Several car cleaning experts recommend a solution of approximately one third vinegar, two thirds water and a few squirts of dish soap. You can also use a spray-on upholstery cleaner. Apply this solution to the stain and then rub gently with a clean sponge or dishtowel. While you're doing this, inspect the door trim, cup holders and carpet and wipe down any spilled coffee you find there.
Rinse with clean water and blot: Don't skip this step! While you don't want to completely soak the seat, rinse as well as you can. Keep blotting until no more brown coffee stains appear on the dishtowel or cloth you're using.
Blow dry the wet area. Dry the wet seat with a hairdryer, set on low. If it's a hot and sunny day, you may be able to get away with leaving your windows down. Just make sure no storms are on the horizon.
For Stains on Vinyl or Leather
You Can Use Baby Powder Instead of Towel for absorbing: Absorb excess coffee from the area with a white paper towel or baby powder and then use towel to wipe any extra stain.
Rub until the Stain remove: Mix a drop of mild detergent in a cup of warm water and dampen a soft, lint-free towel with the mixture. Aim for more suds than water on the towel because excess water can damage leather.
Wiping: Wipe the stain gently with the dampened towel, beginning at the outside of the stain and working inward.
Blot the area with paper towel: Dry the area, if needed, by blotting it with a paper towel. Use commercial leather cleaner and follow the manufacturer's instructions if the stain persists.
All About Cars News Gadgets

>>

Auto Repair

>>

How to Remove Coffee Stains from Car Seats