So how to make homemade car wash soap using the right products, untested products could harm car paint, so it's best to adopt the proven and tested method.
Here we make outdoor car wash soap, but cleaning your entire car from outside doesn't clean until you clean it from inside as well.
Therefore after how to make homemade car wash soap for outside, here are few popular methods to make of how to clean your interior at home with homemade products.
How to Make Homemade Car Wash Soap
Step – 1
To make a car wash soap, grab a bucket. You can probably find one at your local grocery store for a dollar or grab one on Amazon.
Step – 2
After you have put dishwashing liquid and baking soda into the bucket, fill up the bucket with water. As the bucket fills, it will start to look like a perfect car wash soap. (Cold water or warm water works.)
Step – 3
Wash your car!
Car wash soap cleaning Product can be pricey because you know how much car washing you have to do when you park your car in a garage like me every day. There is a good chance you've got all these products at home already. Dish soap by the way, is a versatile product for cleaning.
More Products: Top 10 Waterproof Car Seat Covers
Before applying this method you need to know about each ingredient pros and cons.
Dish Soap Liquid
Dish liquid soap is designed to work through grease, which makes it particularly efficient for utensil washing. This means it can also be efficient in treating other forms of automotive dirt such as grease and tar.
Cons
Without first water it down with water, it can ruin car paint due to rigid material.
You need to do a lot of polishing to remove residue occurred on a car paint after washing it.
While hand soap will not be the best thing to use to clean up your vehicle, and it is also not as effective as regular car wash soap, when you do not have anything else it can still do a surprisingly good job.
With hand soap, you will need to use lots of it to get the foam that you want and also to cover the vehicle adequately.
Cons
Hand soap might not be suitable for tough stuck on debris, better to use other alternatives.
Baby shampoo is intended for baby use, it should be apparent that it will have more gentle formulation than most other cleaning agents on this list.
For certain situations, baby shampoo is also more effective than others, such as removing bird droppings from the car surface, and other areas such as windows.
Cons
Not be Compatible for rough dirt and grease.
What you might not know is that baking soda is also a great alternative to car wash soap and will be very useful for cleaning up your vehicle.
For the best results, you should use baking soda to make a cleaning solution by mixing it with dishwashing liquid and some warm water.
And when it comes to using this mixture to clean your vehicle, you will only need to mix it thoroughly and add more water to dilute it so that it does not damage the paint job.
Hair Conditioner
A hair conditioner will not necessarily leave you with a spotlessly clean vehicle but it is still quite useful when cleaning up your car.
Washing the car with a hair conditioner that contains lanolin helps to remove grime and will also give the surface a nice shine.
The lanolin in the hair conditioner will give the vehicle's surface a freshly waxed look, and better yet, it can also repel the rain, which further protects the paint for long.
More to Know: Why Is My Car Air Conditioner Not Blowing Cold Air?
OTHER POPULAR PRODUCTS IN CASE YOU DON'T SATISFIED WITH HOMEMADE PRODUCTS.
Verified Car Wash Detergents
| | | | | |
| --- | --- | --- | --- | --- |
| Products | Ultimate Wash & Wax | Rain-X 620034 Spot Free Car Wash. 1 Gal | Mothers California Gold Carnauba Wash & Wax, 64 oz | Chemical Guys Honeydew Snow Foam Car Wash Soap and Cleanser 1 – Gal |
| Price | $27.09 | $6.97 | $11.49 | $9.97 |
MEGUIAR'S G17701 Ultimate Wash & Wax, 1 Gallon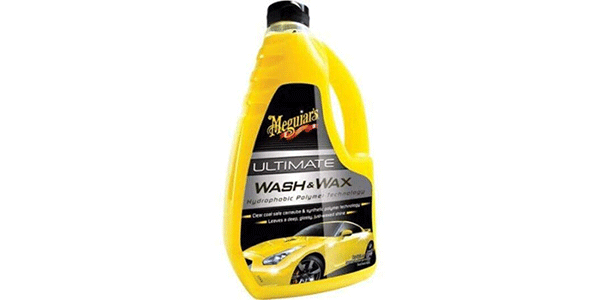 A TEMPORARY layer of protection that resists dirt and some road grime. However this is temporary, and will fade within days. If you are the kind of person looking for a very good wash/wax product that won't strip the existing wax coat? This is the product for you. If you're the kind of person who can't be arsed to wax your vehicle every few months? by all means, this is a great product for you. It does a little bit of both, to please both parties.
Price:
Rain-X 620034 Spot Free Car Wash – 48 fl. oz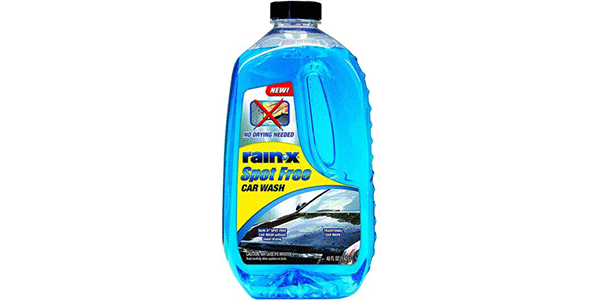 Deep cleaning high foam soap cuts through dirt
No spots after water evaporates; no towel drying necessary
Spot-free formula sheens water off vehicle
Leaves a bright shine on the vehicle
Concentrated formula
Mothers 05674 California Gold Carnauba Wash & Wax, 64 oz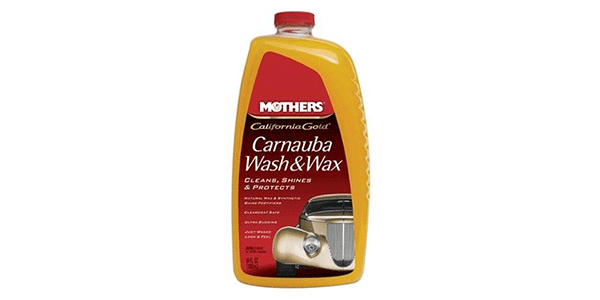 Mothers Carnauba Wash and Wax is the quick and easy way to clean, shine and protect your paint
Easily dissolves and removes stubborn road grime and dirt, all while boosting your existing wax
Powerful, ultra-sudsy, biodegradable and pH balanced
You'll be left with a spot-free shining finish
Price:
Chemical Guys CWS_110 Honeydew Snow Foam Car Wash Soap and Cleanser (1 Gal), 128 fl. Oz (Gallon)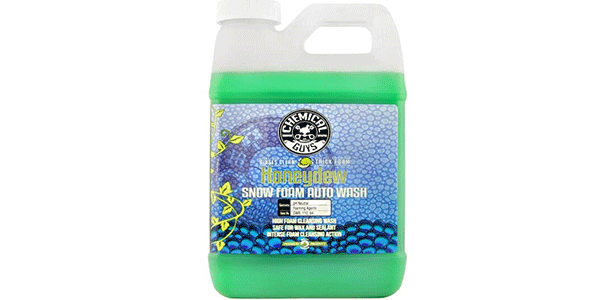 Snow foam eliminates dirt, grime and environmental contaminants with massive amounts of dirt fighting, sudsy foam
Safe on all vehicle surfaces including paint, rubber, vinyl, glass and plastics. Works on all type of vehicles cars, trucks, SUVs, off road vehicles and more
Concentrated cleaning power: Dilute with one cap to five gallons of water to produce billions of scrubbing bubbles
PH neutral formula won't harm and waxes or sealants on your vehicle and is safe for regular weekly washes
Fresh natural smell that's simple and delicious be happy while you are washing your car
Price:
Car Polish
| | | |
| --- | --- | --- |
| Products | Carfidant Premium Liquid Car Wax Kit | Chemical Guys WAC_201_16 Butter Wet Wax (16 Oz) |
| Price | $22.99 | $17.97 |
Carfidant Premium Liquid Car Wax Kit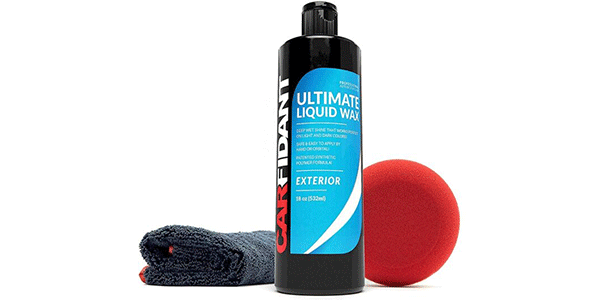 Ultimate Liquid Wax is specifically formulated using special Nano-Polymers designed to make the wax easy to apply and easy to remove. You can use the included applicator by hand, or if you prefer an orbital. Will not stain your trim or rubber and super "easy on and easy off" application! Perfect for dark and light color vehicles.
Specially blended nano-polymers provide incredible protection and shine that works better, goes on easier and lasts longer than traditional carnauba waxes and paint sealers.
Give your car an incredible deep, wet, mirror like shine along with the necessary paint sealant and UV protection that will last 6 to 12 MONTHS!
FULL WAX KIT – We include everything you need for full paint sealant and uv protection! Our high quality applicator pad and super soft detailing towel will ensure you have everything you need the next time you wash, detail, clay bar, or polish your car!
Price:
Chemical Guys WAC_201_16 Butter Wet Wax (16 Oz)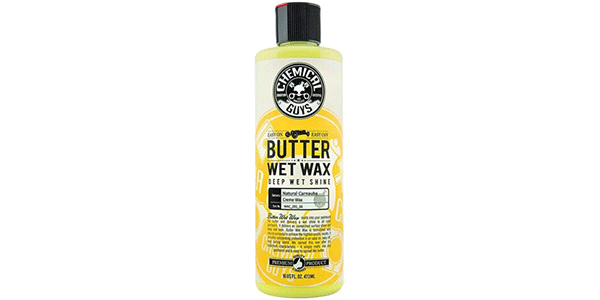 100 percent carnauba based wax
New formulation for even easier application
Deep wet look to any paintwork
Improved level of protection. Date on item is manufactured date
More UVA and UVB protection
For interior Cleaning
Here are some complete kit which includes outside and inside cleaning products, however you can simply choose only interior or exterior products separately according to your requirement.
| | | | |
| --- | --- | --- | --- |
| Products | MEGUIAR'S G55032SP Complete Car Care Kit | Armor All Premier Car Care Kit (8 Items) – 3pc Ultra Wax & Wash Kit | Chemical Guys HOL148 16-Piece Arsenal Builder Wash Kit with Torq Blaster Foam Gun |
| Price | $49.62 | $28.04 | $89.99 |
MEGUIAR'S G55032SP Complete Car Care Kit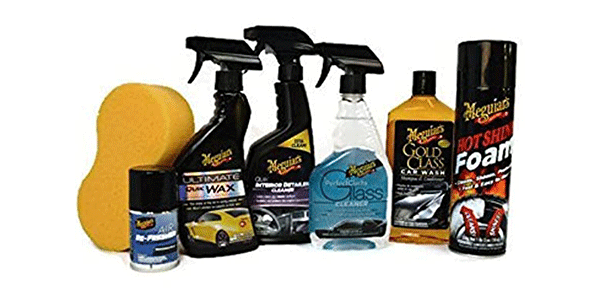 COMPLETE CAR KIT: Includes 12 premium products to clean, shine and protect your paint, interior, wheels, bumpers and everything in between. Takes guesswork out of the equation.
Designed to blast away dirt and grime while boosting your car's shine
GOLD CLASS CARNAUBA PLUS LIQUID WAX: keeps your car reflective and leaves long-lasting protection
ENDURANCE TIRE GEL: provides high gloss protection that keeps tires black with a dark gloss shine
Price:
Armor All Premier Car Care Kit (8 Items) – 3pc Ultra Wax & Wash Kit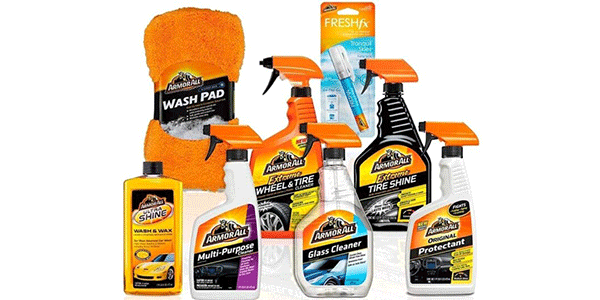 The perfect gift for any car care enthusiast with a variety of products to clean, shine and protect any vehicle
Includes 16 fl. oz. Ultra Shine Wash & Wax , 22 fl. oz. Glass Cleaner, and a Wash Pad for the exterior of your car
Includes 16 fl. oz. Original Protectant and 16 fl. oz. Multi-Purpose Cleaner for the interior of your car
Includes 24 fl. oz. Extreme Wheel & Tire Cleaner and 22 fl. oz. Extreme Tire Shine for the wheels and tires
Includes an On-the-Go Car Air Freshener Pump Spray to keep your car smelling clean and fresh
Price:
Chemical Guys HOL148 16-Piece Arsenal Builder Wash Kit with Torq Blaster Foam Gun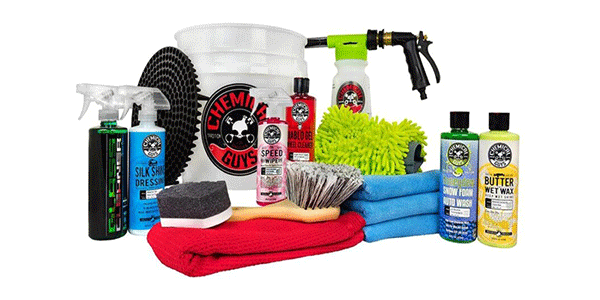 Makes a Great Gift: This kit is the ultimate collection of car wash supplies, and is the gift that keeps on giving for any car buff, truck enthusiast or classic car fan. It contains everything needed to clean and maintain a beautiful shine on any car
Foamy Fun: If you love cars, then a clean car brings you nothing but happiness. This kit not only has everything you need to keep the exterior of your car looking great, but it also has the tools to make cleaning your car fast, easy and fun for the entire family. The Foam Gun hooks upto any standard hose, so there are no additional tools or machines required to produce foamy cleaning fun
Amazing value: If you added up all 16 pieces of this kit, you already know that the value is over 200 dollars. Here are the great products included: Butter wet wax, honeydew snow foam, Diablo wheel gel, Silk shine dressing, Glass cleaner, Speed wipe detailer, Detailing bucket, Cyclone dirt trap, Torq foam cannon, Microfiber wash mitt, Short handle brush, 4 Microfiber towels & an applicator
Price:
All About Cars News Gadgets

>>

Auto Repair

>>

How to Make Homemade Car Wash Soap