These are the list of top fastest car under 40k, includes sports, sedan and coupe of different brands with best reputation in terms of reliability, comfort, dynamic, All cars not only fast but to use for all seasons.
Here are the following Fastest Cars Under 40K
1. 2020 Subaru WRX STI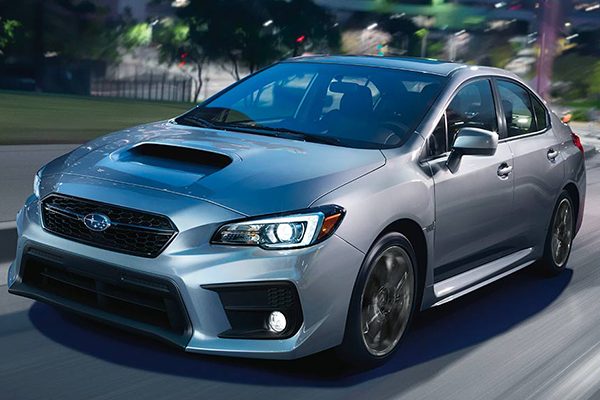 The Subaru WRX STI are compact performance sedans with room for up to five people. They have turbocharged engines, performance-oriented all-wheel-drive systems and racy bodywork.
WRX STI has a 310-hp, turbocharged 2.5-liter four-cylinder. It also includes other high-performance hardware like Brembo brakes and a driver-controlled center differential.
If you're looking for entertaining performance and four-season usability in one car and ridiculously fast then WRX STI are worth a look, however apart from features and specs Subaru might lack space issue in terms of low cargo space.
310 HP @ 6,000 RPM
290 LB-FT OF TORQUE @ 5,200 RPM
0-60 MPH 4.4 SEC
Starting at:
$36,995 est
2. 2020 Mustang GT Fastback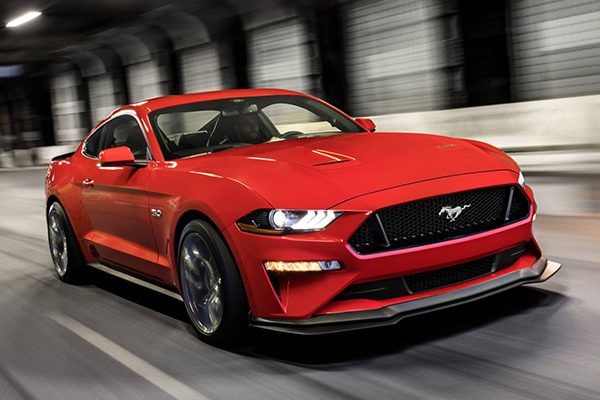 The Ford Mustang is a good sports car. The Mustang's stable of engines starts with a turbocharged four-cylinder that puts out 310 horsepower and includes 460- and 480-horsepower V8 variants.
The Mustang has a handsome cabin and more trunk space than most rivals, and its optional touch-screen system is user-friendly and straightforward.
460 HP @ 7,000 RPM
420 LB-FT OF TORQUE @ 4,600
0-60 MPH 4.5 SEC
More Info: Best Awd Sports Cars Under 30k
Starting at:
$35,630 est
3. JOHN COOPER WORKS ALL4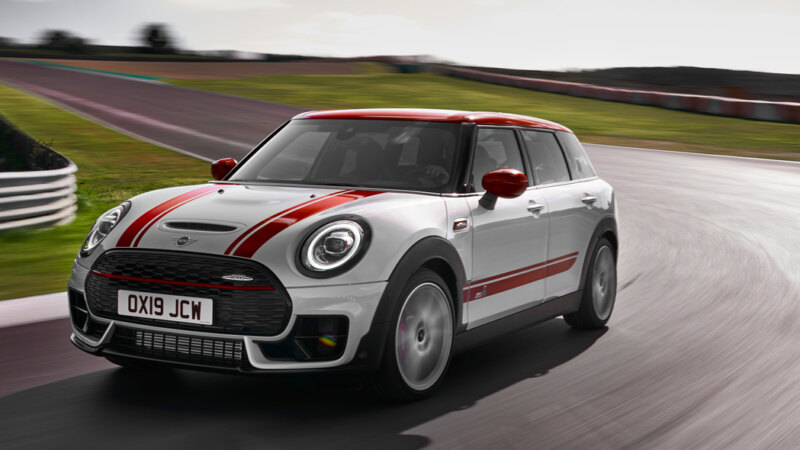 With an exceptional predicted reliability rating, a premium and unique interior, potent engine options, and dynamic handling, it's little wonder that the 2020 Mini Cooper ranks near the top of the subcompact car class.
Its excellent road grip, firm suspension, sturdy brakes, and responsive steering help this vehicle move with some zip. The cabin is loaded with premium materials, and this Mini has a stellar predicted reliability rating. Rear-seat passengers will feel cramped, however, and cargo space is well below average for the class. While sporty, this car's ride can be firm, and some rivals are more fuel-efficient.
More Info: Top 20 Most Expensive Cars
A John cooper works all4 Clubman is a whooping fast cars that can compete against top contenders cars such as WRS STI, ford, Nissan by 0-60 in just 4.9 sec from 301-hp.
301 HP @ 5,200 RPM
331 LB-FT OF TORQUE @ 1,450 RPM
0-60 MPH 4.925 SEC
Starting at:
$38,875 est
4. 2020 Nissan 370z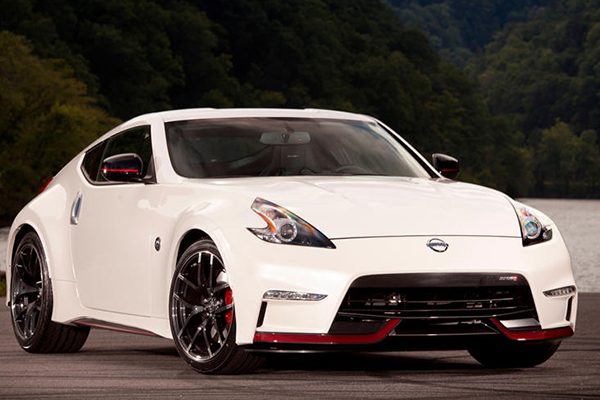 The Nissan 370Z Nismo Tech is a highly reliable performance sports car that is easy, comfortable, and fun to drive. It handles well including cornering, passing, climbing/acceleration, and braking.
When compared to more modern class rivals such as the Toyota GR Supra. Nevertheless, the Nismo is equipped with a dialed-up version of the 3.7-liter V6 engine found in the standard 370Z, offering traditionalists thumping outputs of 350 horsepower and 276 lb-ft of torque to the rear wheels via an engaging six-speed manual gearbox or optional seven-speed automatic. The Nissan 370Z Nismo may be outdated, but it possesses a unique charm that eludes many of today's more contemporary sports cars; but will that be enough to keep it relevant in such a competitive segment.
332 HP @ 7,000 RPM
270 LB-FT OF TORQUE @ 5,200
0-60 MPH 5.2 SEC
Starting at:
$30,090 est
5. 2020 Honda Civic Type R
Something wild, and polarizing from… Honda? Hell yes. The Type R might be the most fascinating newcomer of model year 2020. It's only got one powertrain — a 2-liter turbocharged four-cylinder engine, paired to a six-speed manual — and is front-wheel-drive. Hyper-sharp steering control, a near endless amount of grip, a comfortable cockpit, and loads of standard tech make it a must-drive for performance fiends in the market for a hot hatch.
306 HP @ 6,500 RPM
295 LB-FT OF TORQUE @ 2500
0-60 MPH 5.4 SEC
Starting at:
$38,000 est
6. 2020 Infiniti Q50 Pure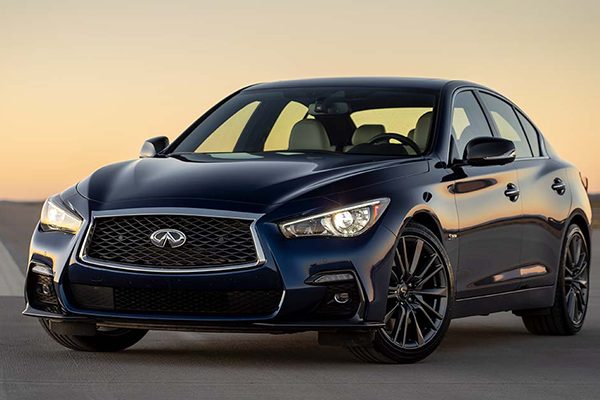 The Infiniti Q50 just barely makes it on our list with its 300-hp 3.0-liter twin-turbo V-6. If you want more power out of that engine, there's the 400-hp Red Sport model, but that crests the $50,000 mark.
300 HP @ 6,500 RPM
350 LB-FT OF TORQUE @ 5,200
0-60 MPH 5.4 SEC
Starting at:
$36,400 est
7. 2020 Nissan Maxima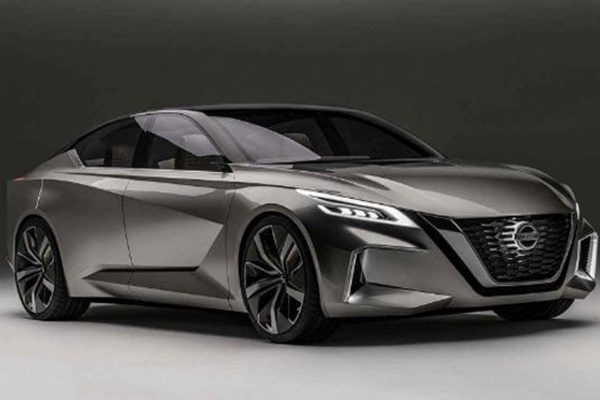 This isn't just the 4-door Sports Car, it's a high-tech powerhouse. Change from a premium ride to canyon carver at the touch of a button. Feel more confident, thanks to available advanced driver assist technologies, and for seamless connectivity, just plug in your compatible smartphone.
More Info:Cheapest Cars with Best Gas Mileage 
All so you can focus on a thrilling drive. This is tech that raises your pulse. This is tech that moves.
With a 3.5-liter V-6 making 300 hp, unfortunately, it's paired with a CVT.
300 HP @ 6,400 RPM
261 LB-FT OF TORQUE @ 4,400 RPM
0-60 MPH 5.8 SEC
Starting at:
$35,200 est
8. 2020 Chevrolet Camaro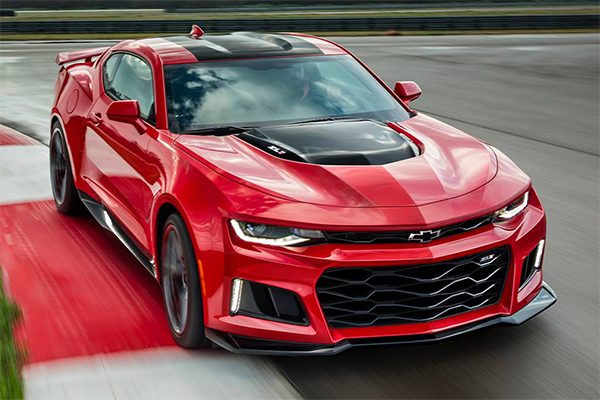 The 2.0-liter turbocharged four-cylinder that's standard on the LS and LT trim levels produces 275 horsepower and 295 pound-feet of torque. A six-speed manual is standard and an eight-speed automatic is optional. Performance for this engine is actually pretty sensational (certain outlets have clocked it from zero to 60 mph in just a hair over 5 seconds), but it sounds more like a hot hatch than a muscle car. Fuel economy is very good at 20 mpg city, 30 mpg highway and 23 mpg combined with the manual, and 22/31/25 with the automatic.
The LT trim level, including those with the RS package, can be equipped with a 3.6-liter V6 good for 335 hp and 284 lb-ft of torque. Its soundtrack is certainly more in keeping with the Camaro's look and heritage, though its 0-60 time should only be a few ticks quicker. It has the same transmission options as the turbo-four. EPA fuel economy estimates are 16/27/20 mpg with the manual and 19/29/22 with the automatic.
The Camaro SS gets a 6.2-liter V8 that puts out 455 hp and 455 lb-ft of torque. That's more than the Mustang GT and Challenger R/T, and with 0-60 times around the 4-second mark, it makes for quicker acceleration, too. A six-speed manual is still standard, but the V8 can be paired with a 10-speed automatic. Estimated fuel economy is 16/24/19 with the manual and 16/27/20 with the 10-speed.t
275 HP @ 5,600 RPM
284 LB-FT OF TORQUE @ 3,000 RPM
0-60 MPH 5.1 SEC
Starting at:
$24,200 est
9. 2020 Hyundai Veloster N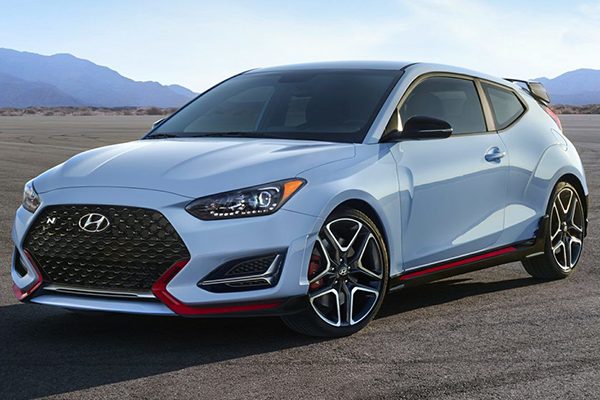 Hyundai has surprisingly kept the funky 2+1 door + hatch arrangement intact. One thing they did eliminate is the previous gen's base 1.6-liter engine. In its place, is a new 2.0-liter I4 still with an eye on fuel economy of 30-combined mpgs.
The optional 2.0L-liter I4 turbo does return, putting out the same 275-horsepower and 267 lb-ft. of torque.
The Veloster's fun-factor remains high as well; with nice quick steering, and a driving experience that is hard to find in cars that inhabit this price level.
275 HP @ 6,000 RPM
267 LB-FT OF TORQUE @ 1450 RPM
0-60 MPH 5.4 SEC
Starting at:
$27,820 est
10. 2020 subaru brz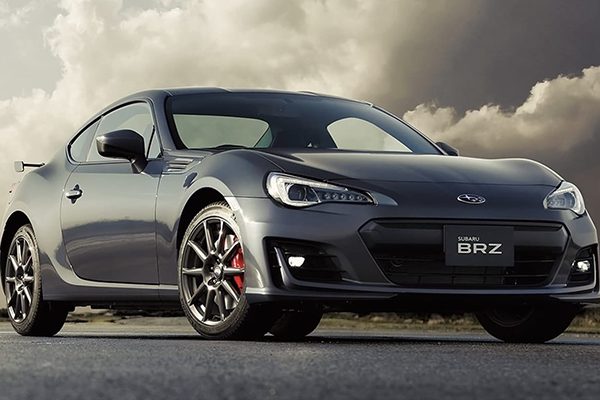 The recipe for the 2020 BRZ tS is the same as for the 2018 version – the last time Subaru sold the variant in America. The STI performance division puts an emphasis on improving the BRZ's handling. The meaner version of the coupe uses Sachs dampers and coil springs with a tuned setup from STI.  There is also a flexible V-brace in the engine bay. For sharper steering response, there are draw stiffeners on the chassis and sub-frame. Up front, Brembo four-piston brake calipers clamp onto the rotors, and there are two-piston stoppers at the back.
200 HP @ 7,000 RPM
151 LB-FT OF TORQUE @ 6,400 RPM
0-60 MPH 6.2 SEC
Starting at:
$28,875 est
11. 2020 Toyota Avalon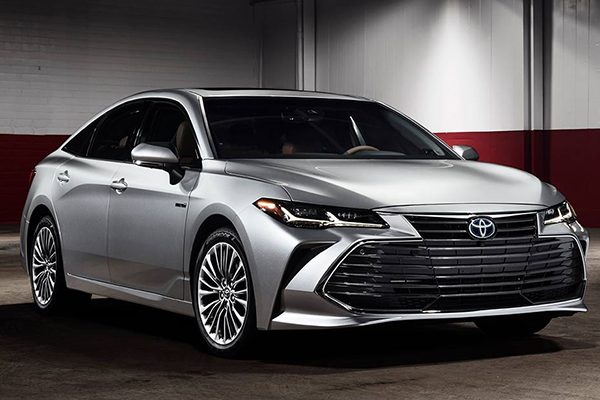 Although the 2019 Avalon have a major engine fault which forced the company to recall Avalon and other Toyota brand to fix that issue stated by Toyota publications, regardless of that Avalon still has a potential to remain in the top list due to many features and specs and design.
More importantly it's a very fast 4dr sedan luxury car that can 301hp from V6 3.5 litre engine, You can get this engine for a little less money in the smaller Camry, though which is 2 second faster than Avalon by reaching 0-60mph in just 5.8 seconds.
301 HP @ 6,600 RPM
267 LB-FT OF TORQUE @ 4,700 RPM
0-60 MPH 6.1 SEC
Starting at:
$35,875 est
All About Cars News Gadgets

>>

Vehicles

>>

Sports

>>

Fastest Cars Under 40k