Not the best, but the fastest SUV you can get for under 30k. The list includes not only the fastest from zero to 60 mph, but also other factors such as performance, reliability, durability, fuel economy, technology, and comfort, after taking into account all of these factors and receiving feedback from other top critics. we filtered out the best list for you.
So Here is a List of the Fastest SUV under 30k
2021 Mazda CX-30
0 to 60 mph: 5.8 seconds
1/4 Mile: 14.3 seconds @ 97 mph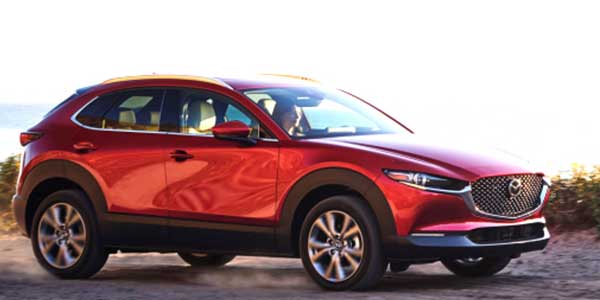 The CX-30 comes standard with Mazda's 2.5-liter naturally aspirated I-4 engine, which produces 186 horsepower and 186 pound-feet of torque. The elegant small compact gets 24-25/31-33 mpg city/highway and comes with a six-speed automatic transmission in either front- or all-wheel drive configuration. An AWD CX-30 zipped up to 60 mph in 7.8 seconds
Those hoping for extra power will be glad to learn that Mazda has added a 2.5-liter turbo-four to the lineup. On 93 octane premium petrol, it produces 250 horsepower and 320 lb-ft, or 227 hp and 310 lb-ft on ordinary grades, all delivered through standard all-wheel drive and a six-speed automatic transmission. A CX-30 Turbo went to 60 mph in a comparably quick 5.8 seconds. The added power doesn't have much of an impact on fuel efficiency, which comes in at 22/30 mpg.
Like everything else in the segment, the CX-30 seats five. It offers 20.2 cubic feet of cargo volume behind the rear seats and 45.2 with the seats folded down, compared to 30.9/59.6 cubes in the one-size-up CX-5 or 17.8/42.7 in the smaller CX-3.
2017 Acura MDX
0 to 60 mph: 6.3 seconds
1/4 Mile: 14.9 seconds @ 94.5 mph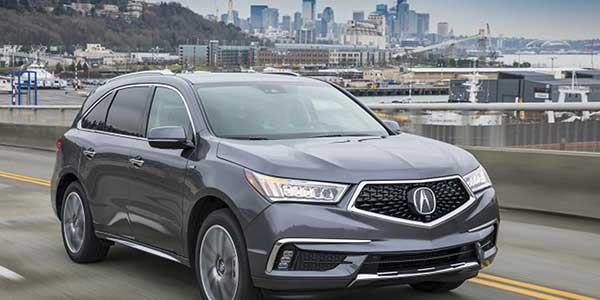 The 2016-17 Acura MDX is surprisingly quick for its size, thanks to a 290-hp 3.5-liter V-6 and a new nine-speed automated gearbox optimized for acceleration. When equipped with Acura's snappy Super Handling All-Wheel Drive system, the MDX is one of the best-driving family-oriented luxury SUVs, and it's surprisingly good on the twisties (SH-AWD).
For 2016-17, a stop-start system is offered with the nine-speed gearbox, which is standard on both fronts- and all-wheel-drive MDX versions. Despite having three more gears than the previous model's six-speed automatic.
2021 Toyota RAV4 Hybrid
0 to 60 mph: 7.1 seconds
1/4 Mile: 15.7 seconds @ 97 mph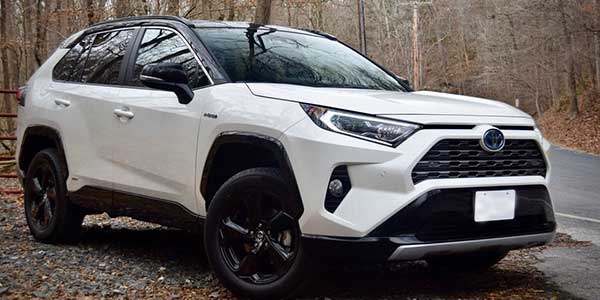 Toyota's fifth-generation RAV4 hybrid is the second of its type; the first RAV4 hybrid arrived for the 2016 model year. The 2021 RAV4 Hybrid comes standard with all-wheel drive and delivers not only better fuel efficiency but also better performance than its non-hybrid counterpart, as well as similar cargo space.
The base powertrain for the RAV4 Hybrid is a 2.5-liter four-cylinder gas engine that drives all four wheels via two electric motors (one up front and one out back) and a CVT automatic transmission. The overall system output of the hybrid is 219 horsepower, giving it a 16-hp advantage over the gas RAV4. Acceleration is also faster than in a normal automobile, taking 7.1 seconds to reach 60 mph vs 8.0 seconds in the non-hybrid form. The fuel economy is an astounding 41/38 mpg city/highway.
While the standard Hybrid utilizes the same standard 7.0- and optional 8.0-inch touchscreen infotainment systems as the gas car. And six-speaker audio is standard, and an 11-speaker JBL premium system is included with higher trims.
More:
4 Seater Sports Cars Under 10k
2021 Mazda CX-5
0 to 60 mph: 6.1 seconds
1/4 Mile: 14.7 seconds @ 94.5 mph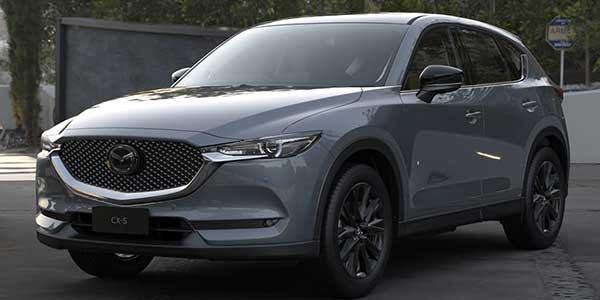 The words "sport utility vehicle" and "nimble handling" don't usually go together. The Mazda CX-5 for 2021 is an exception to this norm. It combines respectable engine power with assured agility, which is rare among small SUVs. In our compact SUV rankings, it ranks towards the top.
In the Mazda CX-5, a 187-horsepower four-cylinder engine is connected to a six-speed automatic gearbox. All-wheel drive is an optional feature. Front-wheel drive is standard. Mazda has a more powerful CX-5 engine, but it is only available on models that cost more than $30,000.
With a $30,000 budget, you may buy any of the bottom three CX-5 trims, including the new-for-2021 CX-5 Carbon Edition. With Polymetallic Gray paint, black 19-inch alloy wheels, and optional red leather seats, the external design is one-of-a-kind.
The well-appointed cabin of the CX-5 has a 10.25-inch touch-screen infotainment system. There's plenty of space up front, but the back seat should only be used by two adults. In comparison to many rivals, all CX-5 models provide a greater range of standard safety and driver assistance features.
2020 Ford Escape SE Sport Hybrid
0 to 60 mph: 7.7 seconds
1/4 Mile: 15.9 seconds @ 88 mph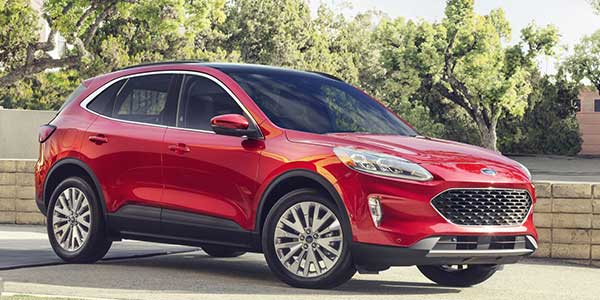 The $28,265 Ford Escape SE Sport Hybrid is the most powerful variant of either the 2020 Ford Escape Hybrid or the gas-only 2021 Ford Escape. It has 198 horsepower thanks to the combination of a gasoline engine and an electric motor. It comes in both front-wheel-drive and all-wheel-drive configurations.
The Escape Hybrid, while hardly a sports vehicle, has a little more energy than other small SUVs. It's the most highly rated hybrid and electric SUV on our list.
The Ford Escape SE Sport Hybrid ($28,265) is the most powerful model of the 2020 Ford Escape Hybrid or the gas-only 2021 Ford Escape. It generates 198 horsepower thanks to the combination of a gasoline engine and an electric motor. Both front-wheel-drive and all-wheel-drive versions are available.
The Escape Hybrid, while hardly a sports vehicle, has a bit more vigour than most small SUVs. In our hybrid and electric SUV rankings, it's the best-rated vehicle.
Ford Bronco Sport (Base)
0 to 60 mph: 8.6 seconds
1/4 Mile: 17.3 seconds @ 90 mph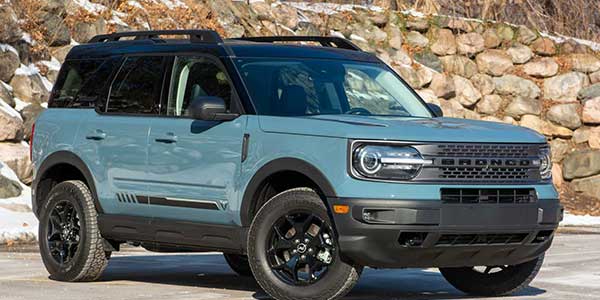 The 2022 Ford Bronco Sport is one of the greatest compact crossovers for combining city living with weekend activities in the great outdoors. The smaller Sport is designed to seem like a little version of the full-size Ford Bronco, which is itself a throwback take on legendary Broncos. Inside, its truck-like form pays off with plenty of headroom and cargo capacity.
While the interior is hampered by some unappealing materials and the back seat isn't very spacious, the inclusion of essential amenities such as secret storage compartments and a slide-out workstation are noteworthy.
The standard three-cylinder engine is pokier but it's way more fuel-efficient, too. The big-brother Bronco has greater capabilities, but the 2022 Bronco Sport is more than just a superficial spin-off.
The Bronco Sport rides on the same platform that underpins the compact Escape crossover, and every model has an all-wheel drive. A 181-hp, turbocharged 1.5-liter three-cylinder is the base engine and with an eight-speed automatic transmission.
The three-cylinder Bronco Sport is rated at 25 mpg in the city and 28 mpg on the highway.
All About Cars News Gadgets

>>

Vehicles

>>

SUV

>>

Among The Fastest SUV under 30k