Subaru Corporation is offering consumers an extended warranty on the continuously variable transmission (CVT) on approximately 1.5 million vehicles after concerns were raised about transmission problems that may cause the vehicle to stall on model year 2012-2017 vehicles.
Recalling may save cash for the owner of repair or replacement, but that doesn't solve the issue of having a consistent cvt issues facing forester owners, although forester address  that issues to a minimum level, but it still reporting which shouldn't be in case of brand new or under 10k miles driven vehicles.
According To NHTSA
"Affected vehicle owners were notified by the automaker of the warranty extension in July 2017, but many consumers are not satisfied with the company's actions or the inaction of the National Highway Traffic Safety Administration (NHTSA), which has yet to issue a recall of the vehicles for the concerning transmission issues".
List of Subaru Forester CVT Transmission Problem
Shudders & Shaking
As the CVT starts to fall out of its standard 5 year / 60,000 mile warranty, problems start popping up.
First, the transmission has a case of the shudders, particularly when slowing down.
Sometimes the shaking is coupled with hesitations and occasional stalls.
Relevant: How Often Should You Change Transmission Fluid
CVT knocks and jerks
And while the engine is idling, some owners report the CVT knocks and jerks with so much force that they look back to make sure they weren't just rear-ended.
Relevant: Signs You Need a Coolant Flush
There have been multiple Technical Service Bulletins (TSB) issued for Subaru's CVT
Leaking Transmission Fluid
TSB 16-103-16R – Covering all 2010-2015 models with TR690 CVTs, this TSB addressed leaking transmission fluid in the torque converter cases. The leaks were traced to failed gaskets in the CVT's oil pump chain covers.
The difficulty in repairing a transmission fluid leak depends on where it's leaking from. Often, a simple replacement of the drain plug and gasket, or even the pan gasket will solve the problem. Though, fixing a leak from one of the transmission's main seals may be a more involved repair.
Transmission Slipping
Another issue arises in forester especially in 5th generation technology, the engine may rev without a corresponding acceleration from the vehicle, similar to a manual transmission that needs a clutch.
If your vehicle seems hesitant going into any gear, we'd likely consider it as slipping. Sometimes, simply maintaining the fluid and filter can solve this problem, but other times more involved repairs are called for.
More Info: Car Maintenance Schedule by Mileage or Time
Owner Reviews about Forester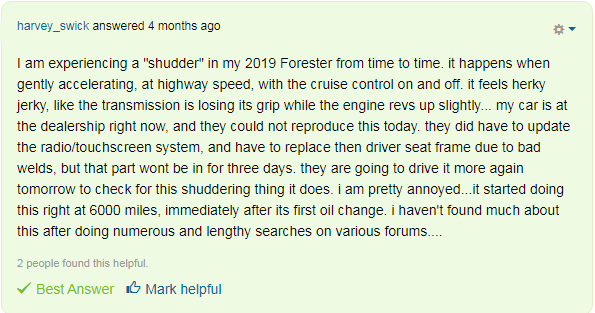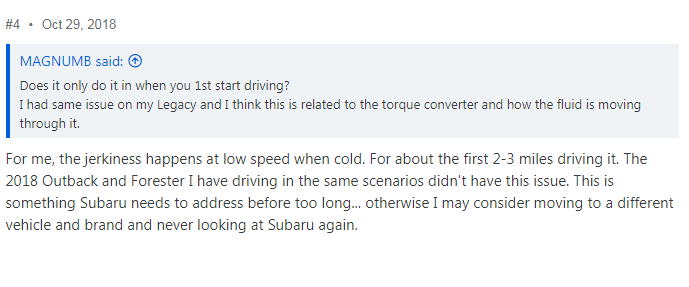 All About Cars News Gadgets

>>

Vehicles

>>

SUV

>>

Subaru Forester CVT Transmission Problem