Buying a new car can be overwhelming, so much so that almost half the people in a survey said they would rather clean toilets than shop for a car. There are a lot of things you need to know—like the features of the car you want to buy. You also have to be a good negotiator or the dealer may take advantage of you.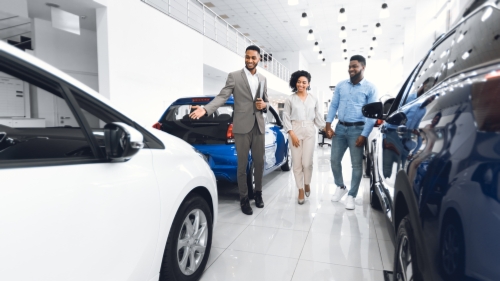 It's important to be armed with information before you even set foot in the dealership. Getting ready to buy your next car? Here are some secrets dealerships don't want you to know.
Ignore the Advertised Price, Always Negotiate
Spend lots of time online browsing different car dealership websites and comparing the prices of the cars you're interested in. You can use a website like truecar.com that compares different aspects of car-buying and shows you the price other buyers have paid for the car you want. Don't be lured by websites flaunting good prices, keep in mind that ads are designed to get you into the dealership.
When you go to a physical dealership, find out if they have deals that were not advertised that may suit you better. You may need to visit more than one dealer to get a feel of the customer service and see their willingness to work with you. This also helps you gauge how much room you have to negotiate since you know what other offers you can get in the area.
Understand the Waiting Games of Salespeople
Most of us expect to spend a lot of time when we go car shopping. This doesn't always have to be the case. Salespeople normally prolong the process intentionally, and it's mostly for the dealership's benefit. If you go to the dealership mentally prepared to be there for a while, you'll prepare well in advance.
Another common tactic used by salespeople is acting busy. This gives them a position of dominance because it makes the buyer feel like their time is more valuable. A salesperson may also keep you waiting so you get tired. This is not the state of mind you want to be in as a buyer because you are much more likely to settle for their offer. So, it's important to go armed with the right information and be ready to walk out if the process seems to be taking too long.
The Manufacturer's Website May Have More Affordable Cars
With inventory shortages persisting in 2022 due to a global semiconductor chip shortage, it's becoming harder to get a new car. A brand new car like the 2022 Toyota Avalon may sell at a higher price because the prices of new cars hit an all-time high during the pandemic.
Go directly to the car manufacturer's website and pick the car you want then request quotes from dealers close to you. Because dealerships compete, you're likely to get a great price without the stress that comes with negotiations. If the price difference isn't much, consider other freebies offered by the dealerships. An extended warranty or free all-weather mats can save you money.
Dealerships Want to Upsell
Ever seen dealerships that offer 0% financing on some cars? It makes you wonder where the catch is, right? Well, most buyers want to save as much as they can and end up getting lured by these advertising gimmicks. Once you're on the lot and have filled out the paperwork, you may discover you do not qualify for the 0% financing. But by this time you're in love with a car and don't have a hard time parting with a little more than was advertised.Salespeople are likely to ask you questions to know you better so they can upsell. "Is your family growing? You need a bigger car." So instead of falling for flashy ads, get to know your credit score and the rates you qualify for even before you visit a dealership.
All About Cars News Gadgets

>>

Blog

>>

Secrets Car Dealerships Don't Want You to Know