IF you are looking for a used car to buy and think of an economical with handsome amount of features and good looking interior, sporty compact design, very probable that you will attract to this car with minimum budget from 2000 to 4000 US dollars.
However before you initiate to buy this car, attractive design and good features alone may not be useful and better to look for reliability and durability, unfortunately in this matter some of the problems with 2011 Chevy Cruze are consistent and very irritating so consider these before making any plan to buy.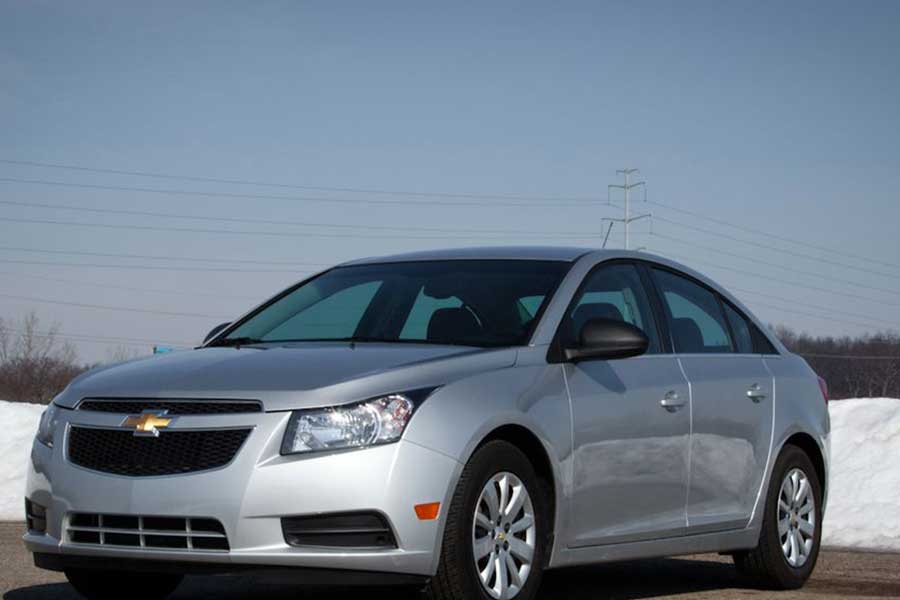 Here Are List of Problems with 2011 Chevy Cruze
2011 Chevy Cruze Transmission Problems
The shiftable six-speed automatic and the manual 6-speed transmission each have their share of issues. There were lots of leakage problems reported from all over the site. Leaking axle caps, leaking cooling translines, leaking from bolts of the transmission frame, from caps of the torque converter, and more.
List of transmission problems
Transmission Not Shifting Properly
Rolls Backwards In Drive
Defect in Reverse Clutch Piston Destroyed Whole Transmission
Banging Noise between Gears
Transmission Overheating1
Transmission Slips
On the diesel 9-speed shiftable automatic transmission, a bad transmission control module. This can also happen on the six-speed automatic transmission option driven by gasoline, but the 9-speed automatic diesel seems to have the problem sooner and more often in the life of the car.
2011 Chevy Cruze Ac / Heater Problems
The critical feature of the car is the air condition system, sad to note that this car's A.C and heating system registered a variety of cases with the most one was A / C turned on yet blowing hot air due to too much engine heat up directly connected to radiator failure and overall A.C compatibility in 1.4 engine.
List of AC / Heater problems
AC Only Blows Hot Air
Car Overheated With AC/Heater On
No Protection Underneath For Ac Compressor
AC Temp Not Consistent
Burnt Rubber Smell
Burnt Smell Odor & Film Forming On Inside Windshield
Temperature Sensor Broken
A/C Pressure Sensor Connector Corroded
2011 Chevy Cruze Cooling System Problems
Sadly, all 2011-2019 Chevy Cruze issues, the water pump and cold fan, all seem to have the same coolant issues in common. The Chevy Cruze water pump on these sedans had to be adjusted at an unprecedented pace and on a lot of sedans, the water pump had to be changed many times on the same car way under the water pump's life expectancy. The cause could be the result of a lot of different problems, but no one problem stands out as more of a nuisance than any other, maybe it's just poor engineering.
List of Cooling System Problems
Overheating
Block Appears To Be Leaking Coolant
Water Pump Leaking
Check Engine On
Fan Constantly Running
Hole In Heater Core
Oil Leak
Thermostat Stuck Open
2011 Chevy Cruze Stabiltrak/Traction Control
This essentially suggests that StabiliTrak is actually unable to initialize. This may be attributed to a number of causes, including road conditions or improper tyre size. If the warning continues, so for service, you can take your car in. This message means a failure happens.
According to carcomplaints this one is the highest number of cases under the category of engine problems.
List of Stabiltrak/Traction Control
Check Engine Light On and Reduced Power
Hesitant Acceleration
Engine Lags When Foot Is Taken Off Gas Pedal
Engine Running Rough
Oil Leak from Crankcase Seal
Accelerator Issues with Loss of Power
Abnormal Sound Coming From Engine
Check Engine Light On
2011 Chevy Cruze Turbo Problems
This is a typical concern in the everyday driving of turbocharged vehicles. There is a bypass valve on the turbo. When you let off the throttle, this valve let's all the excess air out of the machine. When you are trying to slow down or pause, you do not need the extra pressurized air from the turbo.
This bypass valve gets tired over time and stops closing all the way. When this happens two problems emerge: When you hit the throttle air will seep out of the open valve causing you to lose power and also it will let dirt and air contaminants in.
All About Cars News Gadgets

>>

Auto Repair

>>

Problems with 2011 Chevy Cruze