These are the best hybrid cars under 15k according to survey, list taken upon considering Price, Reliability, mileage, maintenance cost, resale value and overall rating.
2016 Chevrolet Volt Plug in hybrid
Engine: 1.5L 4 cylinder With 2 Electric motor
HORSEPOWER: 149 hp @5,600
Range: 53 Miles electric
CITY/HWY: 39 mpg/ 43 mpg gas
0-60 Miles: 7.8 sec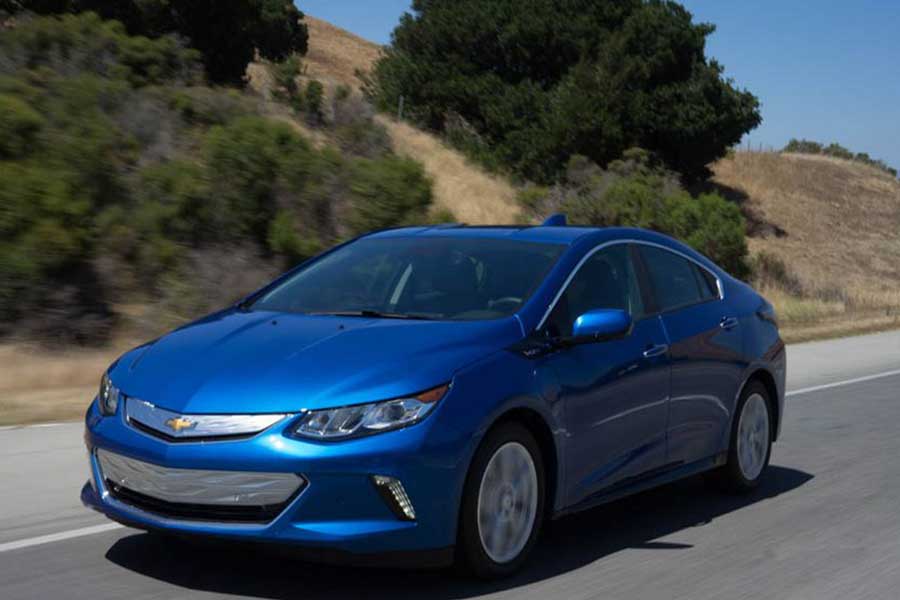 Average Price: $14,500 – $17,013
With an all-electric travel range of 53 miles, it stands out from the used hybrids below $15,000. And to be clear, if you need to go on, the Volt will act as a gasoline-powered hybrid. In that driving mode, the car will drive another 370 miles, and simultaneously reach 42 mpg combined.
This sort of output comes courtesy of a two-motor drive unit of the next generation that made its debut in the Volt 2016, which was rebuilt that year from the ground up. Including a handheld Wi-Fi hotspot, Apple CarPlay, an 8-inch touchscreen, LED low-beam headlights, and a rearview camera, the Volt also acquired welcome standard equipment in 2016.
| | |
| --- | --- |
| Pros | Cons |
| For a plug-in hybrid, the Volt's all-electric range is formidable | Backseat is tight for adults |
| Fuel costs will be low or nothing at all | Power front seats are not available |
| Improved touchscreen interface with expanded functionality. | |
2017 Toyota Prius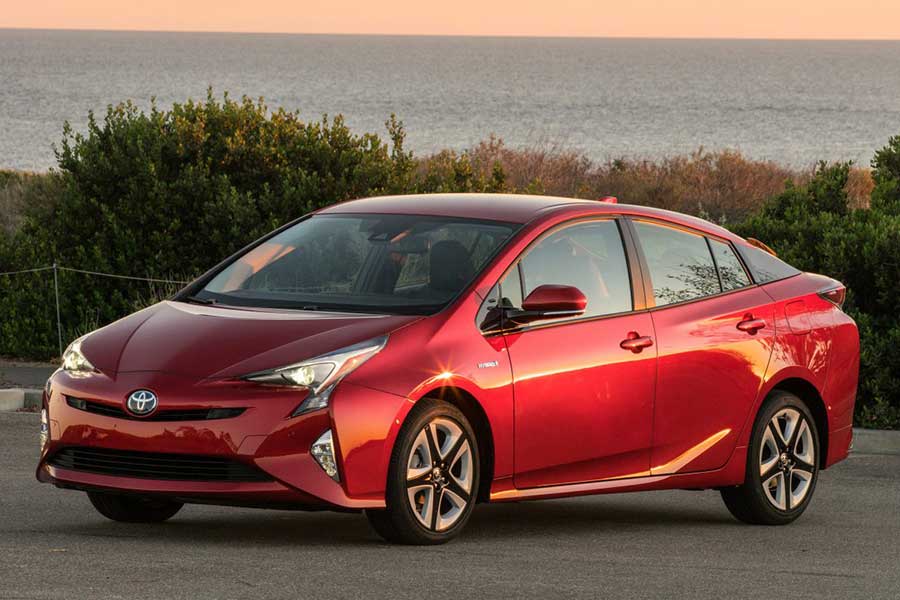 Engine: 1.8L 4 cylinder With 2 Electric motor
HORSEPOWER: 121 hp @ 5200 rpm
CITY/HWY: 58 mpg/ 53 mpg
0-60 Miles: 9.8 sec
Average Price: $14,800 – $16,913
The most prolific hybrid ever is still among the category's best used-car sales. The Toyota Prius combines impressive fuel economy with traditional Toyota build quality and durability (2015 models were measured at 48 mpg combined). The sheer amount of "Prii" sold means that there should be lots to pick from on the market, and that normally equates to a decent price.
| | |
| --- | --- |
| Pros | Cons |
| Cabin appearance | Lip on edge of cargo area |
| Driving manners | Modest acceleration |
| Gas mileage | Hard trim pieces in a few areas |
| Hatchback versatility | Unpleasant engine sound |
2018 Ford Fusion Hybrid SE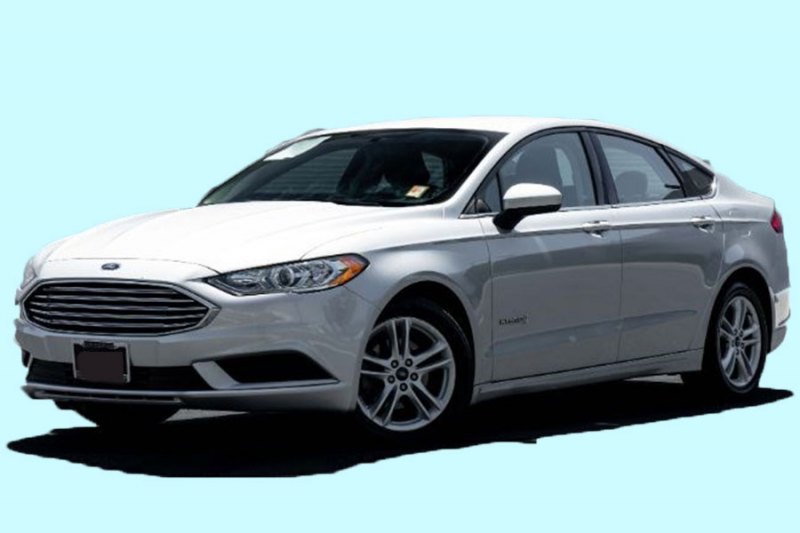 Engine: 2.0L 4 cylinder With Electric motor
HORSEPOWER: 188 hp @ 6000 rpm
CITY/HWY: 43 mpg/ 41 mpg
0-60 Miles: 9.0 sec
Average Price: $13,500 – $16,013
The 2018 Ford Fusion Hybrid is available in four trim levels: S, SE. Both models have the same 188-horsepower hybrid powertrain and front-wheel drive. The entry-level S and SE trim is a decent pick for buyers on a tight budget under $15000 us dollars. In terms of overall ford hybrid features, it's an upscale and roomy interior, refined handling, good safety scores, and low projected ownership costs.
| | |
| --- | --- |
| Pros | Cons |
| Fuel efficient engines | Less efficient than many rivals |
| Good crash safety scores | Cargo capacity is low for the segment |
| Roomy interior | |
| | |
2015 Honda Civic Hybrid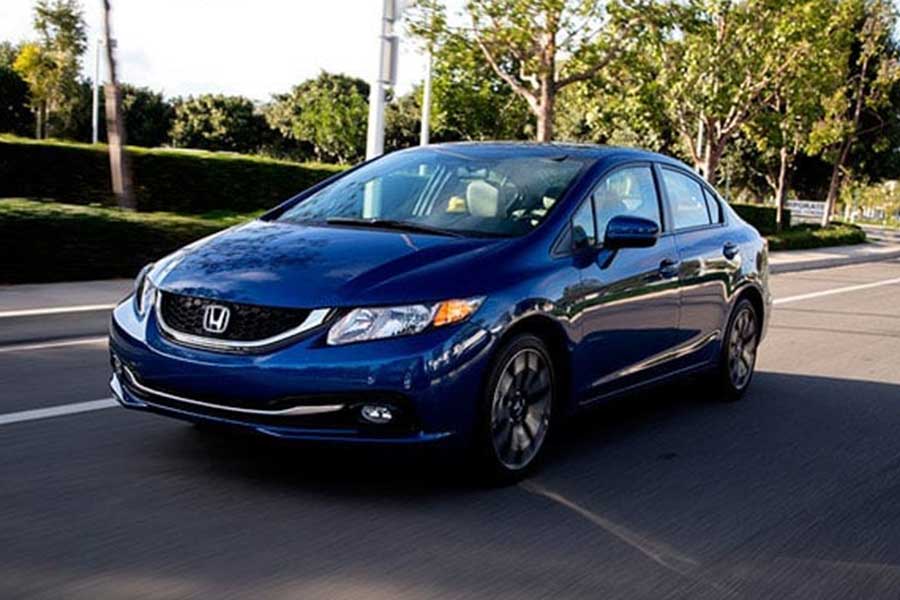 Engine: 1.5L 4 cylinder With Electric motor
HORSEPOWER: 110 hp @ 5500 rpm
CITY/HWY: 44 mpg/ 47 mpg
0-60 Miles: 11.23sec
Average Price: $9,929 – $13,013
The Civic Hybrid has the same look as the 2015 Civic sedan, but with a high-tech powertrain that is rated for 43 mpg city/45 mpg highway/44 mpg combined fuel-efficiency ratings.
With some unforeseen norm characteristics, the Civic Hybrid builds on that value. Honda, for instance, goes beyond the traditional rearview camera to include standard warning for forward collision and lane-departure warning. The monitor of the car then relies on a generously sized 7-inch touchscreen that in the Ford C-Max is 67 percent larger than the comparable panel.
2016 Toyota Camry hybrid LE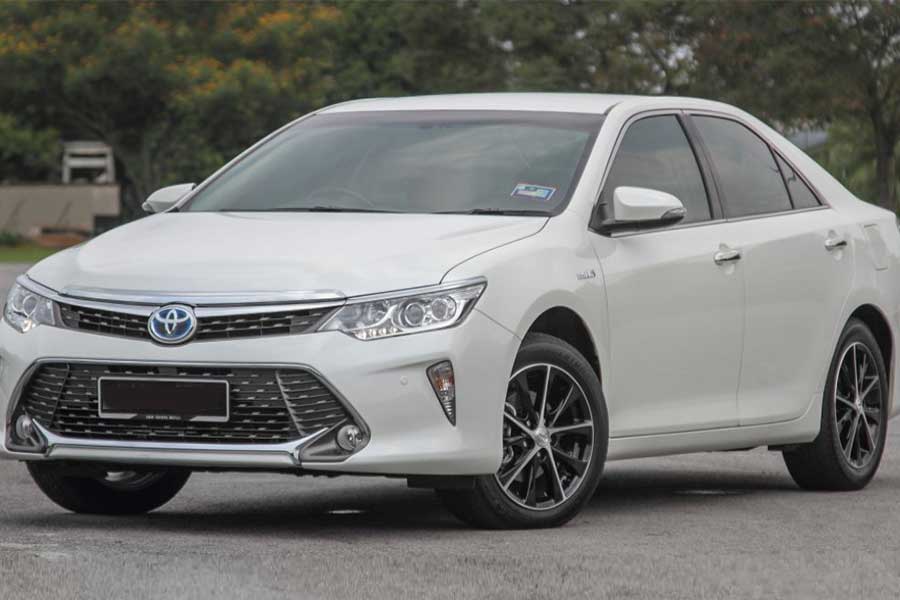 The five-seat 2016 Toyota Camry Hybrid is a mid-size sedan that competes with the Honda Accord Hybrid, Ford Fusion Hybrid and Kia Optima Hybrid. Trim levels include LE, SE and XLE, you can get LE easily under $15000 dollars, base LE trim level of the 2016 Toyota Camry Hybrid available with 16-inch alloy wheels and a multimedia system with a 7-inch screen.
Equipped with 2.4-liter four-cylinder gas engine and an electric motor that together produce 200 horsepower; this setup is mated to an automatic transmission.
| | |
| --- | --- |
| Pros | Cons |
| Roominess and visibility | Interior materials isn't as good as compare to competitors |
| Decent power from either engine | Gaping front grille |
| Fuel efficient | Wind and noise while driving |
| Satisfactory build quality | |
2017 Hyundai Sonata Hybrid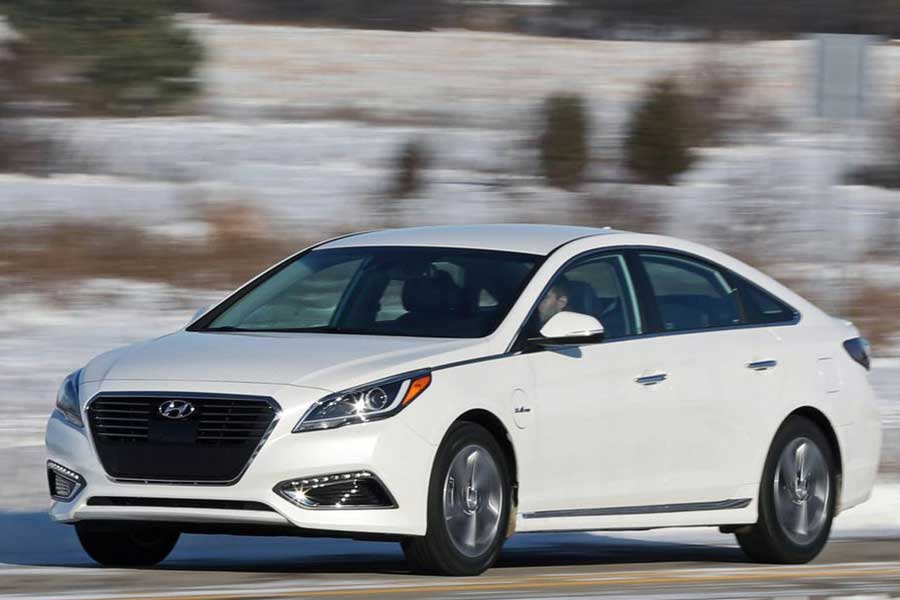 Engine: 2.5L 4 cylinder With Electric motor
HORSEPOWER: 200 hp @ 5700 rpm
CITY/HWY: 43 mpg/ 39 mpg
0-60 Miles: 7.2sec
Average Price: $13,000 – $16,000
The gas-powered Sonata, plus much better fuel-efficiency grades, will give you the same eye-catching exterior design and tech-friendly cabin.
The Sonata Hybrid SE has a cumulative rating of 39 mpg city/45 mpg highway/42 mpg. As a result, 14 mpg city/9 mpg highway/13 mpg combined leads to the regular Sonata.
In addition to what is in the car's powertrain, the same hybrid trim level also features an extensive variety of standard technology. Android Auto, Apple Car Play, a 7-inch touchscreen, a rearview camera, and a hands-free trunk that unlocks when you move your foot under the rear bumper are all highlights.
| | |
| --- | --- |
| Pros | Cons |
| Excellent Performance | Rear headroom is a little tighter than in some competitors |
| Fuel Efficient to Save You More | Grabby brake pedal feel can make it hard to stop smoothly |
| Smooth Handling | |
| Impressive Interior | |
2017 Ford C-Max hybrid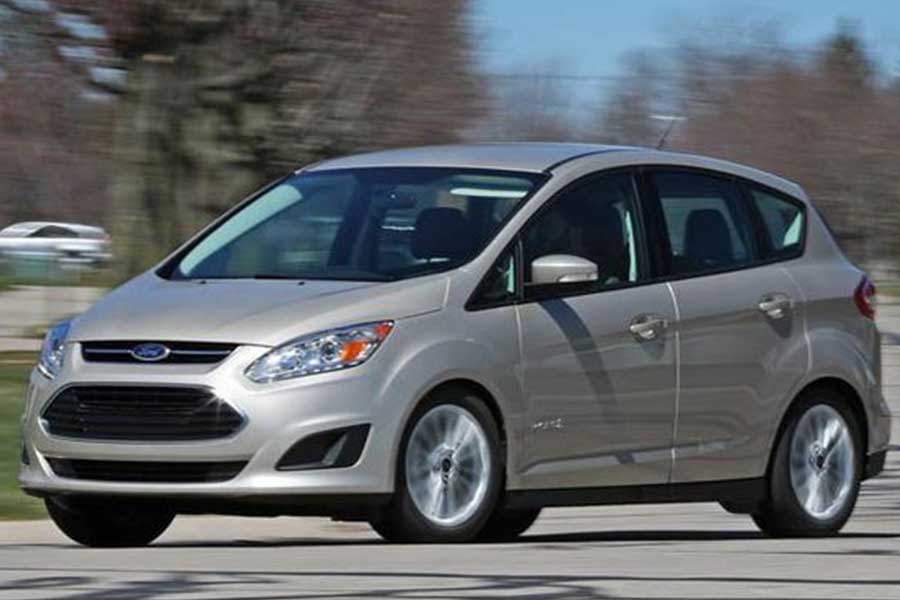 Engine: 2.0L 4 cylinder With Electric motor
HORSEPOWER: 188 hp @ 6000 rpm
Range: 21 Miles electric
CITY/HWY: 42 mpg/ 38 mpg
0-60 Miles: 7.9 sec
Average Price: $11,500 – $14,013

Used hybrids under $15,000 will have a decent amount of utility as well. Consider the Ford C-Max 2017. Though it is about five inches shorter in length than the Toyota Prius, with almost as much cargo space, the C-Max has a crossover-style shape. To be precise, behind the rear seats, the C-Max has 24.5 cubic feet of volume, and 52.6 cubic feet in total. That's even better than the EcoSport, Ford's newer, non-hybrid compact SUV.
A primary benefit of a hybrid is its fuel economy, and the C-Max shows its stuff here with EPA grades of 42 mpg city/38 mpg highway/40 mpg combined.
| | |
| --- | --- |
| Pros | Cons |
| still a reasonable and affordable plug-in alternative | : Fuel economy not as good as expected |
| Stylish and well-made interior | Cargo space and second row limitations |
| Refined handling and ride dynamics | Firmer ride than some rivals |
2016 Kia Optima Hybrid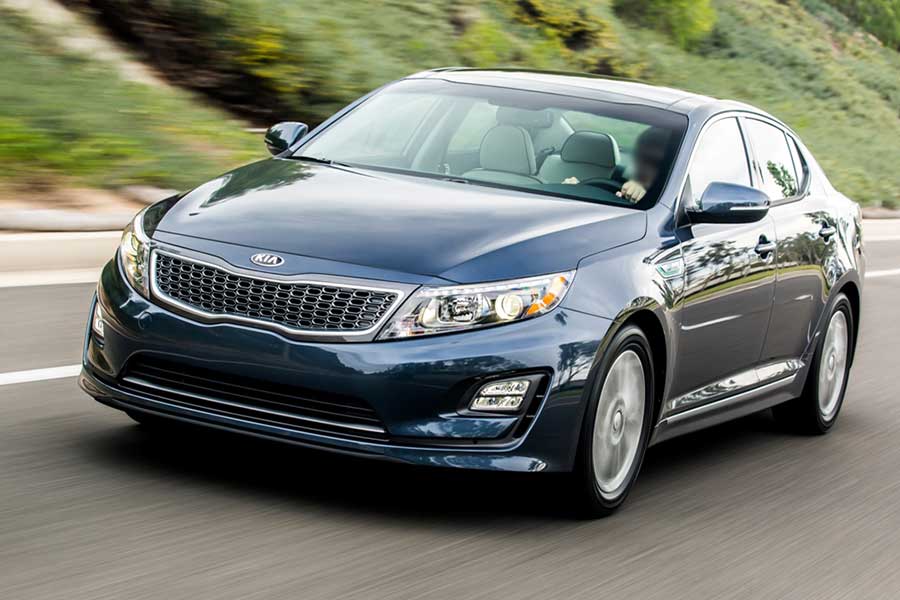 Engine: 2.4L cylinder With Electric motor
HORSEPOWER: 192 hp @ 6000 rpm
CITY/HWY: 35 mpg/ 38 mpg
0-60 Miles: 8.7sec
Average Price: 13,000 – 16,000
The 2016 Kia Optima Hybrid is arguably one of the most elegant hybrids used for under $15,000,
It looks like a sleek sports car, built into the aero-style front bumper right down to the functional cooling vents. Its share of upscale information is also borne by the Optima Hybrid. A leather-wrapped steering wheel, push-button ignition, automatic dual-zone climate control, and a cooling glove box are all standard in the cockpit.
The downside here is that the most effective entry in its class is not the Optima Hybrid. Indeed, in some EPA testing, it is the only mid-size hybrid here that does not break 40 mpg. Yet the Optima Hybrid boosts the regular model by 11 mpg city/4 mpg highway/9 mpg combined with fuel economy marks of 35 mpg city/38 mpg highway/37 mpg combined.
| | |
| --- | --- |
| Pros | Cons |
| Good Noise Insulation from Outside | Average MPG Figures |
| Stylish Exteriors and Interiors | No AWD even as an option |
| Generous Cargo Capacity | Handling feels devoid of character |
| Plenty of Standard Safety Tech on-board | |
| Good Noise Insulation from Outside | |
All About Cars News Gadgets

>>

Vehicles

>>

Hybrid

>>

Best Hybrid Cars Under 15k