What Does GM DTC P0332 Code Mean?
P0332 definition: Knock Sensor 2 Low Circuit Input (Bank 2)
Issue Severity: SEVERE – Stop driving immediately
Repair Urgency: Fix this code immediately (the same day if possible) to avoid internal engine damage.
Diagnosis: Pinging shortens the engine's lifespan and impairs its capacity to function cleanly and effectively. If the knock sensor fails, the PCM will not get accurate information, which might shorten the engine's life.
Knock sensors are only used to detect when your engine "knocks," or when the air/fuel combination combusts too early. This produces less power and, if done repeatedly, can harm the engine. When the engine "knocks," an excessive amount of NOx is emitted as well. When the Power Control Module (PCM) receives a reading from knock sensor 2 in Bank 2 that is too low, error code P0332 is set, and it will be unable to appropriately transmit a ping to repair a problem.
Find a Certified Shop
Find from RepairPal to recommend trustworthy shops in your area near you that offer upfront estimates, guaranteed fair pricing, and a minimum 12-month, 12,000-mile warranty.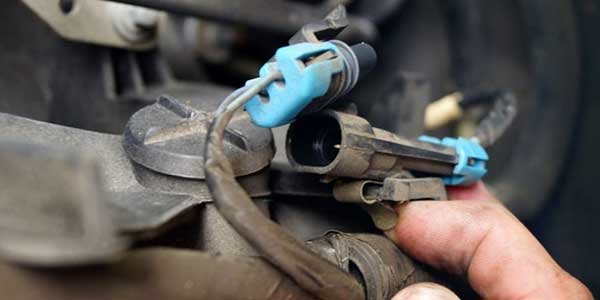 P0332 Causes
There are many potential causes of code P0332.
Faulty knock sensor
Fault in the knock sensor circuitry
Faulty EGR system
P0332 Symptoms
Check Engine Light
Higher emissions
Loss of power
Pinging in the engine
Lower fuel economy
How Do I Fix Code P0332?
The first step in diagnosing a knock sensor error is to determine what is causing the issue.
If your car has this problem and you don't feel comfortable diagnosing it at home, we recommend visiting a RepairPal-approved shop to locate the issue and get an exact repair quote.
These shops can not only help you find out what's wrong before you waste time and money on the wrong components, but they also provide a minimum 12-month, 12,000-mile warranty and guarantee fair pricing on all estimates.
How Much Does Code P0332 Repair Cost?
Damaged wiring, a defective knock sensor, or an overheated engine are all possible causes of P0332. It's hard to provide a precise estimate without first adequately assessing the problem.
Most shops will start with an hour of "diag time" if you bring your car in for a diagnosis (the time spent in labor diagnosing your specific issue). This can cost anywhere from $75 to $150, depending on the shop's labor rate. If you have the shop conduct the repairs for you, they will apply this diagnosis cost to any needed repairs. After that, a business will be able to provide you with an exact repair quotation for your P0332 code.
More: How to Fix P1101 Chevy Malibu?
Possible Repair Costs for P0332
Knock sensor: $297 to $381
Knock sensor harness: $14 to $66
Temperature sensor: $392 to $427
How to Diagnose P0332?
STEP 1: USE OBD2 device TO ENSURE NO OTHER ENGINE CODES ARE PRESENT.
Use OBD2 to scan your vehicle to verify that P0332 is the only code present. If not, make a note of the additional codes, as they help diagnose the problem.
STEP 2: CLEAR CODES, AND DO A ROAD TEST.
Clear the fault codes with your OBD2 device, then do a test drive to determine whether the issue reappears. Include some uphills and heavy acceleration, as both of these circumstances, can create engine knock. Whether the Check Engine Light returns, check the codes again to determine if they are the same or different as before.
STEP 3: CHECK THE KNOCK SENSOR SIGNAL.
Using Code scanner Live Data, check the knock sensor voltage to ensure that it is within the specified range. If it is not, or if there is no signal at all, skip to Step 5.
STEP 4: CHECK THE TEMPERATURE SENSOR SIGNAL.
Using Code Scanner Live Data, Verify that the temperature sensor voltage is within the required range. If it isn't, the temperature sensor might be feeding the PCM erroneous data, resulting in a lean operating state and engine knock. If required, replace the temperature sensor and wiring.
STEP 5: INSPECT KNOCK SENSOR WIRING.
Check the wiring around the knock sensor for any broken or disconnected wires.
STEP 6: REPLACE THE KNOCK SENSOR AND HARNESS.
If it is determined that the knock sensor has to be changed, it is frequently advised that not just the sensor but also the knock harness be replaced.
Common P0332 diagnosis mistakes
Replacing the knock sensor without inspecting the wiring or connectors first.
Related: P0332 Code Chevy Silverado
All About Cars News Gadgets

>>

Auto Repair

>>

How to Fix GM DTC P0332?