A lot will depend on the condition of the engine, daily usage, driving habit, climate, budget and the oil itself.
Vehicle burn quarter of oil out of total motor oil after drove over 5000 to 6000 miles assume to be healthy engine,
If car burns quarter of oil after every 1000 miles then you need to be worried about, therefore steps must be taken according to the condition.
Approach should be very specific and practical, two approaches should be a way to go.
To get to straight best oil for high mileage cars that burn oil scroll down
First approach
Do cars burn oil more than the quarter?
If it is then, it need to be investigated about the causes of burning oil before choosing high mileage oil.
What causes the engine to burn oil more than the threshold limit?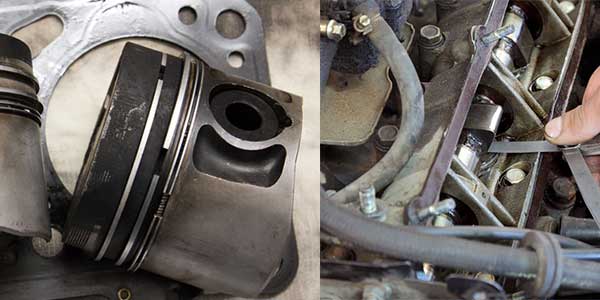 Valve weak
Ring piston weak
 You can assess the engine damage by following points, such are:
White smoke frequently while you pushing throttle very hard either at a standing position or running.
Sometime white smoke only happened at the time of cold engine initially in the morning, then remain normal after engine becomes hot even you press throttle hard. These two points integrated directly to weak engine by valve weak or ring piston weak.
Apart from valve and ring piston assessing head gasket sometimes would be very difficult to assess however here are some points to assess are:
Symptoms of head gasket issue.
Water level in radiator's drop down after couple of 100 miles
Engine loses power dramatically
Water bubbles in the radiators when you open the cap.
Remedy for First Approach
Either valve, ring piston or head gasket issue, you must have to fix it by expert mechanic, a new valve or ring piston need to be replace to get the engine in to normal condition.
Similarly head gasket required to be replaced with the new one by expert mechanic, afterwards you approach for the right engine oil who can get you high mileage with the best possible results, later in the part will be in detail about right motor oil for you.
Second Approach
If the oil burns quarter after 4000 to 5000 miles then you need a different approach.
To make the engine healthy for longer duration with longer miles then you can do many things to get this done in a right manner.
What can you do to get the best possible high mileage results with less burning oil?
Change the motor oil to high mileage oil or the best suited to the engine
Use additives to make the engine and oil perform better and higher mileage
Before going in to right motor oil you need to understand about oil basic dynamics and formulation.
Types of motor oil
The main way to differentiate motor oils is by the formula used in production. There are three different formulas – mineral, synthetic, and synthetic-mineral blend.
Mineral motor oil
Mineral motor oil is a petroleum-based product which is mostly made from natural ingredients.
Synthetic motor oils
Most of the motor oil produced today is synthetic since those formulas provide the best protection, lubrication, and wear protection.
Synthetic oil is superior to mineral, which is why it is now the industry standard. It is more expensive than mineral but it is far better, especially for extreme climate use, vehicles that operate under heavy load, or high-performance application.
Synthetic-mineral blend
This is the mix of conventional mineral oil with synthetic oil. They offer similar benefits that synthetic motor oils provide, making them superior to mineral oil, but at a lower price.
Synthetic vs. High mileage oil
One of the common questions if you own a high mileage car is whether to use full synthetic or high mileage motor oil. There is no simple answer since it depends on the condition of your engine.
The main difference between regular synthetic and high mileage oil is the formula. In the case of high mileage oil, it is enhanced with detergents, sealers and additional lubricants. This is made to provide old engines with better protection and keep them operational even with extensive wear.
The heart of the car experiences a lot of wear over time, and even the best engine oils seem not to be helping much. It is at this point that you are then pushed to switch to high mileage oils.
Basically, high mileage oils are denser engine oils most suitable for 'older' engines. They contain a burn off inhibitor and a seal conditioner that are meant to assist the worn out engines go more miles.
What brand and viscosity are the best Oil for High Mileage Cars That Burn Oil?
High mileage engine oils are laced with ingredients that make them effective for use with old car engines. The trick is to give them a desirable viscosity that won't easily be affected by extreme temperatures. A high mileage oil includes antioxidants, seal conditioners to preserve oil from leakage and cleansing detergents for keeping away sludge.
The content of the ingredients is what brings about the difference in the different brands we have in the market today. Because of this difference, their viscosity will vary.
List of best Oil for High Mileage Cars That Burn Oil
1.      Castrol GTX High Mileage 20W-50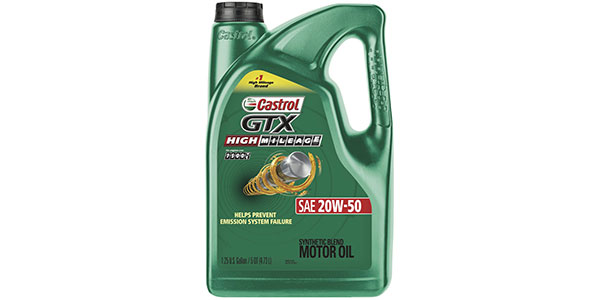 The GTX High Mileage formula is specially formulated with less phosphorus additive to prevent catalytic converter failure.
Over 7500 miles before a change is necessary. However, if your motor does something next to that of the beast of burden, consider 5000 miles. Its viscosity is an excellent feature.
Castrol composition includes ACEA and API for volatility specifications.
Pros
Anti-leaking seal conditioner
Extra additives for anti-engine wear
Fuel economy; helps save on fuel
Price: view availability on Amazon
2.      Valvoline 10W-30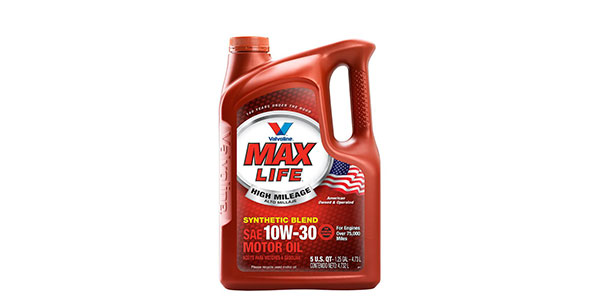 MAXLIFE Valvoline should be considered one of the big dogs in the consumer-grade motor oil market as they are consistently in the top-3 for all relevant categories.
It performs better than the old mineral ones with additives which help close the seals and prevent the oil from leaking from your engine. It also helps remove the engine's deposits and sludge.
Pros
Can last for 300k miles
Has antioxidants
Has detergents
Has rust inhibitors
Has anti-wear agents
Has dispersants
Price: view availability on Amazon
3.      Royal Purple ROY 5W-30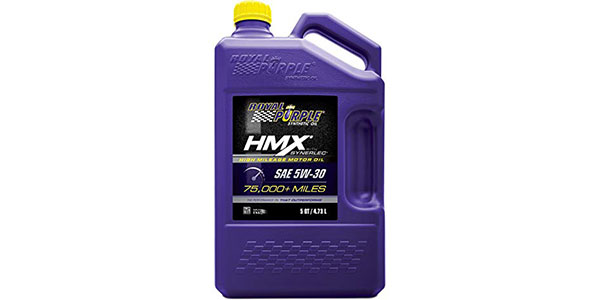 If you drive an old vehicle that has at least 75000 miles on it, this is your go-to solution for prolonging the lifespan of the engine and thus enjoying the car for long time. As it is designed to be compatible with all types of engines,
The formula of this effective oil is composed of robust zinc/phosphorus additives that have anti-wear properties, thus helping protect the motor and prolong its lifespan.
It works by creating a molecular ionic attraction to the metal components, thus providing with a film of oil that helps minimize wear and tear when you are starting up the car and soliciting the motor. Doing so, it helps reduce oil consumption in high-mileage engines.
Pros
Minimizes wear and restores lost engine performance
Reduces engine deposits
Provides a superior corrosion protection
Extends drain intervals
Deposits are unlikely to gather on the motor
Price: view availability on Amazon
4.      Pennzoil 10W-30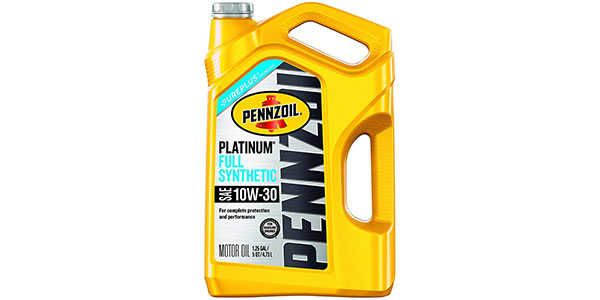 It features active cleansing agents that are able to continuously prevent contaminants and dirt from decreasing the engine's optimal performance. It has properties that maintain the engine's responsiveness, by conditioning its seals and reducing oil consumption.
It is able to provide an enhanced protection for older worn engines and extending their life.
Pros
Provides an advanced proprietary formula that lubricate motors
It reduces leaks and oil consumption in worn engines
Prevents sludge and other damaging deposits
Features a powerful formula that is fortified with Active Cleansing Agents
Price: view availability on Amazon
5.      Castrol 10w-40 5QT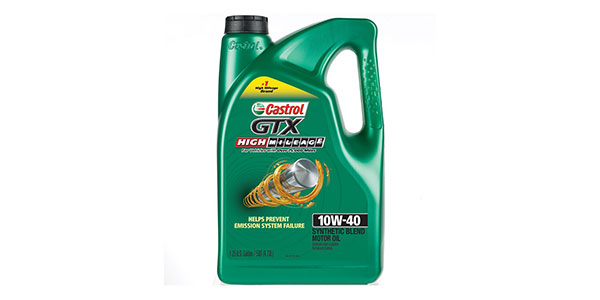 Castrol is a part of the strongest and most advanced formulas of fully synthetic engine oils. Being engineered with a fluid titanium technology, it is able to provide a superior motor oil strength and maximize the motor's performance over time.
Pros
It maximizes the engine's performance on long term
It is boosted with extra fluid titanium technology
It provides a superior cold-temperature protection through faster oil flow at start-ups
Improves fuel economy
Price: view availability on Amazon
6.      Amsoil 5W-30 1 Gallon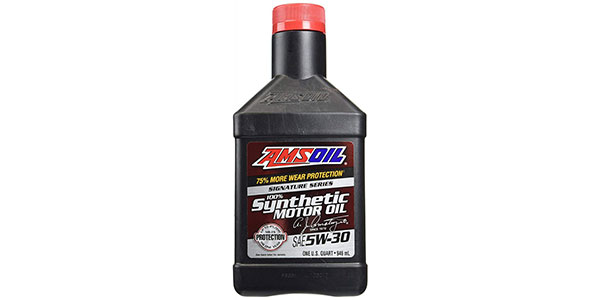 Exceptional gas economy, unrivaled wear and tear control, optimized engine performance and enhanced cleaning capabilities.
Despite being a bit high on the price chart, Amsoil Extended Life Synthetic Motor Oil is definitely worth its value and a great investment for older engines.
Pros
XL synthetic for better performance
Perfect extreme temperature tolerance
Up to 12,000 miles change intervals
Keeps engines clean and reduces maintenance
If you don't want to change oil brand for somewhat reason here you can do to extent your oil mileage with less oil burn.
Price: view availability on Amazon
What Can Cause a Car to Overheat While Driving
The Additives
Oil additives formulation can help to reduce the wear and tear of engine and ensure that all moving parts are lubricated.
Basically its main task to reduce oil burning and longer miles in one oil service especially for older engines.
1.      Liqui Moly (20002) Cera Tec Friction Modifier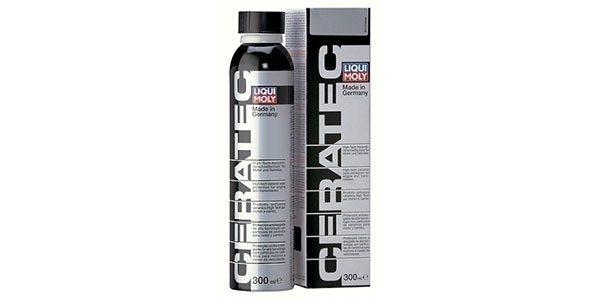 Mixable with all commercially available motor oils
Stable even under high thermal and dynamic permanent loads
No deposits and absolutely compatible with all commonly used filter systems
Resists extremely high and low temperatures
Price: view availability on Amazon
2.      Sea Foam 1 Pack (16 Ounce) Extreme Marine & Rv SF-16 Seafoam Liquid 16 Fl Oz
Cleans injectors, carb jets and passageways
Cleans and lubricates intake valves, pistons and cylinders
Dissolves and cleans fuel residue in fuel systems
Dissolves oil deposits in crankcase
Clean timing chain tensioners and VVT actuators, quiet noisy lifters
100 percent pure petroleum
EPA registered product
Price: view availability on Amazon
3.      Archoil AR9100 Oil Additive (16oz) for All Vehicles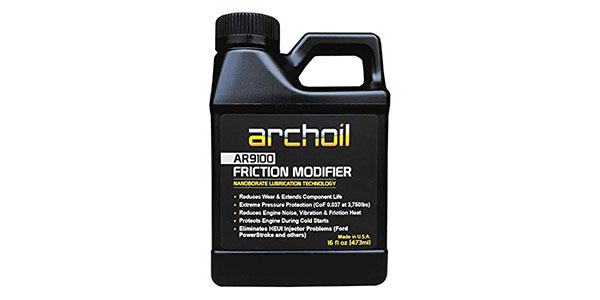 Increases power and response
Reduces friction and provides anti-wear, extreme pressure and anti-corrosion protection
Reduces engine noise and vibration
Protects engine during cold starts
Cleans and prevents sludge/varnish deposits
Extends oil drain intervals
Price: view availability on Amazon
4.      MARVEL® MM12R Mystery Oil Enhancer & Fuel Treatment – 16FL  oz Bottle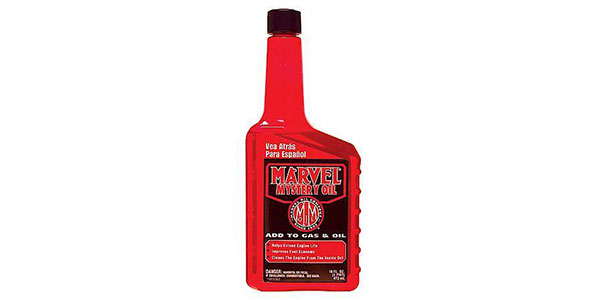 Reduces and prevents valve sticking and clatter by breaking down harmful deposits of carbon and sludge.
Fortifies the properties of motor oil, both traditional and synthetic, for increased resistance to high temperatures and easier cold weather starting.
Prevents oil breakdown caused by extreme temperatures.
Price: view availability on Amazon
5.       STP High Mileage Oil Treatment + Stop Leak (15 fl. oz.)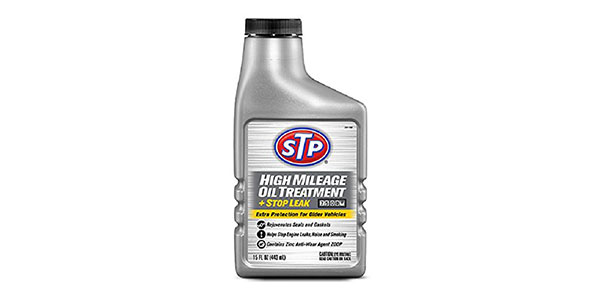 Rejuvenates seals and gaskets
Helps stop leaks, noise and smoking
Contains zinc anti-wear agent ZDDP
Excellent for all cars, light trucks and SUV's
Use every oil change
Price: view availability on Amazon
All About Cars News Gadgets

>>

Regional

>>

America

>>

Best Oil for High Mileage Cars That Burn Oil