Dogs and Cats claw, chew and rip through anything they can, including cheaply made dogs & cats car seat covers. (If you've ever had a cheap, flimsy cover that soaks your seats, you know what we mean). That's why the most important features we considered in picking our best car seat covers for pets.
Quality
Durability
Waterproofing
Price
List of best car seat covers for pets
Plush Paws Products Quilted Hammock Car Seat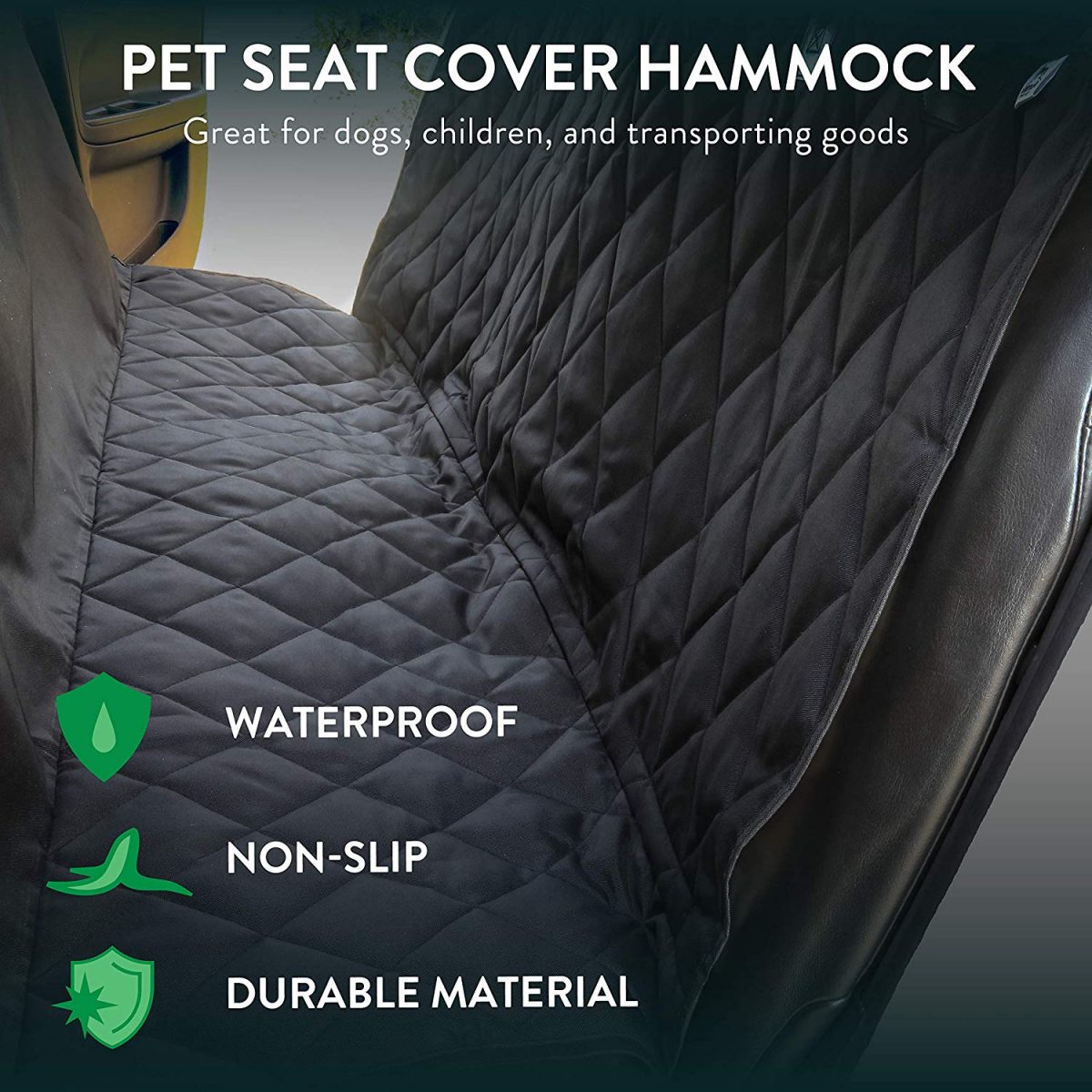 Keep your pet safe while traveling in the car with this seat cover from Plush Paws Products that doubles as a seat protector and dog harness? Its heavy-duty, quilted polyester surface is padded for extra comfort while protecting your car from all manner of pet-borne messes (like hair, drool, dirt, and dander). And because it forms a hammock by attaching to both the back and front headrests in your car, it keeps your dog nice and secure during rides. Additional elastic straps and a non-slip silicone backing also work to keep the cover in place, and the set even includes a set of seatbelts and adjustable harnesses for dogs weighing 15-60 or 60-100 pounds. Altogether this cover measures 58 x 55 inches.
Customers write that the Plush Paws Products Quilted Hammock Car Seat Cover has kept their car's upholstery looking pristine. It's also easy to clean and is especially useful for anyone whose dog has a habit of making a leap for the front seat every time they hit the road.
Price: $27.41
Relevant: Top 10 Waterproof Car Seat Covers
4Knines Dog Seat Cover with Hammock for Cars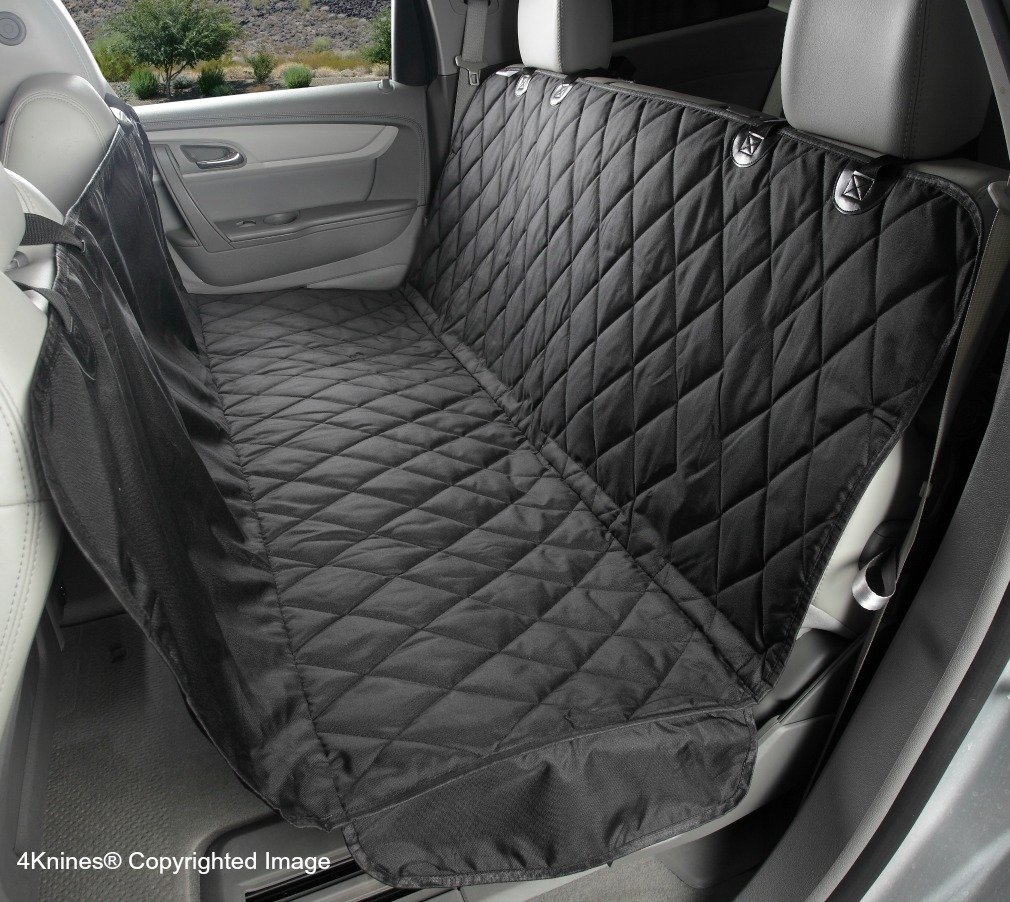 The popular 4Knines dog car seat covers are water resistant with 3 layers of protective PU, and they do not bleed (unlike some other options we've reviewed), which makes it the first of best car seat covers for dogs on this list. Sturdy and adjustable straps attach to the headrest to keep the seat in position, and they actually feel sturdy and secure (some others felt more flimsy). Straps for the front headrest are also added, should the seat be used as a hammock. There are latch openings as well.
After testing this dog car hammock, we've also reviewed other pet owners' opinions and many agree that this is one of the best car seat covers for dogs currently available. The design isn't only reliable and sturdy, but looks luxurious and fits well in most vehicles. Unlike some other dog car hammocks we've tried, 4Knines one settles in place and fits the backseat to a tee. Its non-slip back surface really does its job and isn't a "faux-feature". The heaviness of the material and the added pad between the surfaces provides extra comfort and stability for the dog, too.
Price: $60.00
4 Secret Truth you need to run into before buying a Used Vehicle
VIEWPETS Bench Car Seat Cover Protector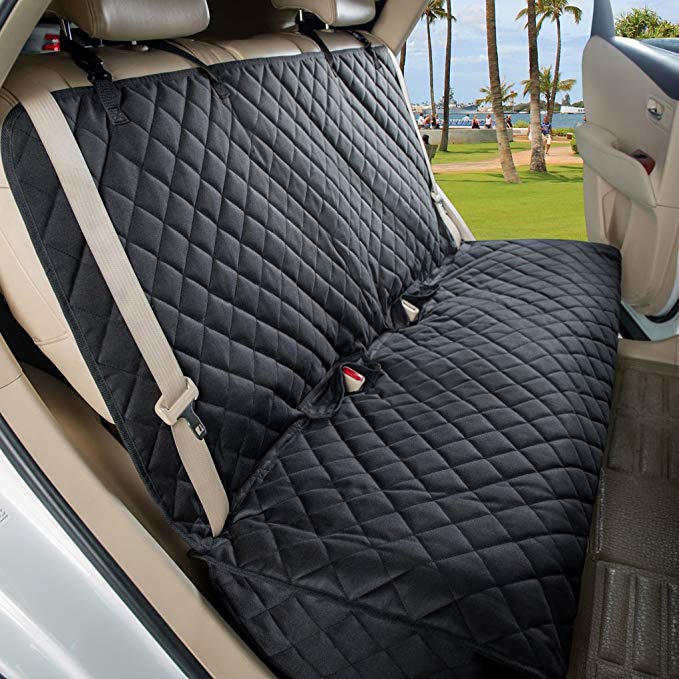 No matter what kind of vehicle you drive, the VIEWPETS Bench Car Seat Cover Protector will do the trick for keeping your dog's dirt and fur up off your back seat. This car seat cover fits most regular sized bench seats that you would find in cars, SUVs, and trucks.
The fabric covers every inch of your bench seat that needs protecting, featuring side and front flaps to protect from even residual wear and tear from a frisky pup. The full coverage design means you can easily transport two, three, or however many dogs that will fit into your back seat without worrying about the extra furballs. For a quick switch into human passenger mode, you can simply unzip the slits in the cover and slide a seatbelt through without having to remove the entire thing.
If you have a dog who is nervous about being in the car, or just one with a weaker bladder, don't worry. VIEWPETS's dog car seat cover is waterproof, meaning no accident will leak through onto the pristine fabric underneath, no matter how big.
Price: $35.99
Automatic Sensor Car Phone Holder and Charger
Deluxe Quilted and Padded Dog Car Seat Cover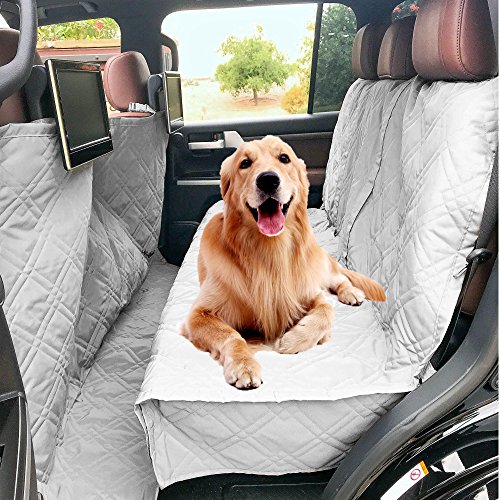 f you're interested in a two-for-one deal, the Deluxe Quilted and Padded Dog Car Seat Cover does double duty as both a car seat cover and a cargo area liner. Using the built-in velcro, fold the liner in half to use it as a front-seat cover. If the front seat is full and you need the backseat for more passengers, the cover can be transferred into the cargo area of your vehicle, so Bruno can still come along for the ride without leaving a mess behind.
This car seat cover is all about extra coverage. Not only does it have flaps on each side, it covers the entire floor of the vehicle and the backs of the seats in front of the bench seat, too. If you've got a super friendly pooch who loves being social during trips in the car, you won't have to worry about a wandering puppy because the additional front cover stops the dog from being able to jump up into the front seats to be closer to you. That double coverage ensures you won't have dog hair all over the backs of your seats when Spike inevitably tries to, too.
Price: $36.99
Car Windows Fogging Up Outside
Amazon Basics Seat Cover for Pets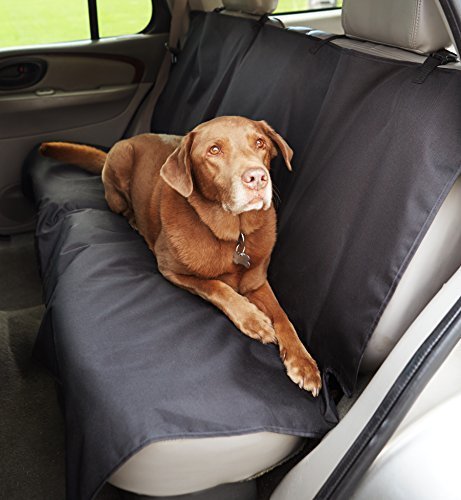 Looking for a simple car seat cover that won't put a dent in your wallet? Look no further than the AmazonBasics Seat Cover for Pets. There are two style options you can choose from for this car seat cover, either bench seat or hammock, and both are ridiculously affordable at $17 and $19 respectively. Customers love that they can get a perfectly functional car seat cover for such a low price.
The seat cover is super easy to set up or remove for quick in-and-out trips with the dog. It has everything you could want in a dog car seat cover. It's waterproof and tear resistant and keeps a layer between your dog and your car seats. The cover is also weighted at the bottom to keep it from sliding around if your dog gets a little restless on the ride. It's sure to keep your back seats clean and fresh trip after trip.
Price: $22.50
Car Dashboard Cleaner Homemade
URPOWER Pet Seat Cover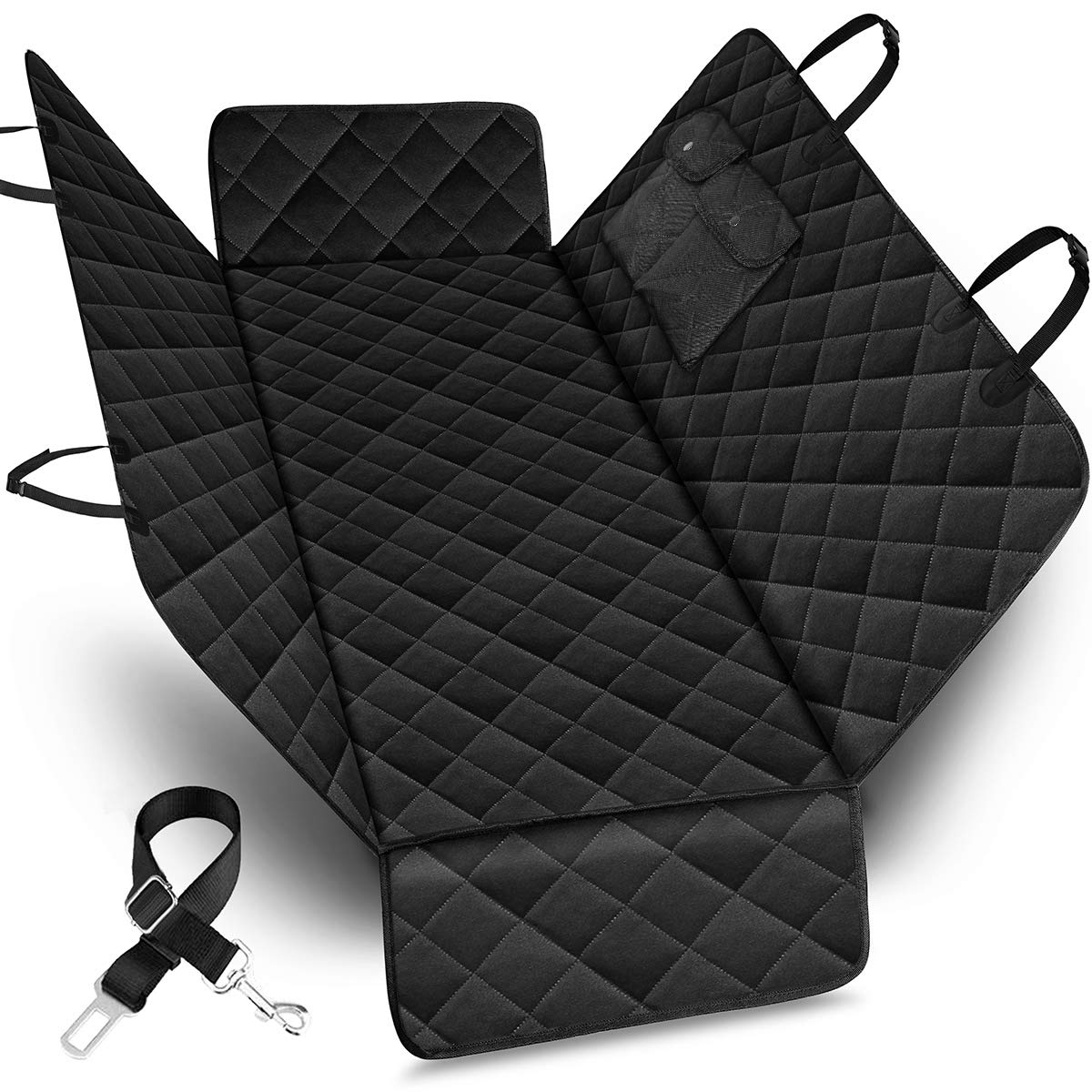 Here is another very popular option among pet owners on Amazon. This dog seat cover for cars is a black color only, hammock-convertible and it measures 54 inches by 58 inches. Its price is in the mid-range and remains a good deal for owners on a budget. It is made from thick and water-resistant polyester, quilted and padded for comfort. After half a week's rides, it stayed perfectly in place thanks to extra strong seat anchors, security handles, and non-slip rubber netting on the reverse side.
Two large openings are provided for car seat belts. As with the others, the hammock feature is very useful and always appreciated. It keeps dirt and debris off the seat fairly well, and we didn't find anything on the floor after some driving. It also seems to be sturdy enough to prevent small or medium dogs from falling or rolling off to the floor, especially on sudden stops and turns (however, we didn't test this particular aspect).
The material of the URPOWER pet seat cover is very comfortable and the padding feels nice. For the price, it appears to be durable enough, and it's definitely resistant to moisture (drool and spilled drink). Interestingly, it somehow cleans off much easier and quicker by wiping that most other best car seat covers for dogs we've tested.
Price: $30.99
AMOFY Dog Seat Cover for Car Back Seat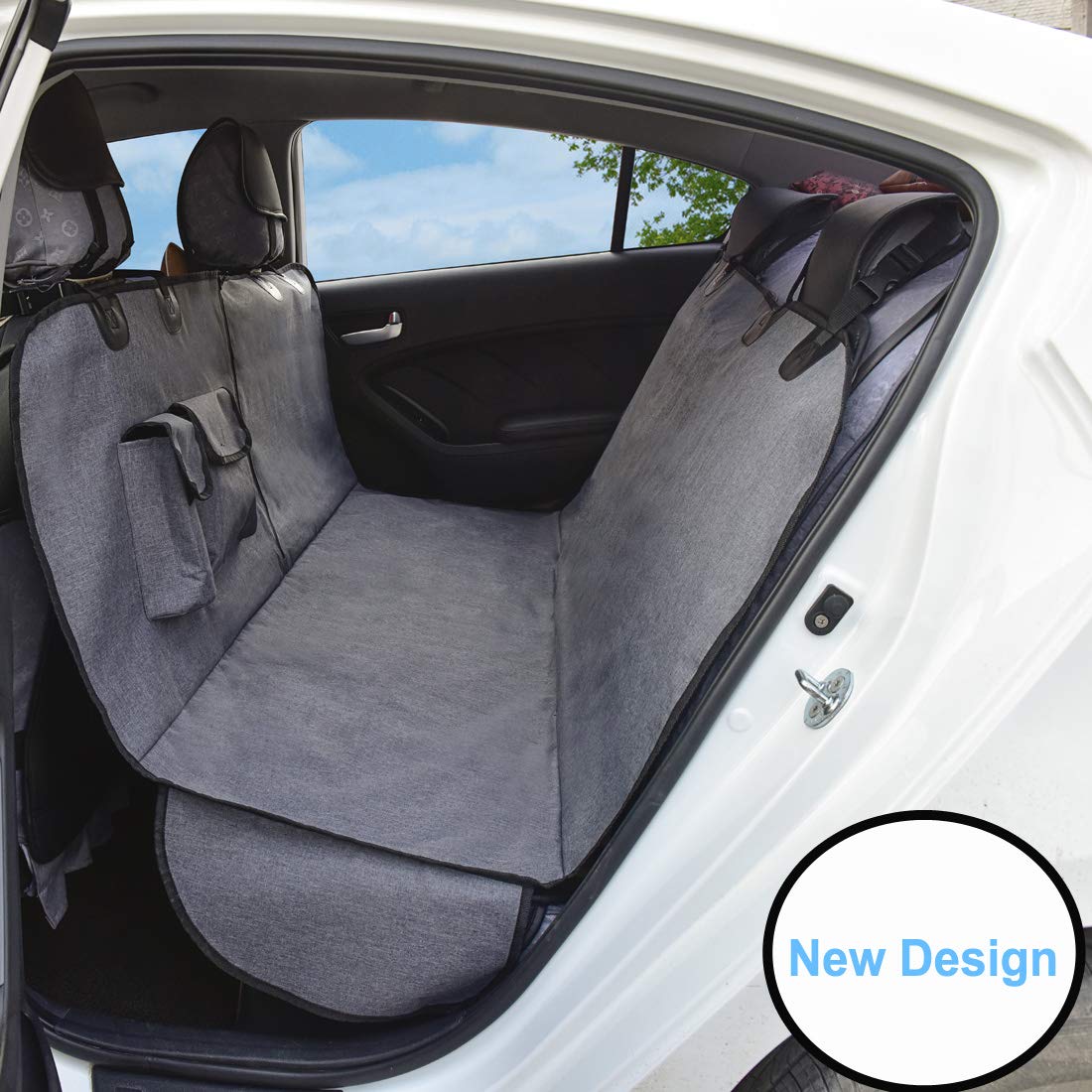 What's great about it: This hammock-style dog seat cover is a fantastic way to keep your back seat protected (and the rear of your front seats, too). It's constructed with tough, fully waterproof polyester and Oxford cloth, plus a silicone-polyester liner on the back. The material is strong enough to stop your dog's nails from piercing through it, and the reinforced stitching adds even more durability.
This machine-washable cover is designed with buckle straps and seat anchors for adjustability, as well as convenient front pockets for storing toys and accessories. On top of that, it has side flaps to protect the entryway when your pooch is hopping in and out. Like all of my picks, this cover leaves the seatbelt clip accessible, and this brand also makes a dog seat belt that you can purchase separately.
Price: $28.99
2019 Best Automotive Repair Apps
Tapiona XL Dog Seat Cover – Truck & SUV Extra Coverage Back Seat Cover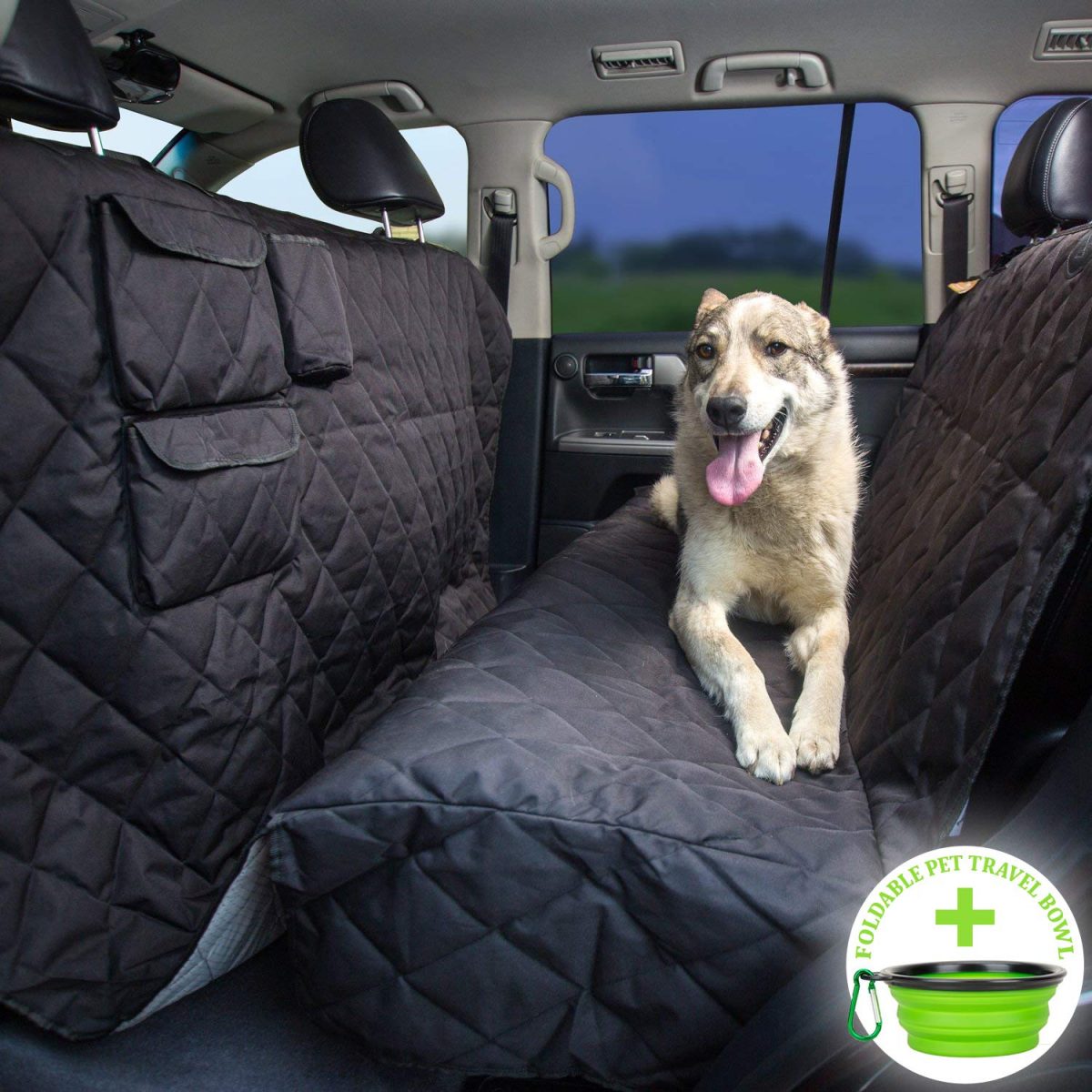 Tapiona Luxury Pet is a premium-quality pet seat cover helping keep seats clean from fur, excreta, soil from paws, etc. It's super easy to install and remove due to adjustable buckle straps. If the cover is soiled or wet, you can easily remove it and wash in a washing machine (delicate cycle recommended).
Pet seat cover is soft, non-slip and water-proof for your dog to sit comfortably. It has a hammock style and protects your pet from falling down the backseat. This pet seat cover also prevents you from distracting and makes driving safer for both you and your pet friend.
Seat cover is cleanable, water and temperature resistant due to the innovative PU coating. To clean out pet hair or different types of spots and smudges, you can simply wipe the pet seat cover down with a damp cloth.
Pet seat cover is made of quality polyester with PU coating that never gives off odor in a car. Many others use PVC polyester coating that becomes smelly in the hot weather and also has a high content of heavy metals, such as Lead and Cadmium. PVC coating starts wearing off after several days of use. A durable PU coating feels much softer and much more comfortable.
Price: $58.99
BarksBar Luxury Pet Car Seat Cover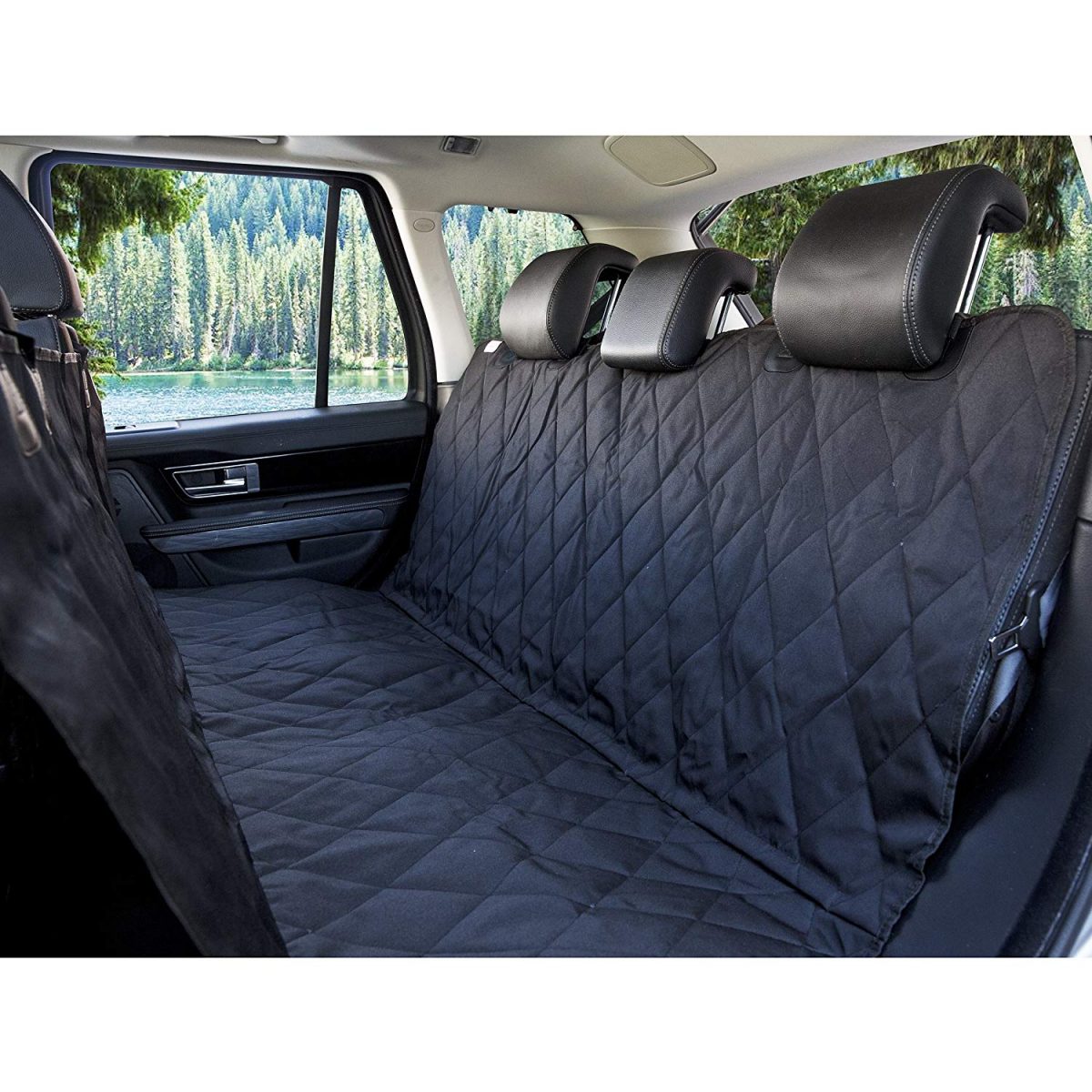 The easiest way to protect the backseat of your car, SUV or truck from dirt, spills, scratches and fur. No more leaving your best friend at home with the easiest, most convenient way to keep the back of your vehicle clean.
Seat cover is made with top-of-the-line Color-Fast material to prevent color bleeding onto seats. Extra stitching in every inch to ensure a long-lasting product.
Triple layered waterproof PU free of AZO dyes and heavy metals that can be toxic to your pet's health. Every piece has been tested to withstand EXTREME temperatures so you will never have to worry about damage to your vehicle.
Price: $31.99
Elegance Linen Quilted Car Seat Cover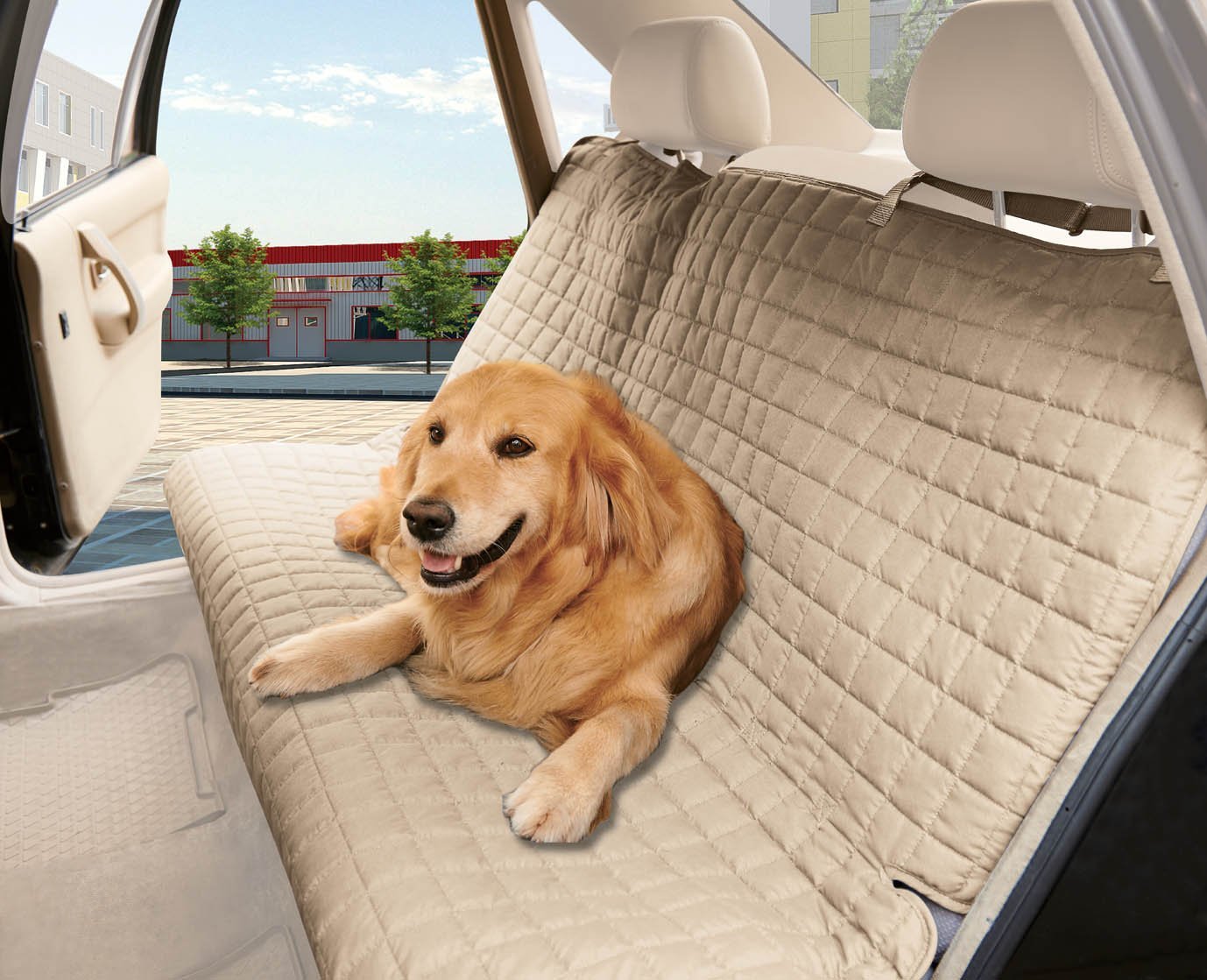 It's a nice alternative to those who are wanting to colour code the cover to their car interior.  The Elegance Linen dog seat cover is made from a quilted microfibre material which is a bit more luxurious for those well behaved travellers. The manufacturer tells us that it will wash clean even after the dirtiest of dogs.
Quilted microfibre fabric
100% waterproof backing liner
Machine washable and easy to wipe down
Seat cover is 55″ wide. If your seat is between 50-58″, then it should work great.
Elegance Linen – High Quality and has a breathable weave
Price: $22.00
Ruffwear Dirt Bag Seat Cover: Best Coverage for Side, Seat and Floor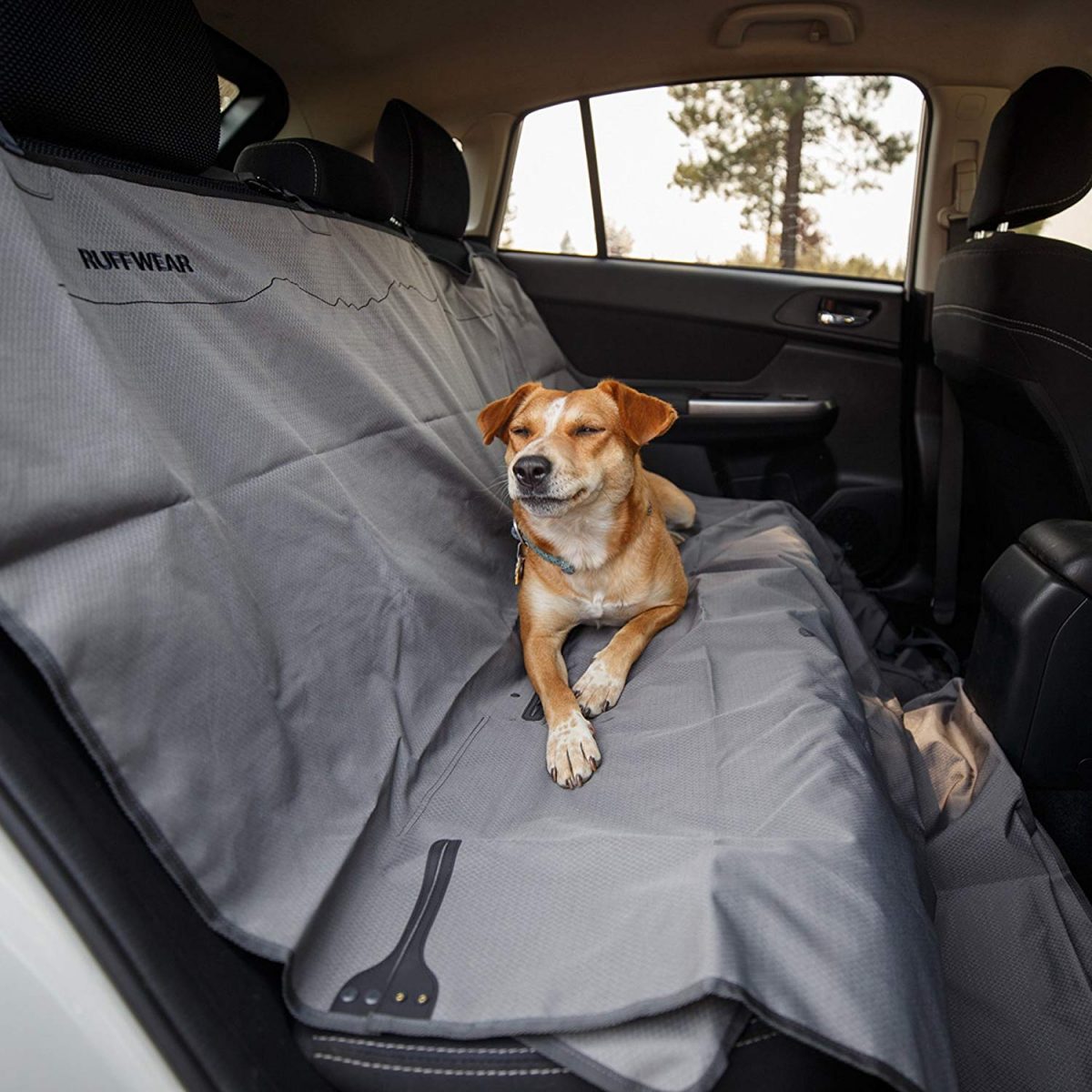 Another excellent dog car seat cover from the reputable Ruffwear crowd. If you are looking for the best coverage including the floor of your car, this premium dog car seat cover is the best pick for you! The comfortable polyester fabric ensures durability, users have this 2 years+ with very little tear and wear that's visible and that's from daily use from multiple dogs with a combined weight of between 100 – 150 lbs.
The Ruffwear seat cover is quite versatile and can be utilized for the rear seat as a hammock, regular seat covering or when the seats are folded flat down, covering the boot also. You have integrated seatbelts access points and when not in use it can be easily packed and folded away. The fabric doesn't stain from moisture, dirt, snow or mud and cleaning is real easy – whether wiping it down or throwing it in the washer for a complete through wash
Owners love this car seat cover because of its durability, quality and flexibility, being easy to install, easy to wash and offers complete coverage of the whole back seat and this what you really expect from the makers behind Ruffwear travel product supplies. Highly recommended it and worth the price.
Price: $80.00
All About Cars News Gadgets

>>

Regional

>>

America

>>

United States

>>

Best Car Seat covers for Pets