If you want to learn more about vehicle wrapping, you've come to the right place (if you're trying to figure out how to manage gift wrapping, this won't help).
A vehicle wrap is a practice of completely or partially covering a vehicle in a different material to change the colour or to act as mobile advertising. Even before the invention of the automobile, train companies were painting their trains and railcars with the colours and logos of their business. It was as far back as 1926 when Waldo Semon first invented the vinyl that is today used in commercial applications. Decades later in 1991, the world's first bus total wrap was produced. Later, in 1993, Pepsi Cola commissioned the world's first digitally printed vehicle. Since then, the industry has only grown from strength to strength.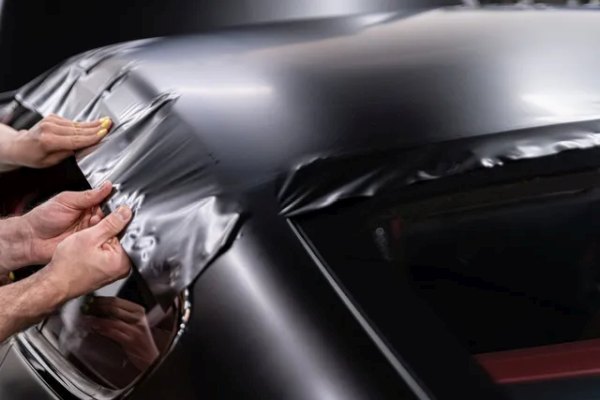 How does a vehicle wrap work?
Basically, vehicle wrapping involves the process of applying a layer of typically plastic vinyl on top of a vehicle's paintwork. There are normally three key steps involved in car wrapping:
The Design: Measuring the car and choosing the colours, finishes and graphics.
The Manufacture: Printing and laminating the vinyl.
The Application: Applying the finished wrap to the vehicle.
There is a plethora of both advantages and disadvantages to consider when investigating the options available for vehicle wraps. There is also a great multitude of options when it comes to the material too. We'll delve into the various considerations that come into play:
1- Cost.
Maybe the first thing that came into your mind – how cost-effective is a vehicle wrap? Depending on the modifications and the coverage of the wrap, the price can range quite considerably. An average, ballpark range is between $2000 and $5000 for a full wrap. Lots of companies offer flexible repayment plans to help offset the cost. Wrap material tends to be between $8-$12 per square foot. If you choose to have this professionally applied, you'll also expect to pay about $2-$3 per square foot for the application. If you decide to apply it yourself, you'll still need to pay for the right tools to do it.
2- Maintenance.
If a vehicle wrap is going to last, thorough and correct maintenance is essential. For example, a recommendation is that wrapped vehicles are hand-washed, once a week, with a specialised cleaning product designed for cleaning vinyl wrap.
3- Durability.
As previously mentioned, when a vinyl wrap is diligently maintained, it can last a very long time. The wrap may start to show its age after approximately 4 or 5 years, but the differences would be minor and unnoticeable to the untrained eye.
4- Creativity.
You really can create whatever you can imagine when it comes to vehicle wrapping. Everything is customizable, from patterns to placement, colours to aesthetics. Some brands even offer colour-changing designs that alter according to the light. When it comes to the finished look, there are types of vinyl that are designed to look like other materials, like steel, carbon or even leather.
5- Advertising.
Wrapping isn't just for aesthetics. Vehicle wrapping provides a whole new world of opportunity for advertising a product or business to the public. You can turn your vehicle into a mobile billboard and generate a significant number of leads and sales as a result.
6- Application.
Don't be fooled – wrapping your vehicle won't cover dents, rust, scratches, or splatters. It is essential that the surface of the vehicle is as smooth and as clean as possible before application otherwise the wrap won't stick correctly to the vehicle.
Another big aspect of any vehicle modification is the legal implications. This might bring some questions to your mind regarding the regulations surrounding vehicle wrapping. In general, vehicle wrapping is a completely legal modification in most municipalities. However, there may be variations in local laws that regulate the use, content and coverage of wraps, therefore, it's important to understand the laws where you live, work and operate to protect your business and its reputation.
Here are a few of the requirements you should bear in mind if you decide to invest in vehicle wrapping:
The design mustn't be obscene or offensive in any way.
You need to have the permission of the owner before applying a vehicle wrap.
You must avoid any necessary features of the vehicle, for example, headlights, indicators, brakes etc. as covering these devices would hinder everyday driving and be a hazard to the safety of the driver and other road users.
The registration plate must be always clearly visible; therefore, the signage can't cover the registration numbers.
The wraps must have securely adhered to the vehicle so that they are not removed in high winds or through use.
Trucks are required to have reflective panels that alert road users of the vehicle's dimensions. These panels can't be covered by wraps.
How Will a Vehicle Wrap Affect My Insurance?
Any modifications to a vehicle must be reported to the insurance provider and a vehicle wrap is no exception. If the modification is not reported, this will have an impact on the success of an insurance claim in the event of an accident. Furthermore, a car wrap may not be covered under the terms of the insurance policy.
Although you are not obligated to notify the DMV after a vehicle wrap, they may have regulations that need to be considered depending on the desired permanence of the modification. If the regulations of the local authority are not conformed to, the driver/owner will face penalties for the violation. Penalties vary depending on the state so it's essential to be aware of all the legal implications surrounding vehicle wrapping under the authorities of our area.
With all the factors and considerations that we've briefly outlined in this article, it's clearly something to think about carefully before jumping in. Do your research and find the solution that will be best for you, your purpose, your vehicle, and your budget.
All About Cars News Gadgets

>>

Blog

>>

What to Think About When You're Thinking About Wrapping