As the parks department welcomes its first electric car, the city of Waco is excited to continue on its path to being more ecologically friendly.
On June 15, the department got the 2020 Chevrolet Bolt EUV. It's part of a city-wide effort to ensure that its vehicles are appropriate for the job at hand, with an eye toward efficiency.
"We're looking for chances like this one where we can downgrade not only from a truck to a sedan but also to an electric vehicle," said Kelly Holecek, the city's general services director.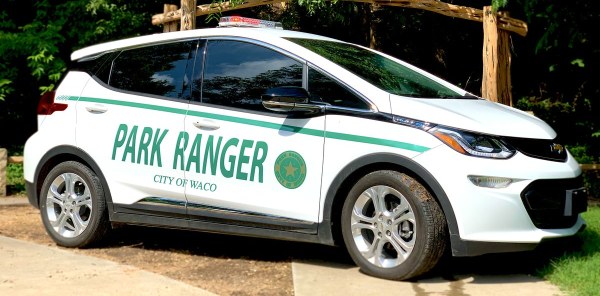 According to Holecek, the city is analysing its whole fleet of sedans and light-duty vehicles, evaluating their performance, the types of jobs they are employed for, and other aspects to see whether more ecologically friendly changes can be made.
"Obviously, the implications on things like climate change, pollution, we're trying to reduce our carbon footprint," she explained. "They are a little more expensive than we are used to, but reducing our carbon impact is a top objective for council."
The city has four electric vehicles: one for park rangers, one for information technology, one for fleet, and one for code enforcement, which is still working on the wrap that will be applied to advertise that it is a green vehicle.
The city spent $32,000 on a new electric truck for park rangers.
"We have gone to a 100% all green electricity contract that carries us out to 2029," Holecek said. "Any possibilities we have where we can take advantage of things like that to lower that footprint, council is happy to invest a little extra money in electric vehicles to do that," he added.
She stated that the city cannot fully commit to an all-electric vehicle fleet at this time. Some occupations necessitate cars with characteristics that are not available in electric vehicles, but the city is keeping an eye on future advances.
"We are excited that Ford has released an electric F-150, and we will be keeping an eye on it to see if there are additional places where we can use an EV truck," Holecek added.
The reasons why six-cylinder engines are on their way out in most new cars
The parks department will charge its Bolt overnight with a new Level 2 charger so that rangers can use it throughout the day. Level 2 chargers operate on a 240-volt power supply, the same as a clothes dryer or an oven, and provide faster charging periods than Level 1 chargers that operate on 110-volt electricity, but not as quickly as Level 3 charging stations, which are typically found in public or commercial locations.
Rangers will just plug it in at the end of their shift and leave it to charge for eight hours so it will be ready to go for their next shift, according to Kim Jennings, the city's park ranger supervisor and a 20-year department veteran.
"This is going to be a great addition to our fleet because it doesn't require any oil changes," Jennings remarked. "As a result, it won't need to be serviced as frequently as our gas-powered vehicles."
She also stated that rangers will not be required to spend time or money at the gas stations.
"I believe people are looking forward to seeing it. Electric vehicles are still considered a curiosity, according to Jennings.
Rangers were able to test drive the fleet services department's electric car before receiving the new vehicle, ensuring that it would be capable of doing "everything that we need it to accomplish."
According to Jennings, the automobile has a 250-mile range, which is more than a ranger can traverse in a day.
"We are excited to contribute to the city's vision of a greener community," Jennings added. "We want to do our share to ensure that the environment and the local people benefit from a long-term vehicle." We want to set a precedent by demonstrating that electric is the way of the future and that it is feasible and appropriate for our needs. It is capable of performing all of the tasks that our gasoline-powered vehicles are capable of."
All About Cars News Gadgets

>>

Auto News & Updates

>>

Waco park rangers get their first electric car