To choose from one of these two vehicles, instantly you inclined towards United bravo due to so many advantages over Mehran, however few plus points of Mehran over United Bravo can easily counter the whole benefits of United Bravo.
Characteristics of Mehran over United Bravo
Market Value
Mehran in small segment class is the only vehicle in the category of 800cc remain in the top spot in terms of resale value, you can sell Mehran anytime you want to be.
Minimum deprecation on Mehran car has been a very incentive for the buyers to buy and sell with minimum loss to his value.
United Bravo has little to none market value, anyone wants to buy would have to in mind of difficult to resale or bear more loss than Mehran.
Spare parts
Mehran offers the cheapest parts across Pakistan, so far no vehicle in this class has the potential to beats in terms of spare parts availability and parts price.
United Bravo parts only be available at their registered service centers in limited cities of Pakistan, therefore suggestion to interested buyers to buy only where centers are there in your cities.
Brand
Suzuki is a renowned brand across the world, and Mehran with Suzuki Logo gives more confidence in the market as compare to new local entrants.
United Bravo is a local brand a collaboration with Chinese companies, therefore it will takes time to get some of the market share of Pakistan, if the quality of the products and services they are stated to provide will be consistent until they get a good market share out of Pakistani market.
[huge_it_slider id="72 "]
United Bravo Advantages over Mehran
Electric Power steering, auto doors, power windows, infotainment system, A/C & Heater, Mid display, wood panel combination on dashboard and Parking sensors makes him attractive, safer and very stylish, Mehran is opposite of all these features and specification not even a single feature available in it except A/C which comes in with higher variant.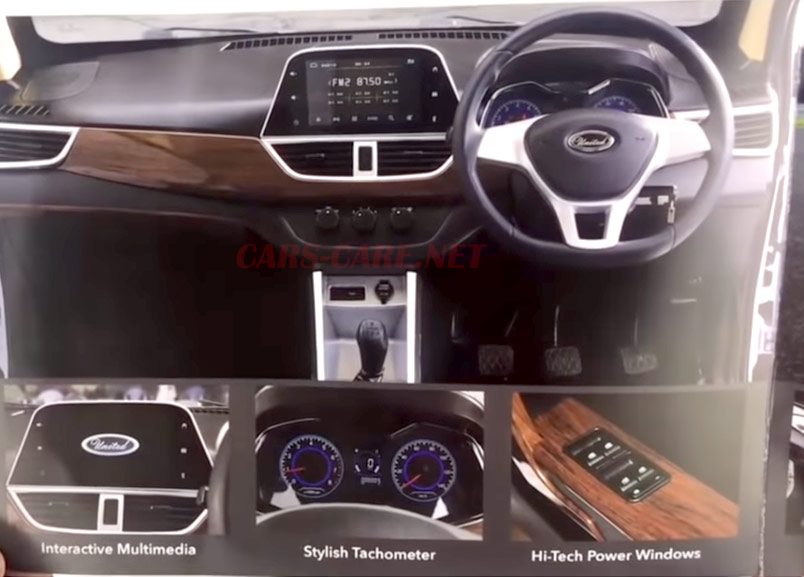 Ride Quality
United Bravo is more Aerodynamic then Mehran thanks to its wide body shape,  hydraulic brakes with independent suspension systems.
Exterior Look
Bravo not only looking good from inside, but it also looks stylish and elegant from outside to be precisely (exterior body).
Mehran not even in the league to match him against bravo inside and outside body looks and features.
More Analysis: Wagon R Vs Cultus New
Last Verdict
Other good competitors will be launching their cars soon in the market such as Prince Pearl, Honda Brio and itself Suzuki Alto, therefore better to stay for a while until Alto launched and then evaluate whether which one would be better suits to you.
United Bravo has little to none market value, anyone wants to buy would have to be in mind of none resale market or bear more loss much larger than Mehran in case of resale.
Detail Specifications United Bravo Vs Mehran VXR
Standard Configuration

United Bravo

Luxury Version

Mehran VXR

Vehicle Dimension (L×W×H)
mm
3290×1600×1490
3300×1405×1410
Wheelbase
mm
2170
2175
Min. Ground Clearance
mm
150
155
Engine
Model
LJ368QA, Suzuki technology
LJ368QA, Suzuki technology
Type
three cylinder, four stroke, water cooled, EFI
three cylinder, four stroke, water cooled, EFI
Displacement
ml
796
796
Bore × stroke
mm
68.5× 72
68.5× 72
Compression ratio
9.4:1
9.4:1
Transmission
Manual, 4 forward, 1 reverse
Manual, 4 forward, 1 reverse
Clutch
Single dry, Diaphragm spring
Single dry, Diaphragm spring
Suspension System
Independent suspension
Front: Strut, Coil Spring

Rear: Leaf Spring

Brake System FR/RR)
Hydraulic brake, Front disc & Rear disc
Front disc & Rear drum
Fuel tank
L
30
30
Fuel Consumption
Km/L
22
22
Power Window
YES
N/A
FM Radio
YES
YES
USB & AUX
YES
YES
Front Fog lamp
YES
N/A
Collision protection beam
YES
N/A
Heater
YES
YES
Vacuum booster
YES
N/A
Safety belt
YES
YES
Aluminum Alloy Rim
YES
N/A
Immobilizer
N/A
YES
Variable Configuration
 
Steering
EPS
Rack & Pinion
Remote Control Lock
YES
YES
A/C
YES
YES
Price
900,000
860,000
All About Cars News Gadgets

>>

Regional

>>

Asia

>>

United Bravo Vs Mehran 2019