If you're looking to buy a new crossover but aren't sure which brand to go with, it all comes down to your budget and their features including seating capacity, comfort, dependability, aftersales market, and fuel economy. However, the list of cars is not designed for a specific feature, but rather represents everything from moderate to excellent, which makes them the best 12 crossovers to date.
Therefore it is up to you to decide and choose the best from this list meeting your requirement.
Here are the list of the 12 Best Crossovers
1. 2021 Volkswagen ID.4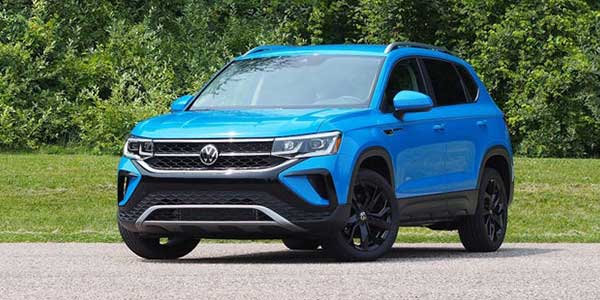 The 2021 VW ID.4 is a capable electric crossover that easily matches the performance, comfort, and convenience of most gas-powered rivals. The ID.4's electric design and low-mounted battery pack lowers the center of gravity compared to traditional SUVs, considerably improving driving characteristics. The ID.4 has rear-wheel drive, unlike most modern VW vehicles, however, an all-wheel-drive version is on the way.
The AWD model is projected to feature a higher battery capacity, with 295 horsepower and a longer range. For the time being, the rear-wheel-drive ID.4 has 201 horsepower and a range of 260 miles on a single charge. While this isn't the vehicle for off-roading, it's perfect for city explorers and families who can charge at home or at a local charging station.
The ID.4 excels at blending modern elements with traditional VW aesthetic features, which appeals to die-hard fans of the brand. ID.4 owners in the United States will also enjoy three years of free unlimited charging at Electrify America's charging stations.
Starting Price:
$39,995
2. 2022 Volkswagen Taos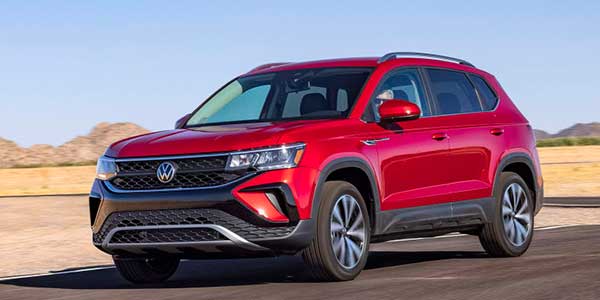 VW is expanding its SUV collection with the all-new 2022 Volkswagen Taos, which offers more elegance, internal space, and driving enjoyment than many competitors. The Taos is smaller and less expensive than the Tiguan, and it's sized and priced to compete with the Honda HR-V and Mazda CX-30.
From the time you enter the Taos, you will be impressed. All Taos models include a digital instrument cluster that can be modified to show anything from the current music to turn-by-turn instructions, whether via the navigation system or via Apple CarPlay or Android Auto smartphone connection. For a small SUV, there are also some nice-looking materials, generous seats, and plenty of load capacity.
Overall, we believe Volkswagen has created an intriguing SUV. When compared to its Tiguan stablemate, the Taos provides comparable elegance and not much of a trade-off in cargo capacity, but at a lesser price.
Starting Price:
$22,995
3. 2021 Mazda CX-30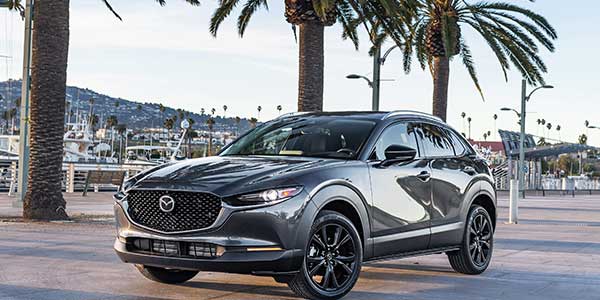 The 2021 Mazda CX-30 ranks highly among subcompact SUVs on the strength of its lively handling, swanky cabin, and roomy cargo hold.
The Mazda CX-30 is an excellent subcompact SUV. It's not the fastest off the line, but it's still a lot of fun to drive. When you're not slicing corners, the Mazda's smooth ride and high-end interior make it a pleasant companion.
The CX-30 has enough passenger room and a cargo-friendly back end. It boasts a high safety rating and a big list of standard features, albeit the infotainment system has several flaws.
If driving enjoyment is a priority, the CX-30, like other Mazda vehicles, should be on your short list. The CX-30 is a strong value offer, with a big menu of included infotainment and driver aid technologies and pricing that's about typical for the class.
Starting Price:
$22,050
4. 2021 Honda CR-V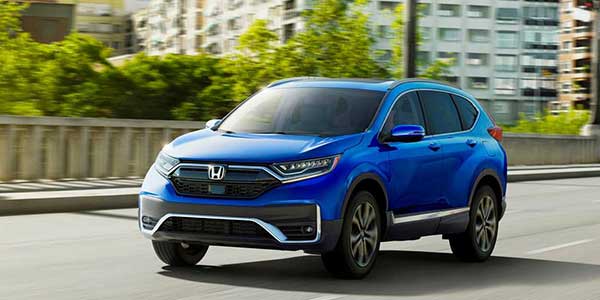 The Mazda CX-5 is the sportiest and sexiest small crossover on the market, but the Honda CR-V is well-rounded. Every non-hybrid CR-V has a 190-hp turbocharged four-cylinder engine and one of the finest CVTs on the market. The CR-V Hybrid has a four-cylinder gasoline engine and two electric motors for a total output of 212 horsepower, and all-wheel drive is standard.
The CR-V boasts ample of interior room, with 39 cubic feet of luggage capacity in the back and 75 cubic feet with the rear seats folded. The CR-V LX has a 5.0-inch display as standard, while all higher levels receive a 7.0-inch touchscreen with Apple CarPlay and Android Auto.
Every CR-V comes standard with a slew of safety systems, including forward collision warning and automatic emergency braking, lane-keeping assist and lane-departure warning, and active cruise control.
Starting Price:
$26,525
5. 2021 Volvo XC40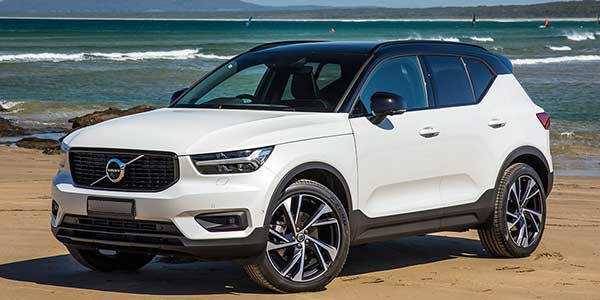 The Volvo XC40 is a top pick among compact luxury crossover SUVs because to its endlessly attractive Scandinavian appearance, sophisticated safety features, and feisty personality.
It's also surprisingly utilitarian, with clever storage options and ample cargo room despite its small dimensions. The XC40's major flaw, coupled with a shaky electronic console shifter, is its poor fuel efficiency.
Starting Price:
$33,700
More: Most Comfortable Suv For Long Distance Driving
6. 2021 Lexus UX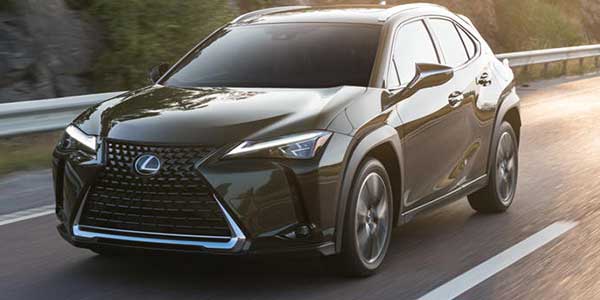 The 2021 Lexus UX has a lot to offer, but the UX 250h, the only hybrid in its class and arguably the most fuel-efficient compact premium crossover on the market, is the finest way to experience it. However, because of its small size, it has several restrictions.
Although rear seat and storage capacity are limited, this elegant and feature-packed small SUV provides a city-friendly footprint, great fuel efficiency, and a premium experience for those seeking a city-friendly footprint, good fuel economy, and a premium experience.
Starting Price:
$32,900
7. 2021 Mazda CX-5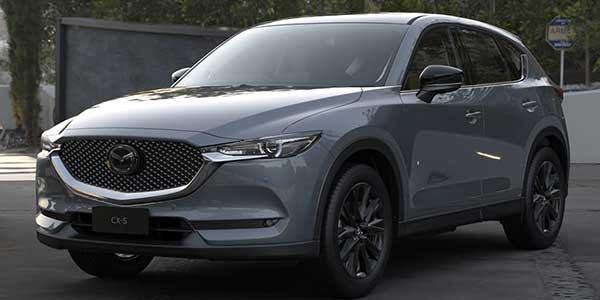 This SUV boasts sleek styling and impressive handling abilities to match. It also has a top-notch interior and a strong optional turbocharged engine that wouldn't seem out of place in a BMW. These traits have helped the CX-5 earn a place near the top of our rankings of the best small SUVs.
The CX-5 receives a few notable upgrades for 2021. The central display screen is larger than last year's and is outfitted with Mazda's newest infotainment interface. It loses touchscreen functionality, but the increased width makes the layout look less cluttered than before.
There's also a new Carbon Edition trim that's available with or without the turbocharged engine. If you want the extra thrust but don't need the luxury features that come in the pricier trims, the Carbon Edition is the least expensive way to get the upgraded engine.
Starting Price:
$25,370
8. 2021 Toyota RAV4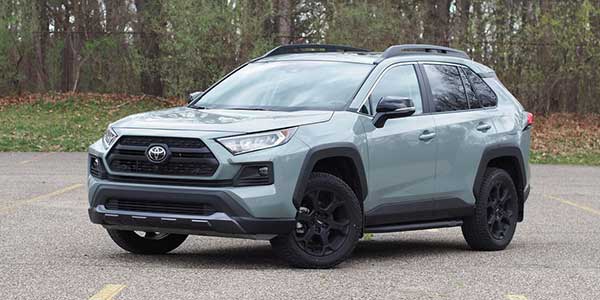 The Toyota RAV4 is the definition of a robust crossover that doesn't wander too far from its everyday comfort. A 203-hp four-cylinder engine with an eight-speed automatic transmission powers every non-hybrid RAV4. All-wheel drive with 219 horsepower is standard on RAV4 Hybrid variants.
The RAV4 Prime is the most entertaining: a plug-in hybrid with 302 horsepower, it accelerates from zero to 60 mph faster than the Toyota Supra 2.0-liter sports car. We also put a Toyota RAV4 TRD Off-Road against a Jeep Wrangler Rubicon to see if it could hang, and while the RAV4 spent a lot of time getting towed by the Wrangler, it managed to withstand all of the stupid things we did to it. Apple CarPlay and Android Auto are now standard. The RAV4's somewhat noisy four-cylinder engine is our only big gripe.
Starting Price:
$27,325
9. 2021 BMW X3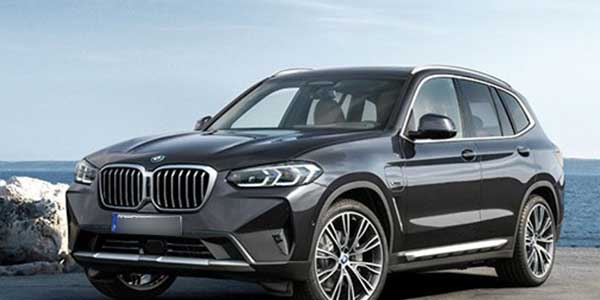 The 2021 BMW X3 M is a beefed-up version of the ordinary X3, with more power, high-performance equipment, and exclusivity than the standard model. A turbocharged 3.0-liter six-cylinder engine delivers 473 horsepower under the hood of the X3 M. Is it not enough? Choose the X3 M Competition, which boasts 503 horsepower. It also has a few performance upgrades, such as stronger suspension stabilizer bars and an improved exhaust system.
BMW still keeps an eye toward luxury. Much like the standard X3, the X3 M offers a plush and practical interior. It comes with plenty of standard features, but of course you can add even more high-end features that are available in packages or as stand-alone options.
Starting Price:
$69,900
10. 2021 Subaru Crosstrek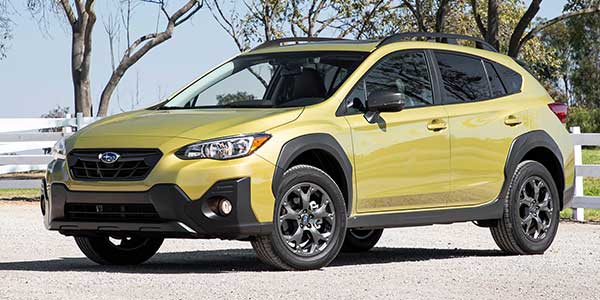 The 2021 Subaru Crosstrek sees the rare mid-model refresh that feels, well, refreshing. The 2.5-liter boxer engine now available in Limited and an all-new Sport trim works well with its CVT transmission at speed, greatly improving acceleration.
The Sport model offers even greater off-road ability for outdoor enthusiasts looking for that next trail or campsite. An even better do-it-all car for people who want a car to do it all.
Starting Price:
$22,245
11. Mercedes-Benz GLC-Class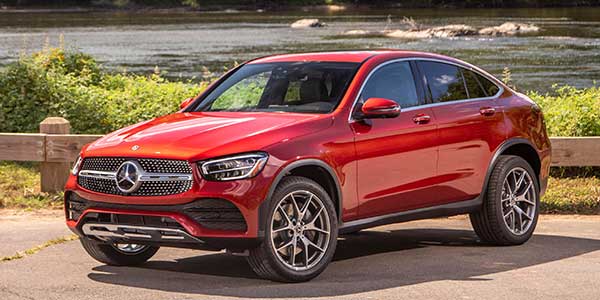 The Mercedes-Benz GLC 2021 exemplifies an ancient adage: it's easier to go to the top than it is to remain there. When it debuted as the GLK for the 2010 model year, it paved the way for today's compact luxury SUV segment. Since then, Mercedes' constant tweaking of the traditional balance of comfort, performance, utility, and technology has propelled the GLC to the top of our compact luxury SUV rankings, outperforming the half-dozen rivals that have followed in its footsteps.
The GLC can manage office shuttles or soccer practice with ease, and a variety of tech and safety features help to lessen the road's daily perils. The GLC collection also runs from moderate to crazy, so whatever your adrenaline level is, you'll find an appropriate variation. The GLC continues to outperform its closest competitors, including the Audi Q5, BMW X3 and Volvo XC60, even after more than a decade.
Starting Price:
$43,200
12. 2021 Ford Escape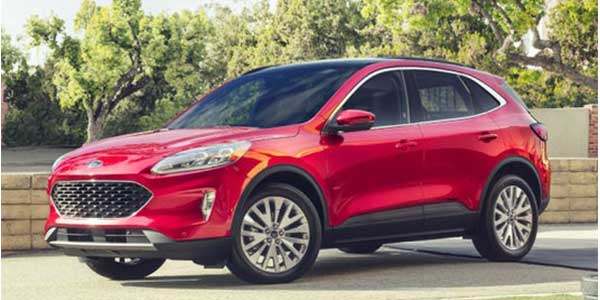 The Escape isn't cheap, with some models costing more than $40,000, but Ford provides a lot for the money. With a selection of fuel-efficient powertrains, including a new plug-in hybrid model, a standard suite of safety technologies, improved crash ratings, and a surprisingly large cabin, the tiny crossover is suitable for small and expanding families.
Ford's Co-Pilot360 is standard on all models, as well as up to 38.8 inches of back legroom and 37.5 cubic feet of load capacity. It's also worth considering if you're looking to switch from a sedan to a crossover. One disadvantage is that most trims employ low-cost materials in the interior.
Starting Price:
$24,885
All About Cars News Gadgets

>>

Regional

>>

America

>>

Overall The 12 Best Crossovers