Cars are useful assets to own but they start to depreciate the moment you leave the dealers' shops with your newly purchased car. It also loses a lot of its original value in the early years of its purchase and is a tricky asset to buy and sell.
It is better that if you are looking for a car purchase you can buy good quality and well-maintained second-hand car instead of buying a new one. But buying a car already owned by someone is also a complex task. If you can pay the extra bucks then you can happily go for a new car and be free from the hassle of looking into used car information.
There are a variety of options and you might choose from a long list of cars which are available in the market. Some might be used but still, be the bang for the price you pay due to their outstanding quality which still might be better than a few used ones.
10 Steps to Buy a Car
An out-of-warranty used automobile can need extra maintenance, and financing it might be a little more expensive. But you can save a tonne of money by selecting a car with a high expected dependability rating and low ownership expenses. You should be able to get the best-used car at a reasonable price by following the advice in the following steps:
Establish a car budget that you can afford
Select the ideal New/Used Car
Think about purchasing a certified pre-owned vehicle.
Discover low-cost New/Used Car Financing
Select a New/Used car dealership
Purchase a New/Used Car
Examine, research, and test drive a New/Used car
Work out a deal and finish the paperwork.
Take add-Ons, warranties, and insurance into account
Time to buy or lease
 To learn more about: Where Can I find Reliable Car Insurance Tips?
What Cars Are Considered Foreign Cars in the USA
Cars that are sourced from another country and are not locally available for United States consumers are all categorized as foreign cars.
It's possible that certain components were made in the US but were put together elsewhere. In the strictest sense, a foreign car is one that has had its components created and put together outside of the nation.
The cost of many foreign cars is higher than that of American-made vehicles. But there are a variety of cheaper and affordable options as well.
What Foreign Cars Are Used In the USA
Following is a comprehensive list of all the car brands available in the USA listed region of manufacture wise which you can go through and further look into their prices and features according to their models and pick the best foreign car for yourself available in the USA. The list contains extremely cheap options and some luxury high-end options as well.
South Korean Car Brands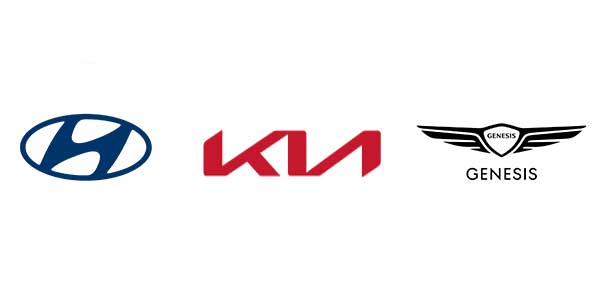 One of the earliest Korean brands is Hyundai. Its first US-based model was Excel, released in 1986. One of the most popular brands on the street today. The company has a wide range of passenger cars and SUVs to choose from.
In 1992, Kia began offering automobiles for sale in the county. The Sportage and Sephia were the first models. In order to keep the business from going bankrupt, Hyundai Motor Company acquired ownership in 1998. The large Kia Telluride SUV is the brand's most popular model right now.
Genesis is Hyundai's luxury division. In 2016, it made its debut in the country. There are many different luxury sedans available today. The all-electric SUV GV60 was recently introduced by the manufacturer.
Japanese Car Brands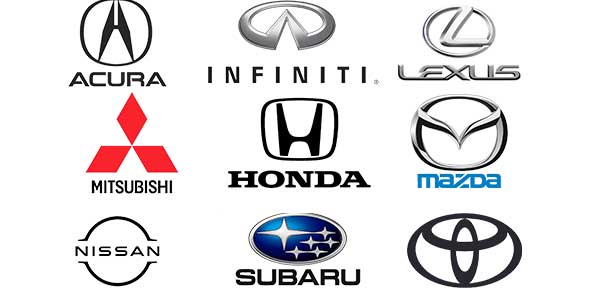 Over the past few decades, Honda has been a top import in the United States. However, it has been selling automobiles in this region since 1959. These dependable automobiles are still highly rated. The Civic, Accord, and CR-V are among the best choices.
Acura Honda's luxury brand is Acura. In 1986, the first vehicle hit our roads. Sports cars, sedans, and SUVs now make up the luxury lineup. The brand's most popular models are still the RDX and MDX.
Honda and Toyota have fought to be the most popular. Toyota In 1957, the first model hit our streets. The Toyota Corolla, Camry, Tundra, Tacoma, and RAV4 are just a few of the most popular options available today. Until it was no longer sold, Scion was also part of the company.
Lexus is Toyota's luxury division. In 1989, the first LS 4000 and ES 250 were made, and they were very popular. The IS sedan is adored by people today. But the RX crossover is the company's most popular model.
Nissan is a company that is a member of the Renault-Nissan-Mitsubishi Alliance. Nissan, on the other hand, has been the most well-liked brand in this union.
Datsun is the oldest imported brand, and it began selling cars in 1958. The automaker now offers a comprehensive line of cars, SUVs, and trucks.
Nissan's luxury brand is INFINITI. The M30 coupe and Q45 sedan were the first models to make their way to the United States. Today, INFINITI offers a comprehensive line of SUVs and luxury cars. The most popular SUV currently on the road is the QX80.
Subaru has long been known as a popular rally car manufacturer. In 1968, the first passenger cars arrived in the United States. You may not be aware that Toyota owns 20% of the business, which is why there has been some recent collaboration. The company currently offers a selection of cars and SUVs that come standard with all-wheel drive.
In 1960, Mazda Motor of America was established. In the beginning, it was renowned as a market leader in roadsters. The MX-5 is still a model that enthusiasts like to drive. However, there are now some budget-friendly cars and crossovers in the lineup.
Despite its partnership with Nissan, Mitsubishi has not enjoyed the same level of popularity as other foreign automakers. In 1981, we first saw the brand.
Before that, Mitsubishi also produced Chrysler vehicles like the Colt. Today, you can find models that are less expensive, like the Outlander.
German Car Brands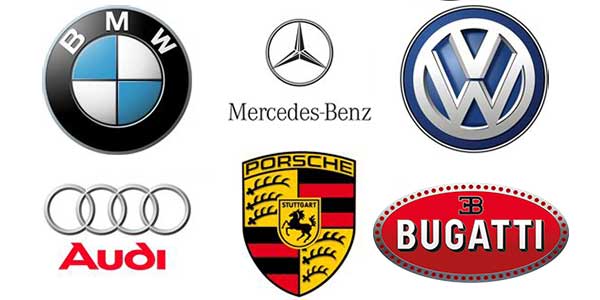 In 1970, Audi introduced its first model to the United States. It was the Audi 100 LS, but since then, the business has only expanded.
It is now best known for its A- and Q-series vehicles. With the E-Tron EV lineup, it will soon assume leadership.
In 1956, the first BMW automobile arrived on our roads. It has been a well-known luxury brand ever since, constantly competing for the top spot.
Sports cars, roadsters, sedans, and SUVs are sold by the company. It might be best known for its high-performance M variants.
The first Mercedes-Benz arrived in 1952, but the dealership didn't open until 1965. The S-Class was the first car to offer cutting-edge technology and features, but at a price.
Maybach is a subsidiary brand of Mercedes. The quality of these is comparable to that of Rolls-Royce.
In 1949, Volkswagen made its debut. The Beetle quickly rose to the top of the list for car enthusiasts all over the country. However, the brand's popularity has decreased. Nevertheless, there are numerous high-end models to choose from.
In 1982, Porsche North America opened. Before that, the Porsche 356 was sold in the 1950s, along with other imports that were brought over over time.
Porsche is still renowned for its exceptional performance today. There are sports cars, sedans, electric cars, and crossovers to choose from.
The Italian or German brands could include Bugatti. The automaker is Italian, but it was manufactured in a German town that is now in France.
Nonetheless, given that it is a part of the Volkswagen Group, it seemed like the best choice for this category. Due to the high price, you won't see many of them on the roads.
British Car Brands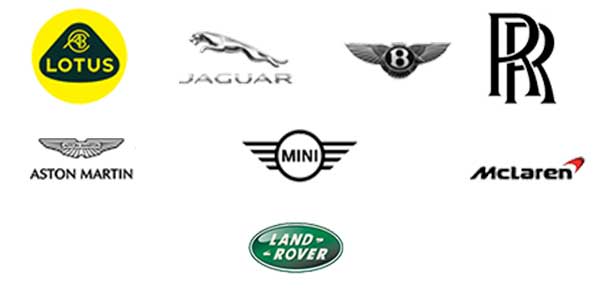 Although many brands offer one or two off-road SUVs, Land Rover is the only one that does so exclusively. These SUVs are offered by Land Rover in a luxurious manner.
Since the late 1980s, it has been a best-selling brand in the United States. It is most well-known for its Range Rover and Defender models right now.
Since 1935, Jaguar has been sold in the United States. The S.S. Jaguar was its first imported model. It is currently competing with Audi and Mercedes-Benz. The F-PACE SUV is actually today's most popular model.
What is Aston Martin's most popular product? It has been Bond's car brand for a long time.
In 1990, Aston Martin was shown for the first time in the United States, with few sales. Although there are a lot of sports car models to choose from, their popularity hasn't grown much.
The Bentley brand is supremely focused on luxury. The Grand Tourer first appeared on American roads in 1919, though we are unsure when regular sales of the brand began.
There are currently three models to choose from. The Flying spur is the sports coupe, with the Continental as the sedan and the Bentayga as the SUV.
MINI is a more practical brand from England. Still, it's unique and fun, giving it an interesting appeal on today's roads. The brand's dealerships have been on these shores since 2002. However, original MINI models were imported in the 1960s.
The United States received its first Rolls-Royce in 1906. By 1921, Rolls-Royce of America was started. This brand is known for its unique hood ornament, known as the Spirit of Ecstasy. Today, it's popular for being opulent and unattainable for most people.
The McLaren lineup is one of the most powerful in the world. Its first supercars were sold here in 2011. Today, it's known for the 720S and Artura, which is a hybrid. Just be prepared to drop $200k+ to get one.
Lotus is a lesser-known brand. It's been in the United States since 2005 but hasn't grown much over the years. The sports cars are smaller yet still powerful. However, there have been production issues making it difficult to continue providing options to the U.S. market.
Italian Car Brands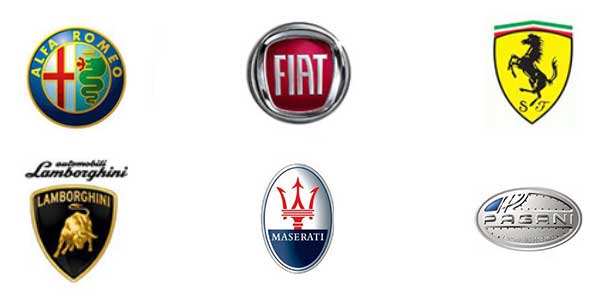 The first FIAT was discovered in the United States in 1908. In 1925, production was taken over by the Chrysler Corporation. The FIAT returned from the 1950s to 1983 after a brief hiatus. After forming a partnership with Chrysler LLC in 2009, it was then reinstated.
In 2015, the Alfa Romeo brand returned to the United States. At that time, the company formed a partnership with the Stellantis Group and FIAT.
It first came back with the 4C, but the Stelvio and Giulia models, which offer the highest level of luxury, are now its most well-known models.
Due to financial difficulties, Maserati has been in and out of the U.S. market multiple times. Nevertheless, it has been there since 2002. This Italian brand is intended to compete with Mercedes-Benz, Jaguar, BMW, and Aston Martin. Today, the Levante, Quattroporte, and Ghibli are among the company's most popular products.
Enzo Ferrari may be one of the world's most well-known automakers. He is just as important in business as Henry Ford was. In 1964, Ferrari opened its first American dealership. Since then, the company's popularity among enthusiasts seeking extreme speeds has continued to rise.
The Lamborghini Company began as a manufacturer of agricultural tractors. Within a short time, the automaker attempted to rival Ferrari with luxury automobiles. Due to wealthy residents importing them for many years, it is unclear when they first arrived in the United States. The Huracan and the Urus are currently the most well-known designs.
Other Car Brands Imported to USA
Volvo has a reputation for being safe and practical. In 1955, this Swedish brand arrived in the United States. It began as a collection of wagons and family cars. The business has changed its look since then to show off more SUVs.
Polestar began as a Volvo-owned Swedish brand. However, the Chinese company Zhejiang Geely Holding Group acquired it. The company currently offers the Polestar 2 for sale. The popularity of this battery-powered four-door fastback is rising.
Foreign Cars vs. Domestic Cars Pros and Cons
Personal preference is frequently the deciding factor when choosing between a domestic and foreign automobile. Before making a purchase, take into account your needs as well as the advantages and disadvantages of each car.
If you're worried about how you're going to pay for repairs, it's essential to understand where a car is built and where its parts come from. Researching the exact vehicle rather than the manufacturer before you buy can be useful because you cannot always know by the automaker's name, so do it to avoid cursing your choice.
| | | |
| --- | --- | --- |
|   | Foreign Cars | Domestic Cars |
| Pros | Better fuel efficiency | Experts in SUV and truck making |
|   | Higher customer reliability rating rate | Help build up the US economy |
|   | More warranty covered | Affordable than foreign cars |
| Cons | More pricey | Lesser fuel efficiency |
|   | Replacement parts are hard to get and may more expensive than local ones | Lower customer reliability rating rate |
|   | Higher auto insurance rate | Fewer options for Sedan |
You might want to see this:
FAQs
What is the most popular foreign car in America?
Overall generally Toyota is the most well-known foreign automaker in the United States, with numerous manufacturing facilities all over the country. Toyota, surpassing Ford on its way to the top. This doesn't come as a surprise considering the affordable prices, low maintenance costs, production quality, and low fuel consumption of the Toyota-branded vehicles. Several of these automakers have established manufacturing facilities in the United States. Toyota
What European cars are sold in the USA?
Volkswagen
BMW
Audi
Mini Cooper
Volvo
Mercedes
How many different car brands are there in the USA?
There are almost 42 car brands in the USA. The list includes major domestic, foreign, super speedy, and luxury cars as well as electric car manufacturers.
What are the most affordable car brands in the USA in 2022?
---
All About Cars News Gadgets

>>

Regional

>>

America

>>

Complete List Of Foreign Car Brands in the USA