Most people may find it difficult to find the best device according to their needs, mounted dash cam available in many brands with different versions, models, size, shape, features, price and specification, not always the big price tag of any product comes out to be the best as per your wishes so watchful and be wise before spend any money related to that type of item, one of the most and the only place to find and search a good item is internet but now a days a big to medium size sites don't hold a unbiased reviews of a small item products due to a specific reasons(paid advertisement, don't bother to search before putting an article about anything due to high inflows of traffic).
For instance: According to the article of consumer report about dash cam 2018, they selected 5 of the best dash cameras which meet each and every requirement, it's up to you to choose from them, however all these have 3 to 3.5 star rating on amazon with based upon less than 300 reviews.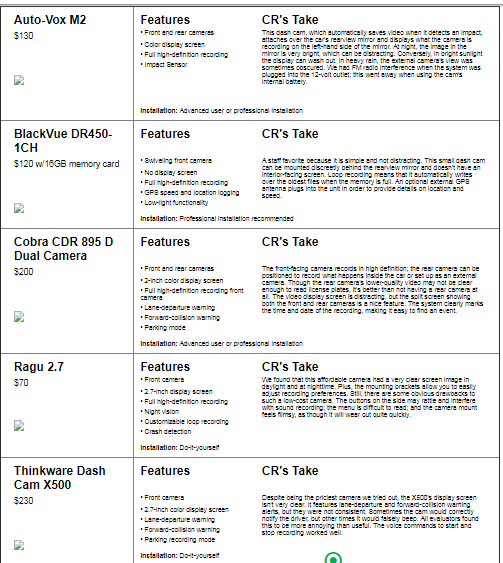 To minimize this risk  you have to go and find about the product on a site where real critics and rating available for particular product such as Amazon, Walmart and so on, but that consume a lot of time before to decide sometime it becomes very frustration for the audience.
Hence to prevent frustration and time, I am getting a list of top of the dash cam for car according to rating and reviews to save your time, money to not to be ditched.
Best Dash Cam for Car 2019:
Rexing V1 Gen 3 (180$)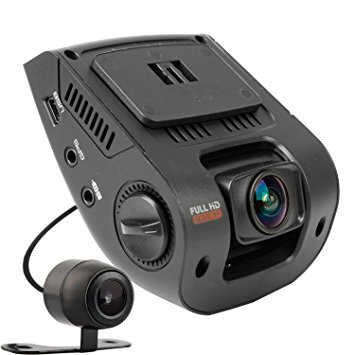 So far Rexing is going on top according to views and reviews on Amazon, Rexing got a more than 4 star rating after six thousand reviews and no one so far have so much reviews as Rexing with the rating of more than 4 star therefore it consider to be the top one among the list of dash cam.
Available in 6 versions with different features and specification and the price starts from 100 US dollars to up to approximately 180 US dollars.
Features:
Full HD 1080p@30fps up to 2160p for top version
4 inch LCD Screen
170 ultra-wide angle
Auto turn on and off
Loop recording with a maximum 128GB capacity card
Accident auto detection G-Sensor
Camera: Only front for basic version and dual with top versions
Wi-Fi standard to only top version (3rd gen)
GPS logger support standard
Video Tutorial :
To know more about this product visit amazon
Vantrue X3 (140$)
The other best in this category would be venture x3, venture dash cam available in 5 version from single to dual and 1.5 inch to 2.7 inch HD 2.5k, it depends on your need and requirement whether you want dual or just front either way venture has got more than 4 star rating after more than three thousand reviews in totality, here only x3 the best with the most number of features added in to this list except the dual camera mode and image sensor. Price of this items starts from 140 US dollar and goes up to 199 US dollars approximately
Features:
X3 image sensor comes with OV4689 CMOS Sensor
Resolution 1920x1080fps@60fps
16 MP camera
Night vision capability
Time Loop recording
G-sensor
170 wide angle view
Screen 2.7 inch display
Wi-Fi standard
Storage capacity up to 256GB
GPS logger is optional to all version
Built in battery to all version except one version with super capacitors
Video Tutorial :
And many more features of this product in detail on amazon
Roav C1Pro (140$)
Another dash cam which can be justified as a proper fully loaded dash cam as per todays demand and requirement, in addition according to amazon this one is rated more than 4 stars after more than 1500 reviews in totality, which is quite good as compare to other dash cams, Roav by Anker Dash available in 6 versions, here only the top of the range with features and specification will be laid down accordingly, a price starts from 88 US dollar to up to 140 US dollars so it up to you to choose and select as per your requirement among Roav dash cam versions.
Features:
4 inch LCD display
2k 2560×1440@60fps resolution
4-lane wide angle view lens
G- Sensor recording
Loop recording
Night vision (optional)
Adhesive mount (suction mount optional)
Travel tracking by using built in GPS
Available with 32GB storage
Video Tutorial :
Visit Amazon for further information
Rove R2-4K Dash Cam (130$)
If anyone wants to buy a good 4k resolution with reasonable price then this would be the first option to choose, not many reviews as others in the above list, however under 4k category this one is the most reviews which highest rating above than 4 star. Rove R2 available in only one version with almost every feature that has to be needed for recording.
Features:
4k 2160p video resolution and 5312×2988 photo resolution
Night hawk vision capability with custom software
150 degree wide angle view lens
4 inch LCD 960x240p
Built in Wi-Fi
Parking Mode, Motion Detection, Loopy Cycle Recording, Slow-Mo Video, Time Lapse Video, Up to 128GB Micro SD Card Support, Emergency Lock Button.
Video Tutorial :
Visit Amazon for further information
Best dash cams under 100 US Dollars
YI Compact (50$)
Someone having a low budget then this one would be the choice for him, Y1 compact is the second best after Rexing according to Amazon in terms of reviews and rating, it starts from 50 us dollars and goes up to 100 us dollars as per version, but this Y1 compact is the only choice with having a latest features is more than enough to meet your criteria.
Features:
7 inch LCD screen display
Full HD 1920×1080@60fps
165 degree wide angle view
G- Sensor technology
Night vision capability with full HD recording
Loaded with ADAS (Advance driver assistance system)
Video Tutorial:
Visit Amazon for further information
Old Shark Dash Cam (67$)
Similar to Y1 except some of the added features that hasn't been in Y1, 4 star rating from over than 1000 reviews second best after Y1 under 100 US dollars category.
Features:
3.0 inch LCD with no touch screen
Full HD 1080p car recording
Night vision capability
170 wide angle view lens
G-Sensor technology
Loop recoding
Loaded with ADAS
Up to 128GB storage and supported capacity
Video Tutorial :
Visit Amazon for further information
All About Cars News Gadgets

>>

Gadgets

>>

Best Dash Cam for Car 2019