Have you ever driven your new Toyota Prius and seen a strange-looking light on your dashboard, Some people might not be able to grasp all dashboard symbols and their significance that would affect your car if a low fuel oil pressure warning light turns on and you ignore it just as most drivers normally do due to a lack of awareness of the dashboard symbols, so here are Toyota Prius dashboard symbols and meanings in detail.
To make it easier for the audience to recognize the symbols and behave accordingly, separate warning light signs and other operating state symbols for the audience.
Toyota Prius Dashboard Symbols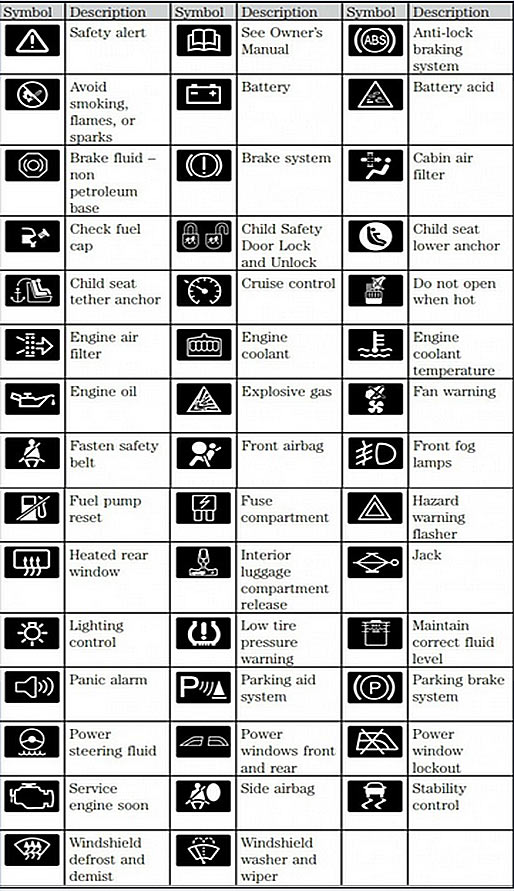 Toyota Prius Dashboard Symbols and Meanings Warning lights 
These Toyota Warning Lights are the first to resolve immediately as it is important to detect your car's potential problem, safety concerns, or immediate failure points.
Oil Pressure Light
It demonstrates that there is a problem with the oil pressure system of your vehicle. You either run low on oil or your oil pump doesn't circulate enough fluid to lubricate the surfaces inside your vehicle properly. Since your engine will wear easily without proper lubrication, this should be tackled as soon as possible.
Engine Temperature Warning
This means the engine gets overheated. Most likely, this has to do with your coolant (also called antifreeze), but for a number of reasons, it may happen. To prevent further harm, it's necessary to fix this immediately.
Battery Alert
This symbol indicates that there is an issue with the vehicle's charging system. Interestingly enough, the culprit might not be your battery. While it might indicate that you have a loose or damaged battery cable, it can also signal that your alternator belt is broken. If it is your battery, occasionally you'll notice that your clock is fading or your headlights are dimming.
Brake Warning Light
Indicator light turns on when the handbrake is on. If it lit continuously, it means that hydraulic pressure has been lost in one side of the brake system or that the fluid level in the master cylinder is dangerously low (due to a leak somewhere in the brake system).
More Symbols:
Safety Symbols
These lights indicate an issue with your car that needs either immediate action or checking.
Transmission Temperature
The indicator light indicates that the temperature of the engine exceeds normal limits. Coolant level check, fan activity, radiator cover, leakage of coolant.
Traction Control Malfunction
This light indicates that your vehicle's traction control system might have a broken or damaged sensor or some other malfunction. In some cars, the same control module operates the anti-lock brakes and the traction control system, so the light sometimes comes on when there are problems with your ABS.
Tire Pressure Warning Light
It indicates that the pressure in one or more of your tires is too low or too high and needs to be addressed. Driving on low- or high-pressure tires is unsafe and can cause additional damage to your vehicle. Usually, tire pressure should be between 30 and 35 psi, Also known as the TPMS symbol.
Steering Wheel Lock
Indicator light means your steering wheel is locked and cannot be moved. To turn off the steering lock, insert the key into the ignition and turn it to at least the first position while turning the steering wheel in either direction.
Security Alert
Indicator light will turn on momentarily if the ignition switch is locked and will need the proper transponder-equipped key to restart. If the light is visible when the vehicle is on, then it typically indicates a malfunction in the security system.
Service Vehicle Soon
Indicator light turns on when there is a fault condition in an area of the vehicle chassis systems such as—the anti-lock (ABS) brake system, the traction control (TCS) system, the electronic suspension system, or the brake hydraulic system.
Side Airbag
The indicator light means a side airbag fault.
Reduced Power Warning
Indicator light means that there is minimal engine power output on the engine computer.
Seat Belt Indicator
Indicator light means that a seat belt has not been secured for a passenger in the vehicle.
Power Steering Warning Light
If there is a problem with the power steering system, the warning light switches on and is disabled until corrected.
Master Warning Light
Indicator light usually accompanied by another warning light and indicates that one or more warning systems have been detected.
Information Warning Light
When the new message is stored in the information display, the indicator light will turn on. Depending on the severity of the error, it will be red or amber in color and will stay on until the message's trigger has been rectified.
Gas/Fuel Cap
Indicator light turns on if the gas/fuel cap is not properly tightened.
Child Safety Lock
Indicator light means child safety lock is active.
Distance Warning
Indicator light means that a vehicle in front is too close or is being approached too quickly, or that a stationary obstacle exists in the direction of travel.
Clogged Air Filter
Indicator light turns on when there is reduced airflow to the engine. Have the air filter replaced or inspected.
Check Engine or Malfunction Indicator Light (MIL)
Indicator light turns on whenever the engine is turned on to check the bulb. If the light stays illuminated, the car's diagnostic systems have detected a malfunction that needs to be investigated.
Catalytic Converter Warning
Indicator light means the catalytic converter is either overheating or not operating as intended.
Brake Fluid
Indicator light means that the brake fluid level is low.
Brake Pad Warning
Indicator light means that the brake pads are worn.
Automatic Gearbox Warning
Indicator light means there's a gearbox/transmission malfunction.
Airbag Indicator
An indicator light turns on when the front airbag is switched off. If this lamp lights up or flashes there is a fault in the airbag or seatbelt system.
Other Common Signs in Toyota Prius Dashboard Symbols and Meanings
These are not warning lights, and turning on the light means that the symbol's function is normal.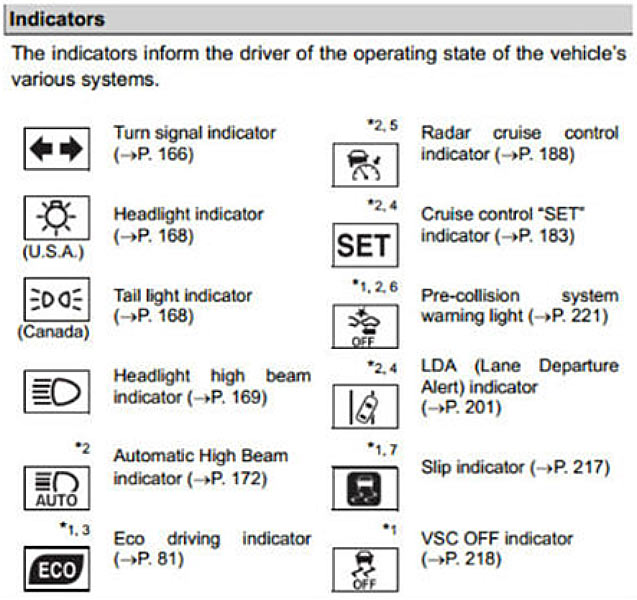 All About Cars News Gadgets

>>

Auto Repair

>>

Toyota Prius Dashboard Symbols and Meanings