What and How to wax your car at home: Here we discuss and understand step by step about how to wax the car at home and what wax best suits for your car.
Most people think about the wax and compound  are the same product but that is not true, Compound is another material which specifically uses for to dim or eliminate the small scratched of the car outer body and it can be use in home by following simple steps including some tools to use it such as buffer machine.
Wax is simply use to make your car safe from thin layer scratches and to look good and shine for many days.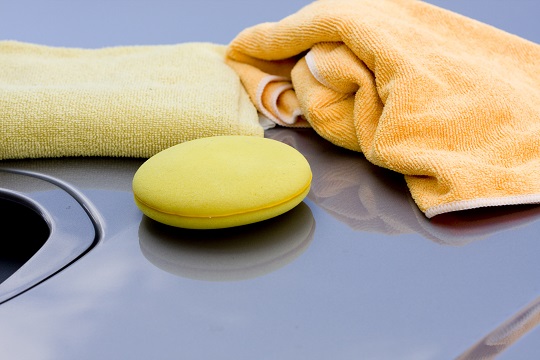 Steps For What And How To Wax Your Car At Home:
Step 1:  
Every car must need to be cleaned before doing wax on it either wash it by water or clean it without water but make sure the car is free of dust and completely dry, if it doesn't then doing wax with dust on it can get damage to the car by putting thin scratches on it while doing wax.  For example thin particles of the dust are very hard and strong, hard wax rubbing on the car could result a scratch on it.
Two ways wax can be done:
1. By using cotton towel for waxing the outer body of the car.
2. By using soft buffer machine for waxing the outer body of the car.
Step 2:
Is it your car new or 5 years older than, because in both cases you need to wax differently, such as new cars less than 5 years old are almost at very good condition from outer body if it cares it well and need less wax than the older ones need.
Step 3:
New car required less amount and time to wax the car, therefore use paste material wax which is so far the best according to consumer reviews.
Recommend using wax by cotton towel or cloth to do the wax, avoid to do wax with the buffer machine.
It can damage the pattern inside the body paint which provides the evidence about the paint is originality.
If someone wouldn't bother for that then use anyone, both works the same.
Old cars required frequently to wax on it because the outer paint of the body after 5 years becomes dull and cars look much older than its original age therefore it needs frequently.
To look absolute shiny and less scratchy u need to wax your car specifically from  paste material secondly one time to do the wax isn't provide you the best  results if you need better result than need to wax by one more time after first complete wax, it gives more shine with hide more scratches.
By using towel or buffer would be fine for the old ones because the pattern of the paint almost gone away due to many reason.
What Wax Best Suits For The Car:
We recommend you first try using it on an inconspicuous area such as a doorjamb. And regardless of how hard you work, how much you spend, or what longevity claims manufacturers make, don't expect any wax to last indefinitely. Even the best products we tested lasted no more than a few weeks.
In this article I recommended paste form wax because it provides better and long lasting result but wax can be available in many form such as liquid, paste and spray ones.
Liquid Waxes
Good for cleaning, gloss, and durability. But they can be more difficult to apply evenly and buff out. Most dry to a haze within about a minute, but this varies with wind, sunlight, and thickness of application.
Wax: Liquid Glass LG-100, Nu Finish Liquid, Mothers 05701 California Gold
Paste Waxes
Good for ease of application. But overall performance is not as good as with liquids, and it can be difficult to remove wax from the container as you near the bottom. Paste waxes usually dry to a haze within 30 seconds.
Wax:  Meguiar's G18211 Ultimate Paste Wax, P21S 12700 W Carnauba Wax, Turtle Wax T-222R Super Paste Wax. Formula 1 Carnauba Paste Car Wax.
Spray Waxes
Good for new cars with excellent finishes. Also for convenience, plastic compatibility, ease of use, and spot waxing.
Wax: Zymol Z-503, Meguiar's G17516 Ultimate, Turtle Wax T-9 1, Griot's Garage 10962
These are the ways and most selling products about What and How to wax your car at home.
All About Cars News Gadgets

>>

General

>>

Tips What and How to wax your car at home (with hand, buffer)