According to the revised 'Strategy 2025', Hyundai plans to launch at least 12 battery-electric models by 2025. This involves Hyundai depending on the new E-GMP 800-volt platform that the carmaker will use next year for the first time to power the Ioniq 5.
The Korean company introduced the electrification roadmap in 2019 with the stated objective of becoming one of the world's three largest manufacturers of EVs by 2025. 670,000 hybrid vehicles, of which Hyundai plans to be 560,000 BEV and 110,000 fuel cell vehicles, will then have to be included in annual sales. With the new announcement, these priorities stayed in place.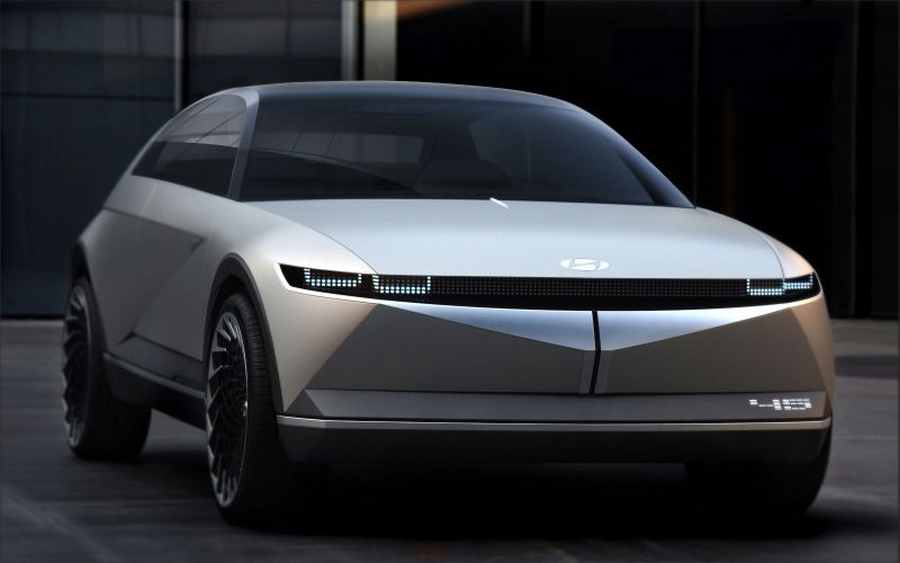 In main markets such as South Korea, the USA, China and Europe, by 2030, the company aims to electrify most of the latest models. It is anticipated that emerging markets such as India and Brazil will follow by 2035. Hyundai Motor Corporation plans to reach an eight to ten percent share of the worldwide market for hybrid vehicles by 2040.In key foreign markets, it is considering completely electrifying its product range by 2040. The "democratisation" of e-cars in emerging markets such as India, Russia and Brazil is also expected.
To achieve greater electrification, Hyundai says the would "secure manufacturing competitiveness through increased parts standardisation and reduced cost." This also includes regionalisation for EV products. For the E-GMP platform, Hyundai claims greater efficiency and has turned Ioniq into a sub-brand this August for electric cars based on the new architecture as reported.
Hyundai will also make efforts in the fields of charging networks and battery firms. By 2021, the company plans to build 20 high-speed charging stations in Korea. Overseas, high-speed charging network projects will continue to be carried out with different partners, such as high-speed charging network projects, and Ionity has recently entered in Europe.
Hyundai also confirmed a dedicated BEV model and a derived EV model in 2021 under the Genesis premium label but did not disclose details. The latest we heard of a Genesis model was the eG80 that will rely on the E-GMP architecture when it comes to market in late 2021. The company also plans to expand its presence in China and Europe.
For fuel cell technology, Hyundai today announced a new stand-alone brand HTWO. It is also to form the basis for developing a next-generation fuel cell system that can also power aircraft, forklifts, ships and trains. In the air segment, in particular, Hyundai is working on what the company calls urban air mobility (UAM) with existing efforts to be continued, both in passenger as well as cargo transport.
In a lighter architecture with increased energy density, Hyundai pledges HTWO to deliver enhanced performance and durability at an affordable price" to offer a more diversified fuel cell vehicle portfolio. The business also cites "strategic partnerships with hydrogen, energy and logistics companies around the world" one of which is the newly announced alliance with Britain's Ineos, mainly for hydrogen supply.Initially, HTWO will concentrate on Hyundai's "major hub regions," namely Korea, the United States, Europe and China.
"The year 2020 has been the first year to introduce our Plan 2025. "Despite a challenging business environment caused by the global COVID-19 pandemic, for the next five years, we have successfully laid the foundation for business growth," said President Lee.
This translates into an investment of KRW 60,1 trillion by 2025, which is around EUR 45,5 billion. This is an update to the plan announced in December 2019 and will be implemented, according to Hyundai, despite weakening market conditions due to the pandemic. 'Future innovations' such as electrification, hydrogen fuel cells, UAM, autonomous vehicles, mobility service and networks, networking, AI and robotics are expected for approximately a third, KRW 23.5 trillion.
All About Cars News Gadgets

>>

Auto News & Updates

>>

Hyundai: 12 BEV by 2025; launches HTWOO fuel cell brand