The third production variant of an electric Audi is heavily based on the Porsche Taycan.
Audi is launching the e-tron GT, its third electric production platform.
The four-door grand tourer, previewed at the 2019 Los Angeles auto show in a lightly disguised concept car guise, is expected to see deliveries from North America during the second half of 2021.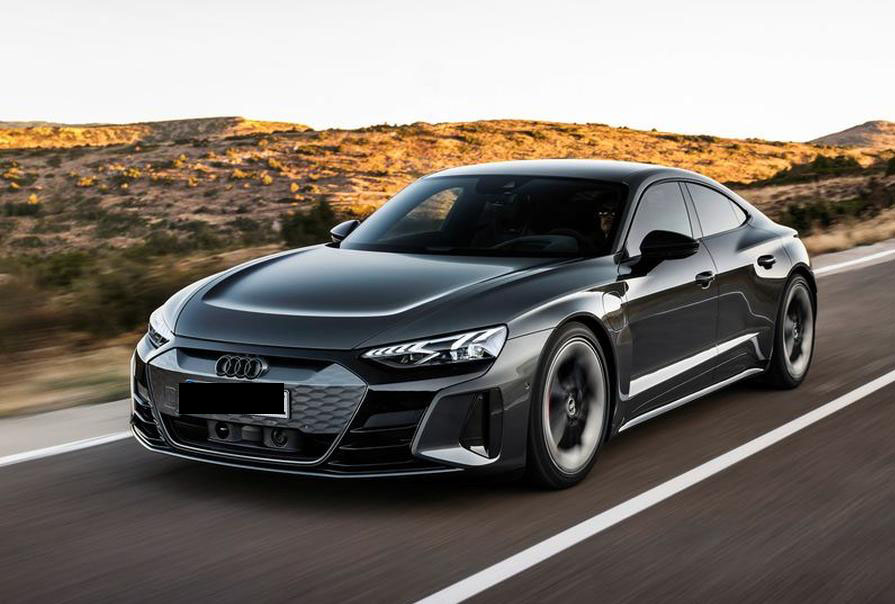 There will be an initial set of two drivelines, the most powerful of which will produce 590 hp on the European WLTP test cycle in a dual-electric, all-wheel-drive RS-badged performance flagship with claimed 0-62 mph (100 km/h) acceleration in 3.3 seconds and a range of 293 miles (472 km).
The new Audi gets a conventional three-box silhouette with a long hood, angled roofline, tapered glasshouse and short trunk deck, true to the form and style of the earlier e-tron GT model, which gives it a near resemblance in terms of shape to the current A7 of the German automaker.
A newly interpreted version of Audi's iconic single-frame grille, angular head lamps with optional LED laser lenses, large wheelhouses accommodating wheels up to 21 ins are other elements essential to its exterior design. Wide rear haunches and a full-width light band linking the taillamps in diameter, each bearing distinctive LED graphics with arrow themes.
Very few details have been altered in the production process of the new car, including the aerodynamic measures previewed on the earlier concept. A so-called air curtain is used up front to smooth air flow while a rear spoiler deploys from the trunk lid to provide added downforce.
To give the EV a claimed drag coefficient of 0.24, a multichannel diffuser draws air out from below the e-tron GT, making it Audi's most aerodynamically powerful production car to date.
Top 9 Electric Vehicles Coming to USA in 2021
After the e-tron quattro CUV and e-tron Sportback CUV, the third electric-powered Audi model gets its own special interior configuration inside a cabin offering two-plus-two seats as well as a 14.3 cu.-ft rear trunk. (405 L) of luggage space, and a 3.0 cu.-ft. front truck. (85 L) (85 L)
The e-tron GT is based heavily on the Porsche Taycan in what Audi describes as the initial step in a broad-based cooperative engineering effort calling for the two Volkswagen Group-owned companies to jointly develop a range of new EVs using largely common architectures.
The two sedan models share the same platform (internally known as J1), electric drivetrains, components of the chassis and electrical system, although the latest Audi model has been tuned in a step independently of its Porsche sibling Dennis Schmitz, the e-tron GT's technical project manager, says it has distinct driving characteristics.
"We share parts, but we do all the software to make it look and feel like an Audi," Wards says.
Audi Sport, the Audi division responsible for all existing RS-badged Audi models, led the engineering for the Taycan sister model.
Power for the initial two e-tron GT models to be sold in the U.S. comes from a dual-motor drivetrain developed by Audi and Porsche.
It uses a synchronous electric motor on the front and rear axles in combination with a two-speed gearbox, a setup that provides the new Audi model with permanent all-wheel drive as well as torque vectoring qualities between the rear wheels.
The dual-motor drivetrain produces 469 hp and 464 lb.-ft. in the e-tron GT. (629 Nm) torque output. 121 hp and 147 lb.-ft are gained by the stronger RS e-tron GT. (199 Nm) at 612 lb.-ft. and 590 hp. (Nm 830).
A claimed top speed restricted to 155 mph (250 km/h) comes along with the RS e-tron GT's 0-62 mph time of 3.3 seconds, which is accomplished with a launch control feature. The less powerful e-tron GT boasts 4.1 seconds and 149 mph (240 km/h) performance figures for 0-62 mph and top speed respectively.
Energy for the motors is provided by an 800V liquid-cooled 85-kWh lithium-ion battery, whose 396 individual pouch cells are supplied by Korean battery specialist LG Chem. The same unit as used by the Porsche Taycan, it supports 11-kW AC and 270-kW DC charging as standard – the latter claimed to provide 62 miles (100 km) of range on a 5-minute charge.
Audi claims average energy consumption of between 18.8 and 19.6 kWh/62miles for the e-tron GT and between 19.3 and 20.2 kW for the RS e-tron GT for respective WLTP-certified ranges of 303 and 293 miles (488 km and 472 km).
A suspension using double wishbones up front and a multi-link system at the rear is the underpinning of Audi's first electric sedan. It comes standard with the e-tron GT's variable damping control and the RS e-tron GT's air-sprung set-up. They both come with optional four-wheel steering and carbon-ceramic brake discs.
The e-tron GT is manufactured at the Böllinger Höf factory of Audi Sport in Neckarsulm, Germany, on the same site as the current mid-engine R8 supercar of the Audi performance-car group.
Although not officially stated, a price-leading single-engine, rear-wheel-drive e-tron GT is also expected, although production for the North American market is unlikely to take place until 2022.
All About Cars News Gadgets

>>

Vehicles

>>

Sedan

>>

Audi Introduces e-tron GT Sedan